The Chevrolet Blazer has a rich history to its name. General Motors produced it for a few decades before they discontinued it in 2005.
However, ever since Chevrolet revived the Blazer as a midsize crossover SUV in 2019, we've had our eyes on it. 
Read on to find out how long the Chevy Blazer lasts.
But before we start, check out our list of the most common problems with the Chevy Blazers.
Here's the short answer to how long the Chevrolet Blazer lasts:
A Chevrolet Blazer should last at least 200,000 miles if you maintain it properly and drive it gently. If you average 15,000 miles per year, you can expect a Blazer to serve you for 13 or more years before the vehicle requires major repairs. 
How Many Miles Can You Expect From a Chevrolet Blazer?
We expect the Chevrolet Blazer to provide 200,000 miles of pain-free service. With diligent maintenance, careful driving and a little luck, you just may squeeze out 250,000 miles from the Blazer.
Note that the reintroduced Blazer is relatively new and there are few high-mileage units on the road. So, it is difficult to gauge the vehicle's long-term reliability. However, going by the life expectancy of other Chevrolet models and the quality of their engineering designs, this car should be good for 200k miles minimum.
How Soon Should You Expect Rust on a Chevrolet Blazer?
With the warranty period in mind, a Chevrolet Blazer should be rust free for at least 40,000 miles. The Blazer commonly develops rust in areas like the trunk, undercarriage, and beneath the hood.
Chevrolet's 3-year/36,000 miles corrosion warranty covers the body and sheet. Rust-through protection covers the Blazer for the first 6 years or 100,000 miles.
Chevrolet assures Blazer drivers it protects their cars against rust and corrosion. The company warns that applying extra rust-proofing products may tamper with the original corrosion resistance solution on your car.
We found few drivers who complained of rust on their Blazers in the first years of usage. Other than that, rust is not especially common in the Blazer.
How Long Do Chevrolet Blazers Last Compared to Similar SUVs?
Here, we compare the Chevrolet Blazer's longevity to that of its competitors:
Chevrolet Blazer vs. Nissan Murano
The Chevrolet Blazer and the Nissan Murano both have a life expectancy of 200,000 miles. An added advantage is the Blazer's great handling while the Murano simply flaunts its attractive looks.
While the Murano costs $507 for annual maintenance and repairs on average, the Blazer has a lower cost of maintenance at $431, which makes it the cheaper to own. 
Read more: How Long Do Nissan Murano Last? (9 Important Facts)
Chevrolet Blazer vs. Ford Edge
The Ford Edge also has an average lifespan of 200,000 miles. They may be equal in service life expectancy, but the Edge beats the Blazer.
These include larger cargo space, better performance and even higher safety ratings. In interior design and style, though, the Blazer is a better option.
The Chevy Blazer also has a lower ownership cost, as RepairPal estimates the annual maintenance and repair expenses of the Ford Edge to be $611.
Read more: How Long Do Ford Edges Last? (8 Important Facts)
Chevrolet Blazer vs. Lexus RX
The Lexus RX surpasses the Chevy Blazer. The RX can last up to 250,000 miles on average and get to 300,000 miles if properly maintained.
According to Motor Biscuit, many owners have up to 300,000 miles on their RXs and are still going strong. This makes it pretty difficult for the Blazer to compete. The RX also has a bigger cargo space and a posh interior, but we can't expect less from a luxury SUV.
How Reliable Is a Chevrolet Blazer?
J.D. Power gives the 2019 Blazer an 85% rating in quality and reliability. The 2020 and 2021 models both have an 86% rating in quality and reliability.
Meanwhile, Consumer Reports scores the 2019 model year a meager 2 out of 5 for predicted reliability and 68 out of 100 for overall rating.
It is fair to say that the Chevrolet Blazer's reliability increases as the model matures, given the reports of owners and expert review agencies.
The Best and Worst Years for Chevrolet Blazer
The 2000 model has the highest number of complaints based on information from Car Complaints. Many of the problems are related to the interior accessories and fuel system. However, the high number of complaints may not make it the worst model.
The 1997 model has been recalled 7 times. Most of the complaints were because of electrical and engine related problems.
Car Complaints named the 1994 model year the worst Chevrolet Blazer. The 1994 model also has 7 recalls. The reasons were mostly due to fuel leaks, oil leaks, anti-lock brake system problems, and diesel engine and equipment problems.
The 2019, 2020 and 2021 models are superb. All three model years score 86% overall ratings on J.D. Power. Based on thousands of opinions, we've selected the 2019 model as the best Blazer to have.
Related: How Long Do Chevrolet Trailblazers Last? (9 Important Facts)
What About Recalls for These Models?
The following table reveals data about the Chevrolet blazer recalls for the last 12 model years.
| | | |
| --- | --- | --- |
| Model Year | Number of Recalls | Reason for Recall |
| 1997 | 7 | Safety belt, Upper control arm, Upper ball joint, rear-view mirror, seat-belt buckle, amber reflectors and combination lamp problems. |
| 1998 | 3 | Control arm, brake hose and exterior lighting problems. |
| 1999 | – | – |
| 2000 | 4 | Multi-function switch, seat-belt buckles and service brake problems. |
| 2001 | 3 | Multi-function switch and seat-belt buckles. |
| 2002 | 2 | Multi-function switch problems. |
| 2003 | 1 | Caution label. |
| 2004 | 1 | Caution label. |
| 2005 | – | – |
| 2019 | 1 | Missing accumulator bolts. |
| 2020 | 2 | Missing accumulator bolts and airbag related problems. |
| 2021 | 1 | Incorrect bolts for seat-belts. |
Chevrolet Blazer Model Year List
The Blazer has been produced in several variants since the name "Blazer" first hit the markets. General Motors redesigned the Chevrolet K5 Blazer twice. We can group it into three generations before it was renamed.
First Generation: 1969—1972
Second Generation: 1973–1991
Third Generation: 1992—1994
The Chevrolet S-10 Blazer, however, was first produced in 1982 for the 1983 model year. It had 2 generations before production ceased in 2005.
First generation 1983—1994
Second generation 1995—2005
As earlier stated, the Chevy S-10 Blazer was discontinued. Chevrolet would, however, reuse the Blazer nameplate at a later date. Production for a crossover Chevrolet Blazer began in 2018 for the 2019 model year.
Model years: 2019—Present
Are Chevrolet Blazers Expensive to Maintain?
According to RepairPal, the annual maintenance cost for Blazers is $431. That is lower than the average annual maintenance cost for a Chevrolet, which is $649.
This implies that the Blazer is one of the cheapest Chevys to maintain.
The annual maintenance cost of a Blazer is less than that of midsize SUVs. Midsize SUVs have an average annual repair cost of $573.
Judging from the above comparisons, it is quite cheap to maintain a Chevrolet Blazer.
How Long Do the Brakes Last?
Chevy Blazer brakes can last up to 60,000 miles.
If you drive frequently on routes with heavy traffic, your brakes may not get to the 30,000 mile mark. 
How Long Do the Tires Last?
With tire rotation and proper inflation, the tires may last up to 60,000 miles. 
Tires do not all wear at the same rate. This is because every tire performs a unique task, and that is why it is important to rotate tires every 7,500 miles as specified by Chevrolet.
Rotations enable the tires to wear at the same rate. When tires wear at the same rate, you can replace them at the same time, which could reduce costs.
How Long Does the Transmission Last?
Though there is a wide range of expected service life, your transmission should last up to 150,000 miles. Note that automatic transmissions can be delicate, so avoid abusing it to enjoy smooth shifting throughout the vehicle's lifetime.
How Long Does the Spark Plug Last?
If you use a 2.0L engine, replace your spark plug every 60,000 miles.
For other engines, the spark plug can stay as long as 97,000 miles. In both cases, make sure you inspect the spark plug wires during replacement.
Another factor that influences how long the spark plug will last is the type of plug itself. Iridium and platinum plugs last longer than regular plugs.
What About Insurance Cost?
Information from Insuraviz shows it costs an average of $1,282 per year and about $107 per month to insure a Chevrolet Blazer.
You can get discounts if you insure over one vehicle. Minimum coverage is also cheaper and can be a better option if you're on a budget.
Other factors that influence the price of insurance are your age, driving record, and the state you live in. The model year of your vehicle also affects the amount you'd pay. Some companies may even offer occupational discounts for certain professions.
You should also know that you may not need to pay for maximum coverage since your Blazer has some warranties to its name.
Roadside Assistance is included for the first 100,000 miles or 5 years. This implies that Chevrolet would come to your aid during emergencies. The company will provide emergency fuel, tow your car, change your flat tires and even unlock your Blazer if you're locked out.
Tips to Prolong the Life of Your Chevrolet Blazer
Here are tips to prolong your Chevrolet Blazer's longevity:
The latest models display a message when the engine oil needs to be replaced. If the message displays on your screen, get your car serviced within the next 600 miles.
Also, replace your engine air filter every 8,000 miles if needed. If your Blazer has no engine air filter, replace your engine air cleaner filter every 45,000 miles. In dusty areas, you need to do more frequent checks on the air cleaner filter.
Inspect your tires and your windshield washer fluid level monthly.
Check your engine coolant level and fill the cooling system at 150,000 miles. Also check tire wear and keep an eye out for fluid leaks.
Inspect your evaporative control system every 45,000 miles. Buy and fix new wiper blades every 15,000 miles.
Don't forget to wash your car regularly.
Resources
Chevrolet Blazer | carcomplaints.com
Chevrolet Blazer | repairpal.com
2019 Chevrolet Blazer | jdpower.com
Was this article helpful?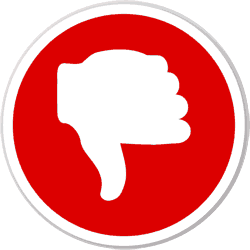 Did you find wrong information or was something missing?
We would love to hear your thoughts! (PS: We read ALL feedback)