Common issues with the GMC include problems affecting the ac and sensors.
The GMC Canyon is a pickup truck produced by General Motors and most commonly has minor AC problems.
Before we dive in, check our article about how long the GMC Canyon typically last.
It was introduced in 2004 as a mid-size truck. The Canyon is available in two-wheel drive and four-wheel drive configurations, with a variety of engine and transmission choices.
It is built on GM's global mid-size truck platform, shared with the Chevrolet Colorado, GMC Sierra 1500, and Chevrolet Silverado 1500.
1. AC Blower Inop Due to Failed Resistor
The GMC Canyon is known to suffer from a variety of common issues, including problems with the AC blower not working properly. This can be caused by a failed resistor, which regulates the speed of the fan.
A solution to this problem is to replace the faulty resistor with a new one, which can often be found online or at your local auto parts store.
If you are having issues with your AC blower in your GMC Canyon, be sure to address it as soon as possible in order to avoid further damage and more costly repairs down the road.
This is only a problem in some models, though. Check our article with the best and worst years for GMC Canyon.
2. Worn Valve Seats May Cause Engine Misfire
If your GMC Canyon experiences an engine misfire, it may be due to worn valve seats. This issue can cause a loss of power and decreased fuel economy.
You can fix this problem by having the valves and seats replaced.
4. Check Engine Light Due to Gasket Cap Issue Failure
If your GMC Canyon's check engine light is on, it may be due to a gasket failure. This problem is often caused by an oil or coolant leak, and can lead to engine damage if left unaddressed.
To repair this problem, the gaskets and cap will need to be replaced.
5. CD Player in Radio May Fail
Additionally, the audio equipment in the car may fail.
In particular, the cd player can have issues. This can often be caused by a loose connection and may require the replacement of the entire unit.
We have an article here about what to do if your Car CD player won't stop ejecting the CDs.
6. Reduced Power and Check Engine Light Due to Carbon Build-Up
If your GMC Canyon is experiencing reduced power and a check engine light, it may be due to carbon build-up.
This problem is caused by the buildup of soot and oil on the intake valves, and can be fixed by having the valves cleaned.
7. Timing Chain Problems
The timing chain is in the motor. It connects the internal part of the bottom engine to the top. In first-generation GMC Canyons, it may break.
The first Generation models are manufactured between the years 2004-2012. The second generation are 2012 and after.
This timing chain issue is very dangerous.
If the chain breaks, it can cause the engine to shut off while driving. It can also cause serious damage to the engine.
The timing chain issue is caused by a design flaw. GMC issued a recall for this problem in 2012. If your Canyon was manufactured before 2012, you should check to see if it is part of the recall.
To fix this issue, the timing chain needs to be replaced. This is a difficult and expensive repair. It is recommended that you take your Canyon to a professional mechanic to have this done.
8. PCV Hose
In certain makes and models of the GMC Canyon, the PCV hose can break. It dries out and gets brittle. To access it, remove the plenum.
You can find this part under the hood. It is located behind the intake. It may even collapse. This influences the drivability, and it also causes issues with the engine.
Fix this issue by replacing the PCV hose.
9. EVAP Vent Valve
The Evap valve is a part of the emissions system. It is located on top of the gas tank. The function of this valve is to allow air to enter the fuel system. This prevents the formation of a vacuum.
A broken Evap valve can cause your GMC Canyon to fail an emissions test. Additionally, it can cause your "check engine" light to come on.
Most problems caused by this valve come from dirt accumulation. You can clean the valve, but it may need to be replaced if it is damaged.
10. Steering Issues
The GMC 2015 gets multiple complaints about its power steering.
Some GMC Canyon models may experience problems with the steering system. In particular, there can be issues with the power steering pump or the rack and pinion assembly. These problems can cause difficulty turning the wheel or handling the car properly.
To fix these steering issues, you may need to have either the power steering pump or rack and pinion assembly replaced.
Additionally, you may need to have other steering-related components such as the steering rack or tie rod ends inspected for signs of wear or damage that could be causing problems with your power steering.
11. Blower Motor Resistor
The blower motor resistor is a part that helps to regulate the speed of the blower motor. It is located in the HVAC system.
The problem with this component is that it can fail and cause the blower motor to stop working.
This usually happens gradually over time.
You will notice that the air conditioning or heat doesn't work at the desired speed, and in some cases it won't work at all.
To fix this issue, you can replace the blower motor resistor. This is a relatively simple repair that can be done by most car owners with basic mechanical knowledge.
The resistor burns out because of the amperage created by the motor.
Pros and Cons GMC Canyon
Pros
The AT4 trim has optional leather seats. It is also moderately spacious, offering plenty of room for your head and your legs.
Additionally, the cabin is nicely designed and feels luxurious without being overly complicated or hard to use.
The GMC Canyon has a 3.6-liter V6 engine that makes up to 308 horsepower and 275 pound-feet of torque.
That's plenty of power for most truck tasks, whether it's hauling gear or towing a trailer. The Canyon can tow up to 7,700 pounds when properly equipped. That's more than enough for most recreational boats or trailers.
Additionally, the cabin is nicely designed and feels luxurious without being overly complicated or hard to use. 
It includes features like heated seats and a sunroof. Its comfortable interior makes long drives more enjoyable.
One of the best things about the GMC Canyon is its towing ability. It can tow up to 7,000 pounds, which is impressive for a truck its size.
It also has a lot of power, making it a great choice for anyone who needs a truck that can handle tough jobs.
GMC Canyon four-wheel drive is a great choice for those who need a truck that can handle rough terrain and extreme weather conditions.
The GMC Canyon also has excellent fuel economy for a truck. 
It gets an EPA-estimated 20 mpg in the city and 26 mpg on the highway.
The GMC Canyon drives smoothly and it good for drivers of all levels
Cons
The main downside to this truck is the lack of space in both the cabin itself as well as the bed of the truck. While these compact trucks may be ideal for some people.
Another downside is the price. The Canyon is expensive, especially for a truck. Another downside is that it doesn't have as much cargo space as some other trucks.
Finally, the gas mileage could be better. Overall, the GMC Canyon is a great truck, but it has some downsides.
What the Reviews Say
"Although efficiency could be better, the Canyon makes a solid everyday midsize truck… For a truck, the GMC Canyon drives surprisingly car-like. You don't expect a midsize pickup to have such refined road manners, especially with an empty bed."
" I found that the diesel Canyon is by far the most fuel efficient truck sold in America while also being the hardest working small truck I have tested thus far."
TorqueNews
Resale Value of the GMC Canyon
After 5 years, the price of a GMC Canyon depreciates 40%.
| | |
| --- | --- |
| 2021 | $35,000 |
| 2020 | $31,000 |
| 2019 | $30,000 |
| 2018 | $27,000 |
| 2017 | $26,000 |
GMC Canyon is packed with great features and it is well worth the money.
It's comfortable, efficient and stylish all at the same time.
The GMC Canyon is a great truck for anyone in the market for a new truck. The used models also have a lot of value, It has plenty of features to offer and is very well worth the money. Plus, the used models are available at a significant discount.
It has very reliable engines and they can do a great job hauling and towing. 
When you compare all of your options, I think you will find that this truck is well worth checking out. It also has plenty of trim levels so you can find the right one for you. 
Go Back: Car problems for all GMC models.
Sources
Was this article helpful?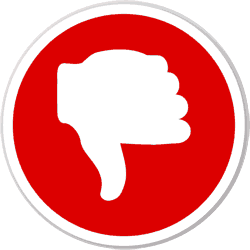 Did you find wrong information or was something missing?
We would love to hear your thoughts! (PS: We read ALL feedback)
ⓘ  The information in this article is based on data from National Highway Traffic Safety Administration (NHTSA) recall reports, consumer complaints submitted to the NHTSA, reliability ratings from J.D. Power, auto review and rating sites such as Edmunds, specialist forums, etc. We analyzed this data to provide insights into the best and worst years for these vehicle models.
---