Believe it or not, better visibility means more confidence on the road, and what's better than an SUV for visibility?
People have different definitions of ideal visibility, but it's widely accepted that higher is better for a clearer road vision.
That's why we've reviewed the full-size SUVs with the best visibility that you should consider. On visibility, also explore some SUVs with the fewest blind spots.
1. Cadillac Escalade
The Cadillac Escalade is a large SUV with impressive interior designs and capabilities. It also has an outstanding reputation for being luxurious.
We also have a newer smaller SUV from Cadillac: the XT5. We have more here on the best years and some to avoid for the Cadillac XT5.
With its large structure comes an enormous cabin and cargo space big enough to be used as a studio.
Besides all these features, drivers can be confident they'll have the most effective vision. A quick heads up, we're not only talking about the high seats and higher line of driver visibility.
Instead, the Cadillac Escalade also has a High-Definition surround vision feature with multiple digital cameras. This means it can show you overhead views of your vehicle and the surrounding areas.
What screams "superb visibility" better than such a feature in a car?
Typically, it comes in handy in emergencies or while parking in tight spaces. Also, it mainly works at low speeds to help drivers steer clear of objects around them.
More interestingly, there are additional views you can select on your camera display depending on what you need.
While driving at night, the night vision feature can help you drive safely beyond the limitations of your headlamps. You can detect pedestrians, large animals, and objects via the use of sensors. With these impressive visibility features, it's safe to say driving at night has been made easier and more fun.
Ultimately, there are so many cameras and sensors that have made the Escalade one of the best choices for visibility. This has limited the use of old-fashioned features like the rear-view mirror.
Today, you can drive and park comfortably in tight spots without needing help.
Before making up your mind, you should check our list of the best and worst years for Cadillac Escalade.
2. Toyota Sequoia
What else can an SUV that seats up to eight people offer besides a functional cargo space and remarkable durability? While there are many answers to that question, we're mainly interested in one.
The Toyota Sequoia got a redesign for the 2023 model year and this came with a more intimidating look.
It also comes with more fancy features like a hybrid engine and added towing capacity. However, the redesigned model, like the previous ones before it, is a great example of an SUV with prioritized visibility.
This big machine has stunning cameras that display the multiple exterior angles viewable from the rear-view mirror. Like many other modern cars, this means less usage of rear-view mirrors. It is especially true for people who dislike looking outside while they drive.
So, drivers can view all areas of the vehicle, and this makes way for relaxed driving.
The Sequoia also has a panoramic view monitor, which practically displays all the areas around the vehicle. So, you can see whatever you want in a split view. In some Sequoia models, the panoramic view extends to a 360-degree bird's-eye view.
Some other great features of the Sequoia are standard head-up displays, high-grade LED headlights, and taillights. As you'd guess, these are all features that improve visibility, which is one benefit of SUVs.
Also, its remarkable visibility wouldn't be complete without its front and rear parking sensors. If you recall, we said the rear-view mirror is becoming obsolete. Well, it's possible because of the integrated camera display in it which provides footage instead.
3. Subaru Forester
The Subaru Forester has outstanding visibility in almost every aspect. Its "extra sets of eyes" help drivers reduce blind spots and view their surroundings easily.
According to reports from consumers, the Subaru Forester has one of the best outward views when compared to other SUVs.
An innovation called the EyeSight Driver Assist Technology is one of the many incredible features the Forester has.
While it sounds quite fancy, the EyeSight tech is just a combination of different systems that you may already know.
They include:
pre-collision braking,
adaptive cruise control,
pre-collision throttle management,
and EyeSight lane keep assist.
Together, these features raise the standard for advanced visibility and safety. Hence, the EyeSight tech isn't just a visibility feature. Instead, we could very well say it has a mind of its own.
It monitors the car's position relative to other cars on the road and gives a warning when it sways away. This ensures it stays in the designated lane. Drivers would also get a warning if the system senses a probable collision.
Ultimately, when a collision is inevitable, it automatically reduces engine output to lessen the impact. As you've realized, its primary function is to improve safety and give drivers more confidence on the road.
So, if you're interested in any Subaru, it'll be great to get one with this award-winning technology.
The big Forester also has steering-responsive headlights.
These headlights work in sync with the steering and always focus the lights on the steering direction. It helps the driver get better vision, especially at night while driving around a corner.
4. Land Rover Range Rover
The Range Rover is one of those models that's recognizable even without its brand name. This is a lot common with very popular and successful models.
The Land Rover Range Rover has a full pack of features, one of which is excellent visibility.
It's no wonder they've been so successful. Like other SUVs on this list, the Range Rover has high seats. It's also the first reason it's on our list.
One primary cause of accidents during reverse driving is a driver's blind spots. Thankfully, the Land Rover Range Rover is a big SUV, and its cameras were engineered excellently to aid safe driving.
The vehicle has visibility features like night-vision systems, rear-view camera mirrors, and more.
Additionally, while reversing, the vehicle's reverse cameras turn themselves ON automatically. It gives the driver a well-defined view of the area behind him, avoiding any form of collision.
5. Toyota Land Cruiser
If you're a lover of big and powerful SUVs, the Toyota Land Cruiser could be your most trusted companion. It is a large vehicle with a massive interior space.
Although its exterior isn't the most pleasing to the eye, the Land Cruiser gets the job done.
The Toyota Land Cruiser can seat up to eight people and they'll all get remarkable outward visibility.
Given the caliber of SUVs we've mentioned, it'll be disappointing if the Land Cruiser is missing some features. So, here are a few things it has under its belt.
Some of its features are the parking sensors, rear-view camera system, surround-view camera system, and rear cross-traffic alert.
It also has automatic emergency braking and a blind spot monitoring system. Let's not dive too much into the automatic anti-glare function which controls and regulates the reflected lights from vehicles behind.
Almost all features we've mentioned have similar jobs like enhancing visibility, keeping passengers safe, and preventing collisions.
Here's a fun fact: The Toyota Land Cruiser is one of the longest lasting vehicles of all time.
Final Thoughts
Visibility is one feature you can't afford to not have in a vehicle. Today, cameras and sensors have replaced the need for safety to rely on the driver's eye alone. Modern vehicles have an eye of their own and that's what's really in demand.
So, while SUVs with high seats are an advantage, you want to make sure yours has modern visibility features.
Today, visibility is almost inseparable from safety. Hence, with better visibility, we can all avoid the thousands of accidents that are caused by poor visibility each year.
It's noteworthy, however, that these systems only help in driving and do not take over the entire burden. Lastly, the driver's eyes and attention are still highly needed.
Sources
10 SUVs With the Best Visibility | Autobytel
Was this article helpful?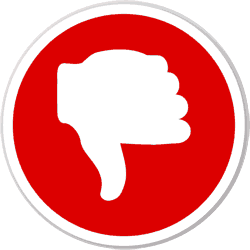 Did you find wrong information or was something missing?
We would love to hear your thoughts! (PS: We read ALL feedback)