Usually, tall people who are looking to get a comfortable vehicle with enough headroom settle for full-size SUVs. However, there are several compact and even subcompact SUVs with enough headroom for tall people. 
In this article, we have put together 10 of them for you, in no particular order. Let's dive right in. 
Subcompact SUVs
Subcompact SUVs are the smallest SUVs around. They are a tier below compact SUVs. Check out some subcompact SUVs with the most headroom here.
1. Kia Soul
Kia Soul is a 5-door subcompact crossover SUV that debuted in 2008. It was launched in 2009 by Kia and has sold over one million units globally. This small SUV has entered its third generation in 2019. 
Many critics and pundits have rated the Kia Soul as one of the best subcompact SUVs ever made. Among its top features are its well-mannered handling, spacious cargo area, and numerous driver assistance features. 
The Kia Soul also has one of the most impressive headroom and overall passenger room in its class.
It has a front headroom of 39.9 inches and a front leg room of 41.1 inches to go along with that. In the rear, you get a 39.5 in. headroom and a 38.8 in. leg room.
Moderately tall people shouldn't have a problem driving or occupying the rear seats in the Kia Soul. 
2. Chevrolet Trailblazer
The Chevrolet Trailblazer is a subcompact crossover SUV and descendant of the midsize SUV of the same name (2001-2008). The first two full years following its release in 2020 saw it sell over 100,000 units.
The small SUV has also largely received positive reviews from critics.
Chevy Trailblazer offers great gas mileage, a simple/sophisticated infotainment system, and impressive off-road capability. 
In addition, it also boasts of comfortable seats and capacious cabin.
Specifically, the Chevy Trailblazer has an excellent headroom of 40.0 inches and a leg room of 40.9 inches at the front. And at the rear, the headroom measures 38.4 inches while the legroom measures 39.4 inches. 
For a family of tall individuals, the Chevrolet Trailblazer would certainly do a great job of guaranteeing comfort. 
3. Nissan Kicks
The Nissan Kicks entered the production and marketing phase in 2016 as a subcompact crossover SUV. Over the last 4 years, it has sold over 200,000 units in the U.S. alone, and sales have been rising every year since 2019.  
This subcompact SUV is also considered one of the very best subcompact SUVs due to its high level of reliability and quality. In addition to its great gas mileage, Nissan Kicks offers a large cargo area as well as a long list of standard features.
The small SUV also boasts of a gorgeous and roomy cabin comfy enough for tall people.
At the front seat, you get a headroom of 40.4 inches and a leg room of 43.7 inches. Also, the rear seat features a 38.5-inch headroom and 33.4-inch legroom. 
Going by those dimensions, the Nissan Kicks is perfect, especially for tall drivers and front passengers. 
You also need to check how long the Nissan Kicks last.
4. Honda HR-V
In 1998, Honda introduced the HR-V subcompact crossover SUV. Following a seven-year hiatus, Honda has sold about 500,000 units of its HR-V since 2014. 
This SUV ranks #6 on a list of the best subcompact SUVs published by U.S. News & World Report. With a dope interior, composed ride, nimble handling, and an abundance of standard features, the HR-V is undoubtedly a fantastic car.
In terms of cabin space, the Honda HR-V has a front leg room of 41.9 inches and a front headroom of 39.4 inches. In the rear, we have a 38.0-inch headroom and 37.7-inch legroom.
A moderately tall person would fit in this just fine.
5. Mazda CX-30
As part of the 2020 model year launch, Mazda launched the CX-30 in 2019 based on the fourth-generation Mazda 3. Ever since, it has beaten out stiff competition to become a popular SUV. 
U.S. News ranks it #1 among the best subcompact SUVs, and it has sold about 100,000 units since it debuted.
While it offers nimble handling and balanced ride, the CX-30 features standard all-wheel drive and an array of standard technologies.
The Mazda CX-30 also boasts of a gorgeous cabin with impressive seating space for tall people. At the front, you get 41.7 inches of legroom and  38.1 inches of headroom. And at the rear, you get 36.3 inches of legroom and 38.3 inches of headroom. 
This subcompact SUV would be comfortable, especially for tall front passengers with rather long legs. 
Compact SUVs
Compact SUVs are the second smallest SUVs next to the mid-size variants. Below are a few ones with the most headroom for tall people.
6. Subaru Forester
The Subaru Forester was introduced as a compact crossover SUV in 1997. The vehicle is in its fifth generation and has racked up millions of sales and multiple awards, including the Motor Trend SUV of the year award in 2009 and 2014. 
Standard AWD and good gas mileage are among its most attractive features, which made it rank 4th in U.S. News' compact SUV rankings.
There is also plenty of cabin space for both front and rear passengers in the Subaru Forester.
At the front seat, we have a 40.2 in. headroom and a 43.3 in. legroom while the rear headroom and legroom measure 37.6 in. and 39.4 in. respectively.
Make sure to also check our article on the small SUVs with the best visibility.
7. Nissan Rogue
The Nissan Rogue is a compact crossover SUV debuted in 2007 for the 2008 model year. It entered its third generation in 2019 and has sold well over 1 million units in the U.S. in the last five years alone. 
It is considered one of the best compact SUVs on the market and it occupies the 7th spot on the U.S News list of the top compact SUVs.
Some of its most meritorious features include its fantastic fuel economy and huge cargo space. 
The Nissan Rogue also boasts of impressive head/leg room for the front and rear seats. At the front, there is a 41.1-inch headroom and a 41.5-inch legroom. The rear seat has a 39.2-inch headroom and a 38.5-inch legroom. 
By all standards, the Nissan Rogue holds its value in this category and it's a great choice for taller drivers and passengers. 
8. Hyundai Tucson
Hyundai Tucson is a compact SUV manufactured by Hyundai since 2004. Ever since, more than 7 million units have been sold worldwide, making it Hyundai's best-selling SUV. 
In 2020, the model entered its fourth generation, and many critics have hailed it as one of the best compact SUVs in town. With its nimble handling, thrilling ride quality, great fuel economy, and luxurious interior, it offers excellent value.
Speaking of the interior, the Hyundai Tucson has one of the best passenger rooms of any compact SUV on the market right now.
The front seat features a 40.1-inch headroom and a 41.4-inch legroom. The back seat, on the other hand, also features an impressive a 41.3-inch legroom and a 39.5-inch headroom.
It is a great choice for both talk drivers and passengers; one of the very best on this list, as the numbers show. 
9. Toyota RAV4
The Toyota RAV4 was introduced in the United States in 1995 as part of the growing Toyota SUV lineup. Currently in its fifth generation, it has become one of the brand's best-selling SUVs, with over 10 million units sold. 
Besides being commercially successful, the Toyota RAV4 is also critically acclaimed as one of the best compact SUVs on the market. A host of standard features, excellent gas mileage, and spacious cargo bay are some of its best attributes. 
In terms of passenger space, the Toyota RAV4 is one of the best options for tall people. In the front, it has a headroom of 37.7 inches and a legroom of 41.0 inches. The rear seats measure 39.5 inches for the headroom and 37.8 inches for the legroom.
Going by those numbers, the Toyota RAV4 is great, particularly for tall rear passengers, considering its impressive rear headroom. 
Please, also check our article for the best and worst years for Toyota RAV4.
10. Honda CR-V
Honda okayed production and marketing for its compact SUV offering, the Honda CR-V, in 1995. Entering its sixth generation in 2022, CR-V becomes the second best-selling SUV model in the entire world. 
Many critics consider the small-sized SUV to be among the top echelon of compact SUVs in the auto market. In fact, it occupies the 3rd spot on U.S News' list of the top 20 compact SUVs for the latest model year. 
Among its best features are a massive cargo hold, a great fuel economy, and a plethora of standard features. The CR-V also features a great cabin space with incredible dimensions. 
At the front seat, you have a leg room of 41.3 inches and a headroom of 38.2 inches. In the back, the headroom measures 38.2 inches while the legroom stands at 41.0 inches.
The Honda CR-V is also an outstanding choice for tall people with long legs. 
N:B: "Moderately tall people" in this article should be understood to mean people between 6ft and 6'5 ft thereabouts. Mid-Size and Full-Size SUVs are generally more ideal for very tall people.
Final Thoughts
Being tall is like one of the coolest things in the world, as it puts you in a league of elite humans. Well, that's until you have trouble fitting yourself comfortably in a car through a journey because of a limited head room. 
Was this article helpful?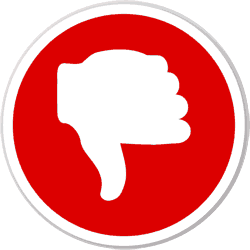 Did you find wrong information or was something missing?
We would love to hear your thoughts! (PS: We read ALL feedback)