Since backup cameras have become a standard in vehicles, virtually every car, regardless of standard or class, now comes with a factory-built one.
If you're on the lookout for compact SUVs that feature a backup camera, you're in the right place.
In this article, we presented not only the SUVs (both compact and sub-compact ones) with a backup camera, we also review the added features that their camera system supports.
Sub-compact SUVs With a Backup Camera
Here, we highlight 5 subcompact SUVs that feature a backup camera.
1. 2023 Hyundai Kona
Whether you use a 2019 Hyundai Kona or you aim at getting the 2023 model, many latest Hyundai Kona offers a backup camera as a standard feature.
While you may not enjoy the compact size of the 7-inch touchscreen in the older model, the latest version offers a wider touchscreen display.
Moreover, unlike the older models, the 2023 Kona offers driver-assistance features without leaving a huge impact on the price.
With an estimated price of $21.990–$28,800, the 2023 Hyundai Kona offers one of the cheapest deals for a sub-compact SUV with a backup camera. This is especially when we consider that the feeds of the camera are enhanced by a 10.25-inch touchscreen infotainment system.
This small SUV also features the Lane-Assist technology, Blind-Spot Collision-Avoidance Assist, and Forward Collision warning. While the vehicle is a good choice for Hyundai lovers who prioritize a backup camera, note that it has a small cargo space.
2. 2023 Nissan Rogue
Nissan Rogue has been making waves since the introduction of the 2018 model.
Aside from making the integration of Android Auto and Apple CarPlay a standard in a Nissan Rogue, the 2018 model also introduced extended driver-assistance features.
So, the presence of a blind-spot monitoring system, automatic emergency braking, forward collision warning, and a rearview camera is not new to Rogue users. However, the 2023 Rogue models feature a Surround View Monitor as an added feature.
With an enlarged touchscreen, the feeds of surround view cameras and the backup camera are enhanced by a 9-inch touchscreen.
Whether you go for the 2018 or the 2023 model, you'll get the service of a backup camera in either of the Nissan Rogues.
Regardless of being a small-size SUV, this vehicle offers an ample cargo space and an admirable fuel economy. Mind you, the powertrain of the 2018 model may be a little noisy.
3. 2020 Mazda CX-30
The 2020 Mazda CX-30 is a great option on this list as it offers more safety features aside from a backup camera. While it comes in 4 trim models, the price range falls around $21,900-$29,600.
Of the four trims (Base, Select, Preferred, and Premium), you'll enjoy extended driver safety features in the Mazda CX-30 Select. This trim model offers dual-zone automatic climate control, and a blind-spot monitoring system.
4. 2022 Lexus UX
Riding on 18-inch alloy wheels, the 2022 Lexus UX comes with a luxurious and sporty look. One would expect hi-tech features in this car based on its exterior impression, and fortunately, Lexus didn't disappoint.
Lexus UX offers either a front-wheel drive or an all-wheel drive powered by an 181-hp powertrain to give a swift acceleration. Regardless of the speed of this small SUV, drivers enjoy the safety assistance technology that covers both the front and the rear.
Aside from having a backup camera to help prevent rear-end collisions, it also offers a digitized pre-collision system with pedestrian detection. Also, the backup camera is enhanced with an 8-inch touchscreen that supports the CarPlay technology.
5. 2022 Toyota C-HR
The Toyota C-HR features a compact and sporty design, standing on 18-inch alloy wheels. Unlike the Lexus UX, it doesn't offer an all-wheel drive, and its acceleration is not better either. However, it offers a more stylish body and a better fuel economy.
The 2022 Toyota C-HR is another compact SUV that offers a backup camera and driver-safety assistance technologies.
It offers an automatic emergency braking with pedestrian detection, lane departure warning, and blind-spot monitor as standard features.
Compact SUVs With a Backup Camera
Below, we highlight 5 impressive compact SUVs that feature a backup camera:
6. 2023 Kia Sportage
The 2023 Kia Sportage is another impressive SUV with great camera technologies. To enhance the driver's rearview, the SUV features a backup camera that works with a 12.3-inch dual panoramic display.
Moreover, this SUV features a Blind-Spot Collision-Avoidance Technology and a Rear Cross-Traffic Alert to give a more digitized rear and blind-spot protection.
It also offers a 360-degree surround view monitor that functions with four external cameras to display the surroundings of the vehicle.
We've also written about compact SUVs with lane-assist feature, another important driver assistance tech that's now popular in new cars.
7. 2023 Subaru Forester
The 2023 Subaru Forester offers a versatile SUV you can use in almost all terrains.
Being a strong vehicle, it comes with a backup camera, right from the 2014 model, to help enhance the driver's rearward visibility. The good thing is, the rear-vision camera is a standard feature on all the 2023 trims.
While complying with the technological demands of modern vehicles, Subaru Forester features other driver-assistance technologies.
So, you can find the Blind-Spot Detection/Rear Cross-Traffic Alert as a standard feature on all 2023 Forester models. The only exception is the Premium trim, which has the features as an available option.
8. 2017 Hyundai Tucson
Regardless of being a compact SUV, the 2017 Hyundai Tucson is notable for its spacious back seats and quiet cabin.
You may not like the fact that the interior has a lot of hard plastic materials. However, this SUV offers a reliable infotainment system that supports a backup camera and Apple Carplay.
Aside from the backup camera, it also offers extended safety features such as the Blind-Spot alerts, Rear Cross-Traffic Detection, Lane Departure Warning, and Lane Change Assist.
It is quite unfortunate that while this vehicle comes in 7 trims, you'll enjoy the Sport trim the most because of the extended driver-safety features it offers.
Mind you, Tucson still lacks the surround view system already introduced by other competitors. Even the 2023 model does not feature a surround view monitor.
9. Ford Escape
Ford Escape is one of the best options for people who love ample space and a technologically enriched ride.
The 2023 Ford Escape features a backup camera as a standard in all of its trims. The camera view is enhanced by a 13.2-inch touchscreen, which is huge when compared with other vehicles.
Besides, this SUV also features driver-assist safety technology. A driver gets supported by an Adaptive Cruise Control, Forward-Collision Warning, Brake Assist, Blind-Spot Monitoring, and others.
Note that even the 2023 Ford Escape does not feature a Surround View Monitor unlike the 2023 Kia Sportage and others.
Make sure to also read our article about compact SUVs with blind spot monitoring. 
10. 2023 Toyota Corolla Cross
The 2023 Toyota Corolla Cross offers a thrilling and technologically advanced ride. It offers an 8-inch touchscreen that supports a backup camera, CarPlay, Android Auto, and the SiriusXM satellite radio.
Toyota is notable for keeping up with trends and standard. So, Corolla Cross offers other driver-assistance features such as the adaptive cruise control and the lane-departure technology.
Mind you, this ride comes in three different trims; the Toyota Cross L, the LE, and the XLE. For drivers who crave all the extended safety features, you'll enjoy the XLE model. Whereas the other models start at $23,800, the XLE costs around $27,910.
Final Thoughts
Backup cameras became a legal requirement in all vehicles produced after May 2018. So, seeing a vehicle with this feature is no big deal. Virtually all modern vehicles come equipped with a rearview camera.
However, because even this camera is not overly reliable to help reduce drivers' blind-spots, other safety technologies have been introduced.
This is why we prioritize the SUVs that feature a backup camera as well as other more driver-safety features.
Please also read our article about cars with the best backup cameras.
Was this article helpful?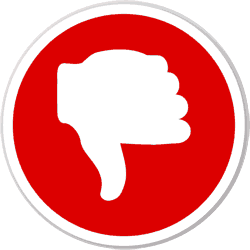 Did you find wrong information or was something missing?
We would love to hear your thoughts! (PS: We read ALL feedback)