You'll agree that the era of manual transmission has almost gone into extinction. Hardly will you see a modern car with a stick-change gear now.
Notwithstanding, some vehicles, including SUVs, still come with a manual transmission.
In this article, we have explored the automobile industry to make you discover 8 SUVs that feature manual transmission.
A good thing is, unlike their counterparts that work with an automatic transmission, these SUVs are cheaper to own.
Cheap Sub-compact SUVs With Manual Transmission
Subcompact SUVs have a length of about 173 inches and can house up to 5 passengers. Based on their taller and larger size compared to sedans, they appeal to many Americans.
Here are 3 subcompact SUVs that feature a manual transmission:
1. Hyundai Venue SE
The Hyundai Venue SE features a manual transmission up to the 2020 model.
If you love to be more involved in the transmission of your vehicle and you are a fan of Hyundai, you can still enjoy a stick-shift drive with this SUV. 
The SUV offers a front wheel drive with a 4-cylinder engine that produces 121 horsepower at 6300 revolutions per minute (RPM).
While it features a six-speed manual transmission, the 2020 model has an optional continuously variable automatic transmission (CVT). However, the CVT is now the only option in the 2021 and later models.
So, you can only get this SUV on a pre-used deal worth.
Related: 8 Cheap SUVs That Look Expensive (Sorted By Size)
2. Kia Soul LX
Kia Soul LX comes with a manual transmission up to the 2021 model which features 6-speed gear levels and a front-wheel drive.
The 2021 model works with a 2.0L 4-cylinder engine that produces 147 horsepower at 6,200 RPM.
Just as it is with the Hyundai Venue SE, Kia also drops the manual transmission for a CVT automatic in the 2022 model.
Of course, this came with a significant rise in the price of the latest model from around $16,000 to $21,000. The 2022 Kia models also introduced a change of logo, as you must have observed in some new Kia vehicles.
3. Jeep Renegade
The 2015, 16, 17, and 18 Jeep Renegade all feature a 6-speed manual transmission.
Although this vehicle does not offer a good fuel economy, it has an easy handling that gives a hassle-free drive around a city.
Being a subcompact SUV, its rear-seat legroom may also not be comfortable for adults, especially the lanky ones.
Nonetheless, Jeep Renegade is remarkably suitable for off-road rides.
Unlike several other subcompact SUVs, this is powered by a 2.4L four-cylinder engine that produces 160 horsepower at 5,500 RPM.
Note that Jeep Renegade offers four trim models: base Sport, Latitude, Trailhawk, and the more Luxurious Limited model. 
You will also love our article about SUVs with more headroom for tall people. 
Cheap Compact SUVs With Manual Transmission
For the compact SUVs, they are a little bigger than the subcompact ones but a little smaller than the mid-size ones.
Below, we feature three compact SUVs with a manual transmission:
4. 2018 Subaru Forester
Subaru still offers a manual transmission for those who love to have a control over their speed and engine performance.
The 2018 Subaru Forester 2.5i, which offers a 6-speed manual transmission, is an example. 
Powered by a 2.5L 4-cylinder engine, this compact SUV makes 170 horsepower at 5800 RPM. Because the 2018 Subaru Forester 2.5i is somewhat old, it costs an average price of about $24,715. 
Subaru also offers a few other models that have an optional manual transmission.
They include the Subaru Crosstrek, Impreza, BRZ, and WRX. They may be a little costlier than the 2018 Forester, though.
5. Jeep Patriot
Although Jeep stopped the manual transmission in the Patriot after the 2017 model, a lover of stick shift has 2 SUV options for a Jeep Patriot.
The 2017 Patriot Latitude and Sport models offer 4 different SUV models. They come with the option of a 2.4L and 2.0L engine.
All Jeep Patriot models feature an antilock brake on their front wheel, and they offer an average off-road capability.
Mind you, this vehicle may not handle bumps pleasantly and its engine may be a little sluggish. Unlike many other SUVs on our list, Jeep Patriot offers a 5-speed manual transmission.
Depending on the trim model of choice, the 2017 Jeep Patriot costs around $13,899-$22,590 pre-owned.
6. Jeep Compass
Jeep Compass offers a manual drive up to the 2020 model, which features three trim models: the Latitude, Sport 4-wheel drive, and the Sport front-wheel drive model.
From the 2021 models upward, Jeep Compass features a nine-speed automatic transmission.
The 2020 Jeep Compass works with 6-speed manual transmission, with an optional 9-speed automatic transmission.
With a 2.4L 4-cylinder engine and 180 horsepower, Jeep Compass offers a faster ride than the Patriot and Renegade. Although, with an estimated price of $25,355, it's also a little more expensive.
On affordability, here are some of the cheapest SUVs with all-wheel-drive.
Amongst the Jeep SUVs with a manual transmission, the Wrangler and the Gladiator are the only models that survived. While Wrangler makes it to this list, we couldn't feature Gladiator because it is a little costlier than the others.
Cheap Mid-size SUVs With Manual Transmission
On average, a mid-size SUV falls between 187-201 inches long, and they are more expensive than the compact SUVs.
There are few mid-size SUVs that feature a manual transmission. Even the Jeep Wrangler that makes this list is costlier than the other ones.
7. Jeep Wrangler
Jeep Wrangler is one of the two survivors of all Jeep SUVs that work with a manual transmission. Don't be surprised to read that even the 2023 Jeep Wrangler still features a stick shift.
The 2023 Jeep Wrangler has two trims that work with a manual transmission: the Jeep Wrangler Sport, and the Rubicon. These are more luxurious SUVs and they feature a more powerful engine.
All the 2023 Jeep Wrangler models come with a 3.6L V6 engine and 4-wheel drive. Aside from the standard V6 engine, Wrangler offers an optional 4-cylinder engine that could work with an electronic motor to provide additional power. 
If you're used to a Wrangler, you'll admire this 17-inch wheel design that runs on a standard 285 horsepower. Mind you, this vehicle attracts an eye-boggling price, especially for the Rubicon model. 
Whereas the Sport model has an estimated price of $32,990, which is cheaper when compared with other competitors, Rubicon 392 costs around $84,290.
However, going down in the year also drops the price. The 2020 Jeep Wrangler estimates around $29,790 – $48,445.
Make sure to also read our article about affordable SUVs for new drivers.
Cheap Full-size SUVs With Manual Transmission
Full-size SUVs are more spacious and rugged than other smaller SUVs. With a height of around 76 inches, they also look a little more bulky than a mid-size SUV.
Below is a full-size SUV you can still drive with manual transmission:
8. Ford Bronco
Ford Bronco is a rugged SUV that is comfortable for both off-road and urban trips. Its latest models offer a mid-size two door SUV, and a full-size four-door SUV which has a 16-inch longer wheelbase.
Like Jeep Wrangler, Ford Bronco also features a manual transmission in the 2023 models. The 2023 Ford Bronco Badlands, Big Bend, Heritage, and the Black Diamond all come with a 2.3L manual transmission engine.
While the SUV offers a 300 horsepower turbocharged engine, it also offers an optional 330 hp twin turbo 2.7L V6 engine.
The 2023 model has a 10-speed transmission, which is an upgrade to the 2022 model. The 2022 Ford Bronco offers only a seven-speed manual transmission with a turbocharged 2.3L 4-cylinder engine and 300 horsepower.
Mind you, the upgraded version is more expensive-estimated around $33,890-$75,375. For other affordable options, here are the cheapest full-size SUVs for a wallet-friendly car purchase.
Final Thoughts
CNBC reports that only 13% of all vehicles still feature a manual transmission in 2020. Regardless of this meager number, many Jeep and Ford still boast of a manual transmission even in a 2023 SUV.
Around the year 2020, it became obvious to many vehicle manufacturers that the demand for vehicles with a shift stick kept dropping in the United States.
That was why the like of Hyundai and Kia decided to drop the manual stick shift for the much coveted automatic transmission in 2021 and 2022, respectively.
Notwithstanding, few other drivers, who love the more maximal control they derive from driving a manual vehicle, still prefer these vehicles.
This is why few manufacturers still sell manual vehicles even in 2022.
Please also read our article about SUVs without turbo engines. 
Was this article helpful?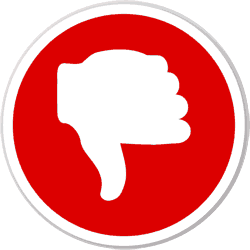 Did you find wrong information or was something missing?
We would love to hear your thoughts! (PS: We read ALL feedback)