A CVT transmission or continuously variable transmission enables you to switch seamlessly through a range of efficient gear ratios each time you drive.
The CVT transmission automatically changes the gear ratio each time you drive like the normal automatic transmission. Over the years, CVT transmissions have continuously been a controversial topic among car enthusiasts.
However, getting new cars without the CVT transmission is becoming difficult as most new brands have the CVT option. In this article, we will take a critical look at the few models that don't have a continuously variable transmission.
1. 2017 Mazda6
When it comes to an automobile without the CVT transmission, the 2017 Mazda6 came highly recommended. It offers a seamless, calm, and convenient ride for anyone who drives it.
When you compare it to other brands such as the Honda Accord and Hyundai Sonata, the Mazda 6 is a good contender.
The Mazda6 comes with a six-speed manual transmission, although there's an optional automatic transmission. It has features such as the Apple CarPlay and Android Auto for in-cabin entertainment. It has a responsive 2.5-liter four-cylinder engine which delivers 184 horsepower.
This car earned a five-star crash rating from the National Highway Traffic Safety Administration. It is also considered a "Top Safety Pick" by the Insurance Institute of Highway Safety.
2. 2021 Honda Odyssey
Comfortably built with a 10-speed automatic transmission, the 2021 Honda Odyssey is a joy to behold. It has a wider ratio range that enables it to give you a convenient and smooth ride experience, even while speeding on the highways.
The acceleration of the 2021 Honda Odyssey has been described as thrilling. Its paddle shifters make it easy for drivers to enjoy better brake responses whenever there is a need to tow the vehicle.
These shifters enhance the response in higher gears by engaging in double-gear downshifts. You will fall in love with some of its exciting features, such as adaptive cruise control, backup camera, vehicle anti-theft system, auto-off headlights, and remote engine start.
The 2021 Honda Odyssey impresses with its safety and tech features that ensure the safety of the driver and passengers. Its second-row seats can also be configured and its robust V6 engine and stable handling make driving a seamless experience.
The front wheels are driven by the energetic 3.5-liter V6 engine and a 10-speed automatic transmission. Its engine generates about 280 horsepower and 262 lb-feet of torque that offers incredible power.
3. Ford Bronco
One of the popular automobiles that does not have the CVT transmission is the Ford Bronco. It has a 10-speed automatic transmission with Trail Control on its base model and other trim levels.
This is one of the more SUVs with CVT transmissions. We have a list here of the most-seen SUVs with CVT transmissions.
You will enjoy the amazing features of this model, such as its easily detachable roof doors and open roof, which makes it ideal for the outdoors.
If you want an automobile built to withstand tough roads, you should go for the Ford Bronco as its 30-inch tires are properly wrapped around its 16-inch steel wheels.
It possesses two fronts and one rear tow hook that offers it enhanced functionality and reliability. It also has an 8-inch touch screen and Ford's latest Sync 4 infotainment system.
4. Ford Edge
The 2021 Ford Edge has an interesting automatic transmission, and an updated version from the previous models of 2019 and 2020.
It does not have the CVT transmission and the Ford brand had to remove the shift from second to third gear to improve the shift action based on the opinions of the customers.
Related: Ford Edge In Snow & Winter Driving? (Explained)
5. Toyota 4Runner
While many vehicles now have a CVT transmission, the Toyota 4Runner has a reputation for being efficient and reliable due to its 4-speed automatic transmission.
Known for its ruggedness on the road and off the road, you can always count on the Toyota 4Runner.
With the 4-speed transmission, the shifts are more obvious and this makes the drive smoother and more pleasurable. 
It has an excellent cargo capacity with its two rows of convenient and comfortable seats, as well as an amazing infotainment system. Its poor gas mileage is one of the reasons why some people don't consider it a great product to purchase.
Related: Are 4Runners Good On The Highway? (Solved)
6. BMW X5
Anyone who wants to own a luxurious SUV without the CVT transmission should take a look at the BMW X5 series. Another interesting fact about the BMW brand is that most of its SUV products do not have the CVT transmission option.
The car sports an 8-speed sport automatic transmission and a 3-liter DOHC I-6 24V twin-power turbo engine.
Related: 8 Compact SUVs With The Most Horsepower (With Pictures)
7. Nissan Armada
Equipped with a 7-speed automatic transmission and a 5.6-liter direct injection gasoline (DIG) DOHC 32 valve V8 engine with 400 horsepower, the Nissan Armada is an attractive product.
Its automatic transmission feature enables it to move its gigantic frame around with convenience, and the capacity to handle any tough situation.
It is good to note that the shift points in the Nissan Armada may not be as flawless as the CVT option. However, it has a 7-speed automatic transmission that makes up for the flaw in the shift points and ensures durability.
If you are a savvy car buyer who does not expect the automobile to look extravagant, you might be in for a surprise as the Nissan Armada is luxurious.
8. Jeep Compass
Have you seen an SUV with a 9-speed automatic transmission? The Jeep Compass ticks the boxes as it delivers whenever its attention is required, both on the road and off the road.
It has features such as power steering, an air conditioner system, passenger and driver airbag, alloy wheels, power windows front, and a multi-function steering wheel.
It also comes with an integrated 2DIN audio system, wireless phone charging, USB and auxiliary input, as well as Bluetooth connectivity. It is available in petrol and diesel variants.
Related: Jeep Compass Problems: 8 Common Issues (Explained)
Was this article helpful?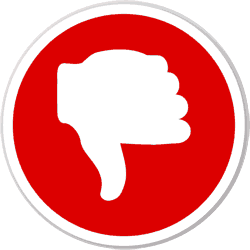 Did you find wrong information or was something missing?
We would love to hear your thoughts! (PS: We read ALL feedback)