These days, it's essential for your car to have a large trunk. You may need to haul gear for the family weekend trip, or move your child's luggage when he leaves for college.
Cars with large trunks are beneficial in such situations and will save you time and money spent on professional movers.
We have listed cars with extra big trunks in this article.
SUVs with Extra Big Trunks
Here are SUVs with enormous trucks. You may also explore affordable cars with long hoods.
1. BMW X7
The BMW X7 is a luxury SUV that can seat up to eight comfortably.
It can haul stuff as well and has 12.8 cubic feet of storage space behind the third row. The cargo hold increases to 48.6 cubic-feet when you fold the first row of rear seats.
Folding both rows of rear seats will increase storage space to a whopping 90.4 cubic-feet on the BMW X7.
Read Also: Most common problems with the BMW X7.
The X7 isn't all about storage space, however; it promises comfortable rides.
With its powerful engine, the X7 offers exhilarating performance that will sate any performance enthusiast's desires.
2. Acura MDX
The MDX is a product of Honda's luxury brand, Acura. True to its luxury vehicle designation, the Acura MDX offers a roomy cabin that seats seven to eight occupants.
It also provides a cavernous storage space that makes it the ideal family vehicle.
On average, the MDX offers about 15.8 cubic-feet of storage space.
You can increase the capacity to 43.4 cubic feet by folding down the second row seat. Folding down both second and third rows boosts storage space in the MDX SUV to 90.9 cubic feet.
The MDX has responsive handling and nimble acceleration that guarantees an immersive ride experience.
Also, you get decent mileage, which is rare in large SUVs like the MDX. There's even an available MDX Hybrid that offers an average of 39.5 mpg.
Look into our article which reads about Honda & Acura Differences 
3. GMC Yukon
Large SUVs have remained favorites of families in America for a while. The reason for this is mostly because they offer a large cabin and an expansive storage space.
The GMC Yukon backs up its large SUV tag with an expansive interior and voluminous cargo space.
Depending on the trim, the Yukon can seat nine people (with the optional front bench seat).
Behind the third row, you get 15.3 cubic feet of storage capacity. Fold the third row of seats, and available storage jumps to 51.7 cubic feet.
The Yukon maxes out its storage capacity (94.7 cubic feet) when you fold down the second and third rows.
The Yukon has pretty solid engine options, with the standard 5.3L V8 making 355 horsepower and the optional 6.8L V8 producing 420 horsepower.
With that much oomph, it's no surprise that the Yukon can tow up to 8,500 pounds.
4. Nissan Armada
The Nissan Armada is among SUVs that offer equal amounts of utility, comfort, and performance. Its spacious interior and cargo hold make it an excellent choice for families.
With the seats up, the Armada offers a little under 17 cubic-feet of storage. Like other SUVs, storage capacity on the Armada bumps up when seats are folded.
You get 49.9 cubic-feet of cargo space with the third row down and 95.4 cubic feet with the two rear-most rows down.
Apart from its impressive storage ability, the Nissan Armada offers an elegant cabin replete with various infotainment features. It also boasts active driver-assist features for increased safety.
5. Volkswagen Atlas
The Volkswagen Atlas may be a car-based SUV, but it is damn spacious.
When all seats are standing, available storage behind the last row is 20.6 cubic-feet. With the last row folded, general storage increases by 34.9 cubic feet to 55.5 cubic feet.
You can further expand in-cabin cargo space to 96.8 cubic-feet by dropping the second row of seats.
The Atlas can seat seven passengers in its cabin and offers luxury features that will keep occupants comfortable throughout the trip.
The infotainment system is reasonably easy to operate, and you wouldn't need to refuel every minute since the Atlas has decent fuel efficiency.
6. Chevrolet Traverse
The Chevrolet Traverse shares underpinnings with other GM models, including the Buick Enclave and GMC Acadia. It also offers enough holding capacity to satisfy your needs.
According to our research, the Traverse has 23 cubic-feet of cargo space, which increases to 57.8 cubic feet when the third-row seats go down.
Dropping the second-row seats adds 40.4 cubic-feet to the storage space, bringing the total to 98.2 cubic feet.
For 2020, the Traverse gets a 3.6L V6 that produces 310 horsepower. It lacks the upscale of similar models like the Buick Enclave, but it is cheaper and saves you money.
Make sure to also read our article about cars with hidden compartments.
Sedans with Extra Big Trunks
The following are sedans with extra large trunks:
7. Honda Accord
America's favorite family sedan, the Honda Accord, maintains its dominance atop sales charts by balancing practicality, performance, and affordability.
The Honda Accord has a comfortable interior that makes family trips a lot more enjoyable.
It also offers about 15.8 cubic feet of trunk space, enough to haul groceries and whatever you want to move.
Honda has also designed the Accord with 60/40-split folding seats that further maximize storage space.
8. Dodge Charger
Who said performance cars can't be practical? The Dodge Charger is part race machine, part functional daily driver.
If you prize performance, you'll surely be satisfied with the Charger's output of 475 lb.-ft of torque and 485 horsepower.
Its roomy cabin can hold four people, while the trunk offers about 16.5 cubic feet of storage capacity. The Charger models also have 60/40 folding seats that can be utilized if you need more space.
Please also read our article about popular cars with dash cams.
9. Hyundai Sonata
The Hyundai Sonata offers typical family sedan qualities—a roomy cabin, safety features, and adequate cargo space.
With 16.3 cubic feet of trunk space, the Sonata has one of the highest cargo spaces of any family sedan.
The Hyundai Sonata also offers good fuel economy, which tends to be a significant consideration for families.
You have the option of buying the Sonata Hybrid if you want to reduce fuel consumption further.
10. Toyota Avalon
Toyota's flagship sedan is the last word in luxury.
It features plush, leather-covered seating for up to five people, along with creature comforts like climate control and power-adjustable seats for maximum comfort.
The Avalon has a decent-sized trunk that boasts 15.3 cubic-feet of cargo-carrying capacity. While this is lower compared to some rivals, it is still enough to handle your cargo-hauling requirements.
Moreover, you'll be getting the renowned Toyota reliability and value when you buy the Avalon.
Unlike some models, the Avalon is easy to maintain and is less prone to depreciation.
Also read our article about cars with trunks in the front.
11. Lexus ES 300h
If you like to travel in style and luxury, then the Lexus ES 300h is the yin to your yang.
The ES 300h has enough creature comforts to turn your car into a luxury yacht from Toyota's Lexus luxury brand.
You get power-adjustable seats, massage technology, climate control, and cozy cabin materials.
But, if you're feeling up to using your luxury vehicle to haul some groceries, the ES 300h is there to serve you.
It comes with a class-competitive trunk capacity of 16.7 cubic feet. This is even better than what you'll get on some self-styled "practical sedans".
Hatchbacks With Extra Big Trunks
Here are hatchbacks with large trunks:
12. Toyota Prius Prime
You already know the Toyota Prius Prime is a plug-in hybrid and is among the most fuel-efficient models on the market.
You may also know that the Toyota Prius Prime has stellar reliability ratings and several advanced safety features.
However, what you may not know is that Prime has more cargo-carrying capacity than most hybrid models. The Prime's cargo hold can haul as much as some regular gas-powered compact cars.
The Prime has a trunk capacity of 19.8 cubic feet, which should be enough to hold your stuff.
But, if you need more space, you can fold the seats to achieve the Prime's maximum cargo-carrying capacity of 47 cubic feet.
13. Mazda3 Hatchback
The Mazda3 Hatchback is a relatively new model, having come out in 2019. It combines sportiness with practicality in one attractive package.
Buyers will also be happy that the Mazda3 has a fantastic array of safety technologies and first-rate safety ratings.
Did we mention that the Mazda3 is as practical as can be? Well, a better-than-average cargo capacity is precisely proof of that.
The Mazda3 comes with about 20.1 cubic feet of storage capacity. Adjusting the 60/40-split folding seats will bump up cargo holding capacity on the Mazda3 to 47.1 cubic feet.
Not bad for a small, sporty hatchback.
14. Hyundai Elantra GT (Hatchback)
The Hyundai Elantra GT has considerable cargo space, even if it's a hatchback. Initially, you get 24.9 cubic feet of storage space. However, its folding seats means you can get up to a maximum of 55.1 cubic feet of storage capacity on the Hyundai Elantra GT.
Beware, however, that there are both good and bad years for Elantra GT.
That the Hyundai Elantra GT has the excellent cargo-carrying ability only adds to what is a spectacular hatchback already.
The Elantra GT has an expansive cabin that offers generous legroom for occupants. You also get excellent gas mileage, predictable handling, and decent ride quality from this model.
Was this article helpful?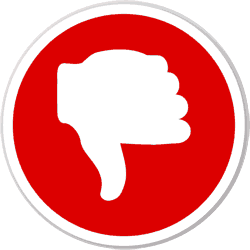 Did you find wrong information or was something missing?
We would love to hear your thoughts! (PS: We read ALL feedback)