The Toyota Avalon is a 4-door, full-size sedan produced by Toyota.
It savors myriads of positive reviews for its comfortable ride quality and many standard safety features.
However, as impressive as this car may sound, there are some poor years for this vehicle that are even regrettable for the manufacturer.
In this article, we will be highlighting the best and worst models for the Avalon, so that you can stay informed.
The Best and Worst Years for Toyota Avalon Are:
The best Toyota Avalon models ever made include the  2015,2017, 2018, and 2020 models. The models you are to stay away from include the 2006,2007, 2008, and 2014 models.
What Toyota Avalon Models Are the Most Reliable?
The best Avalon model years would serve for longer periods without major issues. With that in mind, you should find out how long Toyota Avalons last.
Below is a list of the most reliable models of the Toyota Avalon.
1. 2015 Toyota Avalon
One of the best and cheapest years for the Toyota Avalon is the 2015 model. This model has a starting price of only $17,000 according to Motor Biscuit. 
It is equipped with a reliable v6 engine and it makes the most of its gas. Consumer Reports stated that the Toyota Avalon achieves about 25 mpg combined.
This model also offers great value, and it is cheaper to buy a 2015 Toyota instead of a 2021 model. According to Copilot, you can save up to $26,500. 
To top it, the Avalon got an overall 82 out of 100 for consumer satisfaction, according to J.D. Power. Impressive.
However, with its usage, some consumers pointed out that the Avalon lacked some modern, bearable features. Smartphone connectivity and Apple CarPlay were absent in the 2o15 model. Its speed recognition wasn't excellent either.
Thankfully, the vehicle covers up for these inadequacies with its unbeatable reliability and, according to the National Traffic Safety Administration, they reported that the Avalon had only 2 recalls to its name, which is fair.
2. 2017 Toyota Avalon
Another rewarding model year of the Avalon is the 2017 model. Although this vehicle isn't totally distinct from the 2016 or 2015 models, there are still some unique features of it.
However, before we jump into its unique feature, the 2017 model is another reliable vehicle. It is equipped with a refined and efficient 3.5-liter v6, that delivers 268 horsepower.
This vehicle has astonishing practicality and, according to J.D.Power, it awards the 2017 Toyota Avalon a commendable overall score of 81 out of 100.
Delving into its features, the 2017 Avalon offers a spacious and well-built cabin. Its cabin materials are superb, which allows for a comfortable drive.
This model also features tons of modern controls and its starting price is relatively inexpensive. According to Car and Driver, the 2017 Avalon has an MSRP of $34,195.
Furthermore, this model is quite distinct from its rivals because it has a unique side profile that gives off a sleek and sporty look.
Added to this, its high rear glasses and wider fenders give it a more attractive look. You can almost put this car into the same category as a Lexus model.
This model also gives off great value. According to Kelley Blue Book, you can save as much as $20,000 rather than buying a brand-new vehicle. 
Lastly, there were some minor flaws of the 2017 Avalon that consumer reports about. Minor flaws like the navigation system, but all these were forgotten with the vehicle's optimal driving experience and general elegance.
You may also be interested in finding out where Toyota Avalons are made.
3. 2018 Toyota Avalon
The 2018 Toyota Avalon took a total turnaround, as the company did a comprehensive design on this model. It carries a lot of the company's innovations.
Starting from the newest technology down to its optimal Entune feature. It also comes equipped with a standard v6 engine that delivers 286 horsepower and its tight suspension gives it firm and smooth handling.
For its reliability, the 2018 Toyota Avalon received a rating of 79 out of 100. This was slightly below the rating of its predecessor, but the 2018 model still made a splendid vehicle.
Some of its major highlights include:
Its interiors are well-built and spacious

It does decently well with its fuel economy 

It ranks as one of the best full luxury sedans that comes with a practicable cargo space 

It offers a lot of standard features and options
However, there were some flaws reported about the 2018 Toyota Avalon, and in total, they recorded about two recalls and 21 complaints.
The major problem that owners complained about was the fuel pump failure because it caused direct damage to the engine.
Unfortunately, even the 2019 model did not resolve this issue. The 2019 model had a total of four recalls and 45 complaints.
4. 2020 Toyota Avalon
Thankfully, there was an upgrade to the 2020 model, as it revived the fading glory of the Avalon by fixing this fuel pump problem.
The 2020 model is equipped with a 3.5-liter v6 engine that delivers 301 horsepower and 267 lb-ft of torque and an eight-speed automatic transmission sends power to the front wheels.
This vehicle also achieves a good mpg rating, as it is rated at 25 mpg combined.
The 2020 version carries almost the same similarities as the 2021 and 2022 versions, so they'll be excluded from the list as the only major difference is their prices. 
Some of the major highlights of the 2020 Toyota Avalon are its comfortable interiors, tech features, storage, and fuel economy. For the interiors, the cabin is roomy and user-friendly.
Legroom is abundant, but tall folks might have an issue with its headroom. It has a good driving position and nice interior controls.
Its comfortable seats are another strength of the Avalon as they give proper cushioning and support on long drives.
The Avalon cargo space works out to be convenient due to its broad floor, decent loading height, and wide trunk opening.
Lastly, its infotainment system works perfectly as it features Toyota's Entune system and its 9 inches touchscreen. However, Android Auto is absent in the 2020 model.
What Toyota Avalon Years Should You Avoid?
What we have below is a list of Toyota Avalon models to avoid, if you plan to buy a suitable model. Meanwhile, there are some Toyota Avalon statistics you should know about.
1. 2006 Toyota Avalon
The 2006 model is currently the model that had the most significant complaints and it affected the company's image so much.
It had a lot of problems, ranging from engine failure down to oil leaks and they were so bad that owners had to call it the worst vehicle ever produced for the Avalon.
It was reported that the 2006 engine might suddenly break down and lose its power with no warning when the car reaches 60,000 miles. This was bad.
It was found that this failure was caused by a significant oil leak from the VVT-i oil line. The only sign of this failure was the engine's oil light and pressure.
If you fail to heed these warnings, your engine might just give up randomly. According to Motor Biscuit, replacing the engine of the Toyota Avalon could cost up to $2,060. This was ridiculously expensive.
In addition to this problem, the dashboard of the vehicle frequently got damaged and its rear window sunshade fails as well. A grinding noise usually accompanied this failure until the motors stop working altogether. 
The 2006 model is unquestionably one of the Toyota Avalon years to avoid, as it will give you more problems than comfort.
2. 2007 Toyota Avalon
Unfortunately, the 2007 model seemed to carry the same problem as its predecessor, as it looked like the company did not care to resolve this problem.
The 2007 model has the same dashboard and rear sunshade problem. Oil leakage was still very present in this model as well.
The little change to this vehicle was in relation to the engine. The vehicle now gave clear signs of an engine defect to alert owners.
An obvious symptom was the engine rumbling, and a failed startup because the ignition coils were defective. Other problems that plagued the vehicle include:
Transmission problem

Unintended acceleration

Failed oxygen sensor 

Faulty mass airflow sensor. 
Going from this, it is best to avoid the 2007 Toyota Avalon as well. 
3. 2008 Toyota Avalon
You might be wondering why the next worst year is 2008. Well, it looks like the company seemed unperturbed by the vehicle's condition.
The 2008 model was plagued by several issues as well. It still had engine problems, but they weren't just as bad as the last two years.
The steering of the vehicle was also problematic, and the rack and pinion leakage were annoying.
The 2008 model also had a lightning problem, as some owners stated that the lights frequently disappeared and burned up. Some other highlighted problems of this model include:
Dashboard cracks
Massive oil leaks
Lightning failure
4. 2014 Toyota Avalon
Another worst year for the Toyota Avalon was the 2014 model and the bad part of this problem was that they were expensive and difficult to fix.
One of the major issues of this vehicle was that it accelerated without cause, leading to several injuries and crashes.
Some folks also reported that the switch went from 27% to 79.5% in less than a second.
This problem completely unsettled drivers because the acceleration was so random and even when they took it for a repair, they found no cause for it.
Other problems that plague the 2014 model were the squeaking interior, as this came up as early as 2,500 miles. You might save yourself a lot of maintenance money when you avoid the 2014 Toyota Avalon.
What Are Some Typical Problems With the Toyota Avalon Models?
Below are some typical problems with the Toyota Avalon:
Engine failure
Significant oil leak
Transmission problems
Steering problems
Dashboard problems
Go back: Best/Worst years for all Toyota models.
Was this article helpful?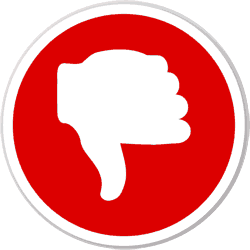 Did you find wrong information or was something missing?
We would love to hear your thoughts! (PS: We read ALL feedback)
ⓘ  The information in this article is based on data from National Highway Traffic Safety Administration (NHTSA) recall reports, consumer complaints submitted to the NHTSA, reliability ratings from J.D. Power, auto review and rating sites such as Edmunds, specialist forums, etc. We analyzed this data to provide insights into the best and worst years for these vehicle models.
---