The Ram Promaster first debuted in North America in 2013, becoming a favorite camping cargo van. These vans are also favored as work vans by service-oriented blue-collar workers.
Before that, however, the original started out as a fiat in Europe. Then, Fiat bought out Chrysler and started selling the Fiat Ducato in Europe.
When brought to the United States in 2013/2014, they were called by another name, the Ram Promaster.
Each year since then, like any vehicle, features and design changes have occurred with each new model release. Some years were right on target with what the buyer wanted, and other years not so much.
It pays to look at which years were best and worst for the Ram Promaster since camping enthusiasts and blue-collar businesses require crucial reliability in their cargo vans.
The Best and Worst Years for Ram Promaster are:
According to owners, the best year for a Ram Promaster was 2021. The worst was the 2014 model.
The 2014 model exhibited dangerous issues, such as
Ignitions that quit working while driving
Stalling in traffic
Brakes that started vibrating at higher speeds on the freeway
Heated seats that didn't stay heated
Safety performance plummeted because of accidents caused by system failures.
By contrast, the 2021 model pleased owners with
Easier to operate
The crosswind assists feature became a standard feature.
Improved safety features
Improved driver assist technology
digital rearview mirrors
Well-designed ample cargo space
Powerful performance
Among the safety features are a whopping six airbags, somewhat unheard of in cargo vans at the time. Rear sensor detectors, better braking, and blindspot monitors were also added.
Here are more issues with the Ram Promasters.
Even though 2014 was the worst year, customers continued to seek out the heavy-duty cargo van-in part because the company paid attention to what was wrong and made needed improvements by 2021.
I'm sure other years ended up with lower or higher ratings too, but these are the two experienced Ram Promaster owners who say are the worst and best years.
What Ram Promaster Years are the Most Reliable?
2019
The 2019 Ram Promaster is considered to be an earlier-generation model.
Unlike its predecessors, it exhibited a vast amount of improvement.
It had a Pentastar V-6 best-class engine, making it more powerful and enduring than before. Moreover, it was quiet and vibration free. Additionally, it contained some of the most advanced technology of its time.
The 36-foot turning radius made steering easy, plus the handling dynamics consisted of a smooth shifting transmission.
An electronic stability system keeps the cargo van stable, giving excellent traction to the tires.
This cargo van is highly customizable for business.
Add windows or choose different colors and trims. Add brackets to hold equipment. Business owners love how they can change things to represent their business best.
2021
This powerhouse is built big and favored by campers and business owners alike because
The cargo area is vast, so storing camping gear or work equipment is no problem.
Front-wheel drive makes room for a lower-load floor
Technology specifically designed for extra safety
Perfect for those who believe in utility being essential to their business day or trip
2023
The newest model of Ram Promaster has fans excited about the latest features and improvements.
It gets the job done efficiently with
TorqueFlite® nine-speed automatic transmission
3.6L Pentastar® V6 engine
Fewer mechanics, which means fewer repairs.
Better safety features for parking and driving
More visibility and maneuverability in tight places
Newly designed front end
Improved headlights system and performance
Cutting-edge business functional technology and comfortable interior
While the verdict is still out on the 2023 model, I think it is safe to say it's already one of the best years because there are so many customer-requested updates added.
What Ram Promaster Years Should You Avoid?
2014
2014, as mentioned, is the worst year of all, so definitely avoid it. As the first year ever for the Ram Promaster here in the U.S.,
it wasn't really designed for the needs of the American blue-collar workers.
Many of the 2014 model flaws were safety-related and caused unexpected stalling on busy highways.
If you decide to buy one used, get proof of any repairs. Otherwise, you may buy one that is still stalling or a vital system stopping while driving, causing you injury or worse in an accident.
2015- 2018
The main problem with the Ram Promaster in the earlier generations is all the recalls!
If the cargo van had air conditioning combined with one of the following engines, it frequently caught on fire.
Of course, the main concern was for the life of the driver and crew inside.
However, even when they were out, it was still a significant catastrophe. Flames can engulf the area quickly, causing the loss of thousands of dollars in equipment.
A nightmare for sure for any business.
The engines requiring a recall to avoid the cooling fan sizing up are
3.0-liter diesel
3.6-liter gasoline engine
Always have proof these have been fixed when buying used.
Another recall for the 2015 and 2016 Ram Promaster models centers on the transmission shifting into neutral without warning while driving.
The Ram Promaster can last long when properly cared for.
What are Some Typical problems with the Ram Promaster Models?
Ram Promaster models have had a few typical problems that owners have reported.
Let's take a look at the most common problems discovered.
Bad weather or off-road driving
Cheaply made Parts
Hard Seating
Recalls
Headlights
Brakes
Battery Connection
Minor interior design flaws
Low to the ground
Go back to overview of best/worst years for ram models.
Was this article helpful?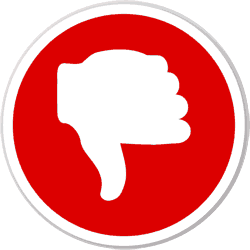 Did you find wrong information or was something missing?
We would love to hear your thoughts! (PS: We read ALL feedback)
ⓘ  The information in this article is based on data from National Highway Traffic Safety Administration (NHTSA) recall reports, consumer complaints submitted to the NHTSA, reliability ratings from J.D. Power, auto review and rating sites such as Edmunds, specialist forums, etc. We analyzed this data to provide insights into the best and worst years for these vehicle models.
---