The Porsche Macan is a powerful luxury SUV that has been on the market since 2014.
While there are a lot of great features, including impressive horsepower and plenty of ways to customize the SUV, some years are better than others.
Knowing of the various problems can help you to steer clear of certain model years.
READ ALSO: How fast are each Porsche really at 0-60 MPH?
The Best and Worst Years for Porsche Macan Are:
The Porsche Macan has experienced both good and bad model years throughout its generations – and in less than 10 years, there have been three major updates. 2019 has been the best model year to date. Meanwhile, there have been a few poor model years, including 2016 and 2017.
What Porsche Macan Years are the Most Reliable?
The Porsche Macan has had a number of model years that have proven to be both popular and reliable.
Which model year is right for you? It depends on what you're looking for. Plus, you also have to consider the trim level – which is not only about features but also about cost.
The trim levels vary based on model year because of changes Porsche made to the lineup.
With proper care, most Porsches can last 150,000 miles.
Macan 2015
The Macan 2015 is the first model year, although it was technically made available in the market in 2014. The compact SUV got a lot of people excited, especially with the trim levels to include the S, Turbo, and GTS.
One of the reasons why it instantly gained attention is because the Macan shares the same platform as the Q5.
It even gained a "Best Value" award and has been identified as a great car for its safety.
Does that mean that the first year of the new model was perfect? Absolutely not. There weren't a lot of issues reported, but there were reports regarding fuel pumps as well as brake boosters. Most of these were easily fixed, however.
If you were to find a 2015 model year on the market now, the fuel pump issue and brake booster would have likely been fixed. It would mean that you could simply enjoy the Porsche SUV for all that it has to offer.
Macan 2019
The Porsche Macan 2019 marks when a few subtle changes were made, including a few optional packages and a few enhancements to the suspension and fuel system.
The aesthetic changes are quite noticeable, including a redesigned front and rear fascia as well as LED headlights and taillights.
If you're all about the added features, some of the systems you could add starting in 2019 include torque vectoring, a Sport Chrono Package, and active suspension management.
A new engine design also helped to enhance the performance. The GTS got a bump up to 375 hp as well as more lb.-ft. or torque.
It is around this time that Porsche also announced that they've delivered over 350,000 units of the Macan worldwide – and we'd like to think much of it is because of some of the changes made in 2019.
Macan 2020
The 2020 model had a few upgrades that has made it popular. For everyone who expects Porsche to be powerful, the engine upgrades are of the utmost relevance. The GTS shares a twin-turbo V6 with the Macan Turbo. The top trim level produced 434 horsepower.
There were also no recalls (to date) on the 2020 Macan, which shows that Porsche has learned from previous models and has seemed to get it right.
It made it on the 10Best list of Car & Driver. Plus, it received 5-star safety ratings. It was also the winner of the 2020 ALG Residual Value Award for a premium compact SUV.
Macan 2021
The 2021 model year of the Macan was popular because it had just gone through a complete redesign to enhance both exterior aesthetics as well as interior features.
A few changes were made to the model lineup, too.
The newer Porsche Macan models are also popular as leasing.
The turbo went away so that it could become its own model. and a base trim was created, leaving the choice of Base, S, and GTS. It also meant that people could explore an hp ranging from 240 all the way to 355 hp.
Many love the 2021 because it drives more like a sporty sedan than it does an SUV. It's also practical with its ability to provide you with cargo space and a bit more room for everyone.
The V6-powered Macan S is going to be one of the better trim levels to consider – and Porsche went out of its way go give it a few extra standard features in 2021. This includes a 10.9-inch infotainment screen, LED headlights, and a 10-speaker audio system.
Car & Driver even placed it on their 10 Best List and even gave it the Editors' Choice Award. That should give you a bit of comfort if you're on the fence about what model year you should get.
And while fuel economy is not always the best in a Macan, the 2021 year impresses with real-world testing that shows that it can average 26 mpg on the highway – about 7 more than what many of the other model years are rated for.
Macan 2021 Turbo
Since 2021 marked when Porsche added the Macan Turbo as its own vehicle rather than a trim level of the Macan, it's important to note that it is popular on its own.
The horsepower is an impressive 395 hp and tends to be in a league of its own in terms of performance. It is lightweight, agile, and can be very easy to drive. The sports suspension includes premium handling and cornering, too.
The Macan Turbo is also capable of doing well in off-road conditions.
Macan 2022
The 2022 Porsche Macan makes the list of popular models for a number of reasons. First, it's one of the newer compact SUVs on the market. And with its sporty handling and impressive horsepower, it's hard to find a lot to hate.
There are a lot of great things going on with the 2022. It has an upscale appearance and a refined chassis. Basically, this means that it performs just as well as it looks.
It's everything you'd expect out of a luxury SUV.
Now, there are a few downsides, we're not going to lie. The rear seats are a bit snug, and the cargo space is lacking.
As long as you can ignore the minor flaws, you can compensate by getting the Premium Package in the 2022. This upgrades you from 10 speakers to 14 and provides you with adaptive headlights.
If you're in an area where it's cold, the heated front and rear seats will be an absolute delight, too.
The 2022 also has more safety and driver-assistance features available.
Basically, as long as you're willing to pay for it, you can have all of the features you want. The lane-departure warning comes standard, but you'll have to pay if you want adaptive cruise control and automated emergency braking. Is it worth the extra money?
That's for you to decide, but because you can get them, we'll count it as a win for this model year.
What Porsche Macan Years Should You Avoid?
Any Porsche Macan can encounter problems. However, there are a few years that seemed to have a few more problems than others.
By reviewing the model years with the most problems, you can choose to avoid them if you decide to buy a used Macan on the market.
Don't be afraid to ask for a history report so that you can see what repairs have already been made – and what repairs may still be necessary.
2016 Macan
The 2016 is the second year of the Porsche Macan, and so it's only natural that there were some issues discovered.
A few changes were added for the 2016. This included the Porsche Communication Management System, which is commonly referred to as infotainment.
It's not one of the better infotainment systems on the market. With a name (and cost point) like Porsche, you'd expect it to be one of the best.
The reality is that there are a lot of flaws, and the system often freezes, requiring a reboot.
One of the biggest issues was that the exhaust pipes were too rigid for the SUV.
As a result, they were prone to break – and the repairs averaged $3,000 for most drivers.
2017 Macan
The 2017 Macan is constantly listed as one of the model years to avoid.
There are a few reasons for it – and mainly because it doesn't perform like many of the other compact SUVs on the market, luxury or not.
The fuel economy is extremely low. On average, it gets 19 miles per gallon. Most would expect a compact SUV to do a lot better than this. Instead, it's what would be expected out of a full-size SUV.
It has been constant in the 2017 Macan models but also in many of the newer models.
There's another issue, and it's unique for the 2017 model year. The anti-roll bar connecting links commonly move out of position. It's one of the biggest recalls that were issued on the model, too.
Additionally, it can affect any of the trim levels.
You'll find a list of other complaints, but it depends on the trim level. It also depends on what you are willing to tolerate in order to get a small price break.
The cost of maintenance and repairs can be high.
Car Edge estimates that there's a 60% chance that the Macan will require a major repair within its first 10 years. Since the model hasn't been out for a full 10 years, it's impossible to know. However, since it's a foreign car, the cost of repairs will be higher than the industry average.
In the end, since the 2017 Macan is only a few years old, it's not going to produce that much of a price difference from a 2016 or even a 2018.
The best bet?
Just avoid that model year altogether if you can help it.
What Are Some Typical Problems with the Porsche Macan Models?
When you explore a Porsche Macan, regardless of model year or trim level, it's important to pay attention o some of the most common problems.
This way, you can learn what to expect as well as what you may want to avoid:
Underwhelming interior quality
Rear seating is cramped for larger/taller adults
Problems with the infotainment system
Issues with the oil level sensor
When you want to learn more about some of the typical problems, check out another article we have that's a bit more in-depth.
Sources
Which Porsche Macan is Best? We Tested Them All for You
Was this article helpful?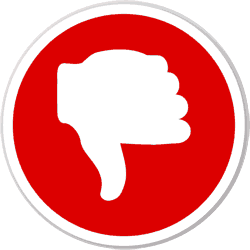 Did you find wrong information or was something missing?
We would love to hear your thoughts! (PS: We read ALL feedback)
ⓘ  The information in this article is based on data from National Highway Traffic Safety Administration (NHTSA) recall reports, consumer complaints submitted to the NHTSA, reliability ratings from J.D. Power, auto review and rating sites such as Edmunds, specialist forums, etc. We analyzed this data to provide insights into the best and worst years for these vehicle models.
---