Minivans can sometimes be bland and unexciting, and this is likely what inspired the Nissan Quest. This minivan brings some exciting features and a great design to this classic family car.
However, not all the Nissan Quest models are as reliable as fans and customers would've wanted. Some model years are excellent while others are not so great.
In this article, we'll be going through the best and worst Nissan Quest years.
The Best And Worst Years For Nissan Quest Are:
The 2009, 2011, and 2015 of the Nissan Quest are some of the best model years. These models have received relatively lower complaints and problems from customers.
However, some of the most unreliable models for the Nissan Quest are the 2004, 2007, and the 2012 models. These have significantly higher numbers of issues, ranging from transmission and engine problems.
What Nissan Quest Years Are The Most Reliable?
Here are two Nissan Quest years that are the most reliable:
1. 2011 Nissan Quest
This 2011 model of the Quest was highly anticipated and actually delayed by up to a year. The delay was due to some technical errors in the ECU and some minor tweaks needed to be done before it was revealed.
It came out exceptionally well, with plenty of cargo and passenger space, together with some luxury finishes. Previous models were beaten out by competitors due to space and interior quality.
Even though it only seats seven people, there's still ample space for cargo when both back rows are folded down. Nissan also improved the ride quality of the 2011 Nissan Quest for a smoother ride and updated suspension.
Owners also noticed that the tires of the Quest were wearing out quite faster than normal. This was solved by getting high-quality tires, and this is not an issue anymore.
Another benefit of the 2011 Nissan Quest model is that it can last a really long time if taken care of. Owners who underwent a good maintenance regimen enjoyed the Nissan Quest for well over 200,000 miles.
To gain more insight on the vehicle's longevity, check how long the Nissan Quest last here.
Unfortunately, Nissan really had to work on their safety scores as well as the image of the overall Nissan Quest brand. The safety scores started improving with this newly redesigned model and later models are even better.
Of the many changes to the 2011 design, the larger space was the most attractive to buyers. Not only can it fit more people, but the cargo space is big too when you fold the seats down.
Minivans are not made for power or speed, but with a 3.5-liter V6 engine, it gets the job done really well. You also get around 20 mpg for city driving and around 27 mpg for highway driving, which is great fuel economy rates.
2. 2017 Nissan Quest
Nissan made even greater improvements to the Quest in the 2017 model that features larger doors. A short step-in and the flat floor make accessing it rather easy for both short and tall passengers.
They also introduced some premium trims that had leather seats and more advanced driver-assist features.
A unique feature of this model is that you can even open the sliding side doors regardless of their sliding nature. This is not common for minivans with sliding doors and Nissan is one of the first to introduce the style.
Other features also include anti-lock brakes with brake assist, electronic stability control, and blind-spot monitoring. These features made the Nissan Quest a much safer family minivan and a great option.
If you take up the Platinum version, you'll also get a 360-degree view camera together with a blind-spot warning system. Visual and audio warning systems are standard across the trims with the necessary components.
All the extra features also came as standard across all trims. This is a good move, seeing as competitors offered these standards at higher prices.
Driving the Nissan Quest is quite a pleasure due to the well-made suspension. Bumps are a thing of the past and the steering is really responsive, especially around sharp bends and curves.
Nissan is pleased that the Quest is now a good competitor for the small but fierce minivan market.
Previous models of the Quest were trailing against competitors such as the Toyota Sienna, Honda Odyssey, and Kia Sedona. However, the Nissan Quest is now a tight runner-up for potential buyers.
What Nissan Quest Years Should You Avoid?
Below are 2 Nissan Quest years you should avoid..
1. 2004 Nissan Quest
Many issues and complaints have been recorded for this model over the years, even though it is a fairly old model. Its issues range from electrical faults all the way to engine and transmission problems.
As for the recalls, the 2004 Nissan Quest has received about five recalls for various issues. These also led to around four NHTSA investigations and over 100 technical service bulletins.
Most common issues for this particular model include engine trouble, braking system issues, and transmission issues.
Some of the recalls reported were for the power sliding doors, seat adjustment mechanism, and airbag sensors. Most of the recalls had something to do with the electrical system and sensors not functioning correctly with the components.
Of the recalls, the one with the most vehicles involved was the seat adjustment recall with about 100,000 vehicles recalled. Amongst the major complaints was how drivers were being pinched when operating the seat adjustment mechanism.
Another recall, but with the least vehicles involved, was the faulty airbag sensor recall that affected only around 15,000 vehicles. 
For other recalls, the power sliding door recall, and third-row seat recall only affected 30,000 and 25,000 cars, respectively. You might want to check other Nissan cars with the most recall.
Fortunately, Nissan was able to issue the recalls timeously before a lot of collisions were reported.
There are a lot of complaints directed at the transmission and this might point to a design flaw. If the transmission has a flaw, it is likely to give out faster.
On average, the Nissan Quest's transmission should last around 120,000 miles with good maintenance. It is recommended to check your transmission fluid and transmission components at around 90,000 miles.
2. 2007 Nissan Quest
This model of the Nissan Quest seems to be the most troublesome, with plenty of complaints and some recalls. According to the NHTSA, the 2007 model has received abut 445 complaints throughout the years.
Even though this model fairs better than the 2004 version, it still doesn't offer a significant level of reliability. Most of its issues are around the CVT transmission, alignment issues, and the tires constantly wearing out.
This 2007 model of the Nissan Quest also faced a recall for the transverse bolt. Symptoms of this issue were a rattling noise and vibrations when driving.
Mind you, the transverse bolt recall was regarded as a serious recall because if the bolt were to fully come off, the driver will have difficulty steering. This can result in a collision if the issue occurs at high speeds.
Nissan made a good effort to track the issue while some of these models were still in manufacturing. However, a lot of the units had already been sold when the issue was identified.
Upon investigation at the Nissan facility, it was found that the bolt was not fastened to the right specifications. This was not a very common occurrence, but one that could put passengers in danger.
A number of owners also complained about their tires being worn out quite fast. This might be happening because of the weight of the car, and not particularly to the 2007 model.
It is recommended to keep your tires healthy by checking them regularly. You can also go for regular maintenance to determine if the brake pads are in good working order.
Here and there, you might find engine issues that include the car not starting or the engine stalling. Faulty fuel injectors or an exhaust manifold that can be solved by a visit to the mechanic usually cause these issues.
A more common problem is how the engine area rattles and makes loud noises when the car is idling. This can also happen while driving the car, and it can startle drivers.
This is also another issue often caused by a faulty transverse bolt and it's quite dangerous if not attended to. If the bolt is not replaced, drivers can lose control of the car and cause an accident.
We recommend contacting your nearest Nissan service and ask them to check if your model is recalled for any issue. You can also do this even if your Nissan Quest model isn't showing any of the symptoms of the recall.
What Are Some Typical Problems With The Nissan Quest Models?
The Nissan Quest is known for a few typical issues. Find them below.
Airbag Sensors
Jerky Transmission
Air-conditioning Problems
Timing Chain Issues
Engine Stalling
Tires Wear Out Fast
Make sure you learn more about the common problems of the Nissan Quest here.
Back to best/worst years for all Nissan models.
Was this article helpful?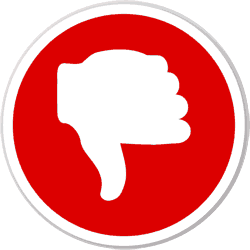 Did you find wrong information or was something missing?
We would love to hear your thoughts! (PS: We read ALL feedback)
ⓘ  The information in this article is based on data from National Highway Traffic Safety Administration (NHTSA) recall reports, consumer complaints submitted to the NHTSA, reliability ratings from J.D. Power, auto review and rating sites such as Edmunds, specialist forums, etc. We analyzed this data to provide insights into the best and worst years for these vehicle models.
---