The first generation Nissan kicks debuted for the 2018 model year, while replacing the Nissan Juke. This model is specially targeted at customers who desire a small compact car that still delivers practically on most sides.
The Nissan kicks have just been around for a few years and have not been thoroughly scrutinized for their reliable models.
However, in this article, we have compiled a list of model years that have the highest complaints as the worst Nissan Kicks and the model years that boast excellent reviews as the best models. 
Let's get into it!
The Best And Worst Years For Nissan Kicks Are:
The best models for the Nissan kicks are the 2022 and 2021 models, while the models to avoid are the 2020 and 2019 models.
This list should be put into consideration if you plan to buy this vehicle.
What Nissan Kicks Years Are the Most Reliable?
Below is a highlight of the Nissan Kicks years that have gotten a good number of excellent reviews from users and critics. 
1. 2022 Nissan Kicks 
The 2022 Nissan Kicks is highly appreciated for its affordable price, especially amongst all other Nissan SUVs. It has an MSRP of $19,990 – $22,550, as stated by Edmunds.
Regardless of its price, the 2022 Nissan Kicks comes with a lot of standard features and safety technologies. These are aside from its very efficient fuel economy.
However, performance isn't exactly the Kick's forte. This vehicle is powered by a four-cylinder engine paired with a continuously variable automatic transmission that delivers 122 horsepower.
The acceleration picks up slowly as Edmunds calculated that it ran from 0 mph to 60 mph in 10.7 seconds, which is the slowest amongst its rivals.
Thankfully, the suspension of the vehicle scores high as it keeps the vehicle composed, so there's a bit of sportiness in the 2022 Nissan Kicks. The CVT also works smoothly as there are no cases of jerking, sputtering, or hard shifts.
Another low point for the Nissan Kicks is its seats. The seats lack good cushioning, especially at the rear, so long drives may be uncomfortable for passengers.
Wind and road noise are also heard in the cabin, especially at high speeds. So you might journey with some bit of racket with the Nissan Kicks.
Going into the highlights of this vehicle, as stated earlier, the interior controls of the kicks are remarkable. They are simple and easy to use. The vehicle also has decent driving visibility because of its large windows and low hood line.
However, only tall folks could have a problem with this visibility. This is because the seats are somewhat cramped, especially at the rear, and the accelerator pedal is crowded up against the side of the footwell.
The Nissan Kicks has a good fuel economy. Edmunds recorded 31 mpg in the city, 36 mpg on the highway, and 33 mpg combined.
Moreover, the 2022 Nissan Kicks comes with a lot of safety and technological features. It features an 8-inch touchscreen as standard, and it supports Apple CarPlay and Android Auto.
Some of its safety features include:
Emergency braking with pedestrian detection

Lane-departure warning

Adaptive cruise control
In terms of critics verdict, Kelley Blue Book rates the 2022 Nissan Kicks 4.0 out of 5.0 for its reliability. You might want to check how long Nissan Kicks last here.
2. 2021 Nissan Kicks
The 2021 Nissan Kicks is another reliable model. It comes with a bold exterior look and a surprisingly spacious cabin.
However, it is more pricey than the 2022 model, as its price starts at $20,895, according to Caranddriver.
Just like its brother, the 2021 Nissan Kicks is powered by a 122hp four-cylinder engine, which delivers a disappointing acceleration. For the 2021 model, the vehicle jogs from 0 mph to 60 mph in 9.7 seconds.
Mind you, the 2021 Nissan Kicks has a good suspension that flattens out bumps and road imperfections to give the Kicks a smooth ride.
The steering is also direct and accurate but it doesn't exactly give an excellent feedback from the road to the driver. In short, the kick may not provide a thrilling drive, but it is not bad either. It is somewhere in the middle.
The 2021 Nissan Kicks returns an excellent EPA rating as it achieves 31 mpg city, 36 mpg highway, and 33 mpg combined.
Delving into the interiors, the cabin is well built and integrity controls are easy to navigate through. There is enough legroom and headroom for this model, and its cargo space is also quite impressive for the size of the vehicle.
Its technology feature is not the best in the market but they perform pretty well.
The base level of the Nissan Kicks comes with a 7-inch infotainment screen, a six-speaker audio system, and Bluetooth connectivity.

The higher trims feature an 8-inch infotainment display and an extra USB-C port

. The only downside to this screen is that the icons were small, making it difficult to see through.
The 2021 model is also not lacking in safety features, as automated emergency braking comes standard on all trims.
Some of the vehicle's available safety features include: 
Automated emergency braking with pedestrian detection

Lane-departure warning

Adaptive cruise control
What Nissan Kicks Years Should You Avoid?
What we have below is a list of Nissan Kicks years that have been found with many issues.
1. 2019 Nissan Kicks
Although the Nissan Kicks have just been around for a short while, the 2019 model is one model that has been found with so many problems in just a short period.
One major problem with the Nissan Kicks is its malfunctioning front collision sensors. These sensors are very crucial in guarding the safety of passengers as they are responsible for detecting vehicles, pedestrians, and any other objects close to the vehicle.
However, it becomes a problem when these sensors start to give false warnings that trigger the automatic emergency braking systems and forward collision warning system.
This is a major problem that has led to cases where the vehicle will suddenly brake with no obstruction ahead, and it makes the Nissan Kicks unreliable to drive.
Another problem that plagued the 2018 Nissan Kicks is its malfunctioning electrical components. Several owners had reported that their radios, key fob, and dashboard display would always malfunction.
It was so ridiculous that even when the car was off, the radio, lights, and display screen were still working.
Some other folks stated that it left them stranded and sometimes had to find a way to open their vehicles manually because the key fobs were not working.
The third notable problem with the 2019 Nissan Kicks is its faulty transmission. Some drivers have stated that they frequently had cases of strange noise and sudden acceleration while driving the car.
Common symptoms that drivers experienced with this transmission came in the form of the following: 
A burned smell

Stalling 

Warning lights 

Sudden acceleration or deceleration

Grinding noises

Low idle
Note that there was a recall of the 2019 Nissan Kicks that also included the Infiniti vehicles. This recall was aimed at the rear-view camera, as there was a manufacturing flaw in them.
2020 Nissan Kicks
The 2020 Nissan Kicks is another model year to avoid buying, as there have been a range of problems found in this vehicle. The first major problem with the 2020 Nissan kicks is its engine failure.
Different owners have complained about cases where their engine stalled randomly, and while this goes on, the engine revs below idle RPMs and slowly shuts off.
According to the affected owners, it was as if the engine was running low on fuel on its throttle input, but thankfully, the car often responded on the second throttle attempt. Unfortunately, till now, there is no fix for this problem.
The transmission problem was also another failure that plagued the 2020 Nissan kicks. A couple of owners have also complained about their transmissions slipping and jerking.
There was also the case of sudden deceleration, even though the engine revs high on throttle input. A firmware update was provided through the dealership, but there were few or no changes to the issue at hand.
Owners had no choice but to replace the faulty transmission.
A third problem with the 2020 Nissan Kicks is its faulty forward collision avoidance system. In this case, the system gives off a warning sign when there was no visible obstruction in sight.
Thankfully, some owners got their sensors under warranty, but this did not solve the problem. In fact, a crash was reported by the NHTSA because the braking system suddenly engaged itself.
Lastly, although there's been no widespread issue, some owners have also claimed that they'd noticed a reduced braking performance from their brakes and it is usually accompanied by a grinding noise.
Premature brake pad wear has been traced as the source of this problem.
Other minor issues that plagued the 2020 Nissan kicks include: 
Infotainment system problems 

Problem with the fuel system
What Are Some Typical Problems with the Nissan Kicks?
Below is the list of general problems found with the Nissan kicks vehicles.
Front collision sensor failure

Loss of engine power

Troubles acceleration 

Transmission problem 

Faulty automatic emergency braking 

Clicking sounds from the instrument cluster
Make sure to learn more about the common problems of the Nissa Versa cars here.
Back to best/worst years for all Nissan models.
Was this article helpful?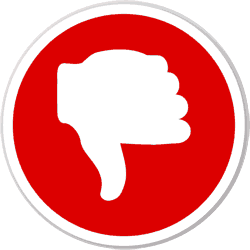 Did you find wrong information or was something missing?
We would love to hear your thoughts! (PS: We read ALL feedback)
ⓘ  The information in this article is based on data from National Highway Traffic Safety Administration (NHTSA) recall reports, consumer complaints submitted to the NHTSA, reliability ratings from J.D. Power, auto review and rating sites such as Edmunds, specialist forums, etc. We analyzed this data to provide insights into the best and worst years for these vehicle models.
---