When you want the best compact SUV, you want to make sure that you find a car that can offer you many things in one. You want to ensure that you have a vehicle that provides optimum space while giving you a comfortable off-road experience. Have you considered whether you want low-end or high-end torque?
Many variables should be considered, including the type of transmission you want. Yet, it would be best if you didn't overlook the aesthetic appeal and interior style of your SUV.
Read on to find out what makes the Mazda CX-5 the best, so that you know why it's considered a reliable compact SUV and why you should avoid some models from this dynamic range.
Before we dive in, if you're in the market for an SUV from Mazda, make sure to check our guide to depreciation on Mazda SUVs.
Best years for Mazda CX-5
Getting the most value out of your purchase makes everything worth it. Nowadays, many significant additions ensure you get the most out of the car of your dreams.
Find out which models of the Mazda CX-5 are considered the best since it was launched in 2013.
1. 2021 Mazda CX-5
As part of the latest offerings of the Mazda CX-5, the 2021 model has fared well with both critics and customers alike. It has retained the remarkable standard 2.5-liter engine that you've grown to love.
The attributes that stand out the most are its interior and robust handling.
Higher trims have a 2.5-liter turbo. You can see how every part of this model ensures you get a sheer driving experience with efficiency. The updated engine technology has vastly improved the chassis and transmission.
According to the NHTSA, the 2021 Mazda CX-5 has achieved a 5-star safety rating for its overall performance. And its assortment of standard safety features makes it very reliable and one of the best models.
There haven't been recorded recalls of this model so far.
2. 2020 Mazda CX-5
His Mazda CX-5 model is a high-end car.
Among its innovative features, you can expect to experience an athletic chassis. Among its innovative features, you can expect to experience an athletic chassis. If you're looking for an SUV with a pleasing design and a fun-to-drive nature, this is your ideal choice.
An undeniable interplay of your favorite dynamics, such as precision steering and cornering, makes driving on rough roads seamless. The Mazda CX-5 has much quicker acceleration with reduced road noise.
A six-speed automatic transmission pairs immaculately with the standard 187-hp cylinder and 250-hp turbocharged engines.
Moreover, the interior layout and exceptional style make it an upscale SUV for its price. Even though its cargo volume decreased compared to previous versions, it has become more functional for planned road trips.
3. 2019 Mazda CX-5
This model of the Mazda CX-5 not only offered the first diesel engine, but it also came with low-end torque. Driving this model feels more relaxed overall.
This is ideal if you want to maximize your driving experience at lower gears.
This diesel engine boasted a 29 mpg rating.
It also raised the stakes as it saw the first 5-star coveted safety rating that would soon be excellent for models that came after it.
This model offers great tech and performance with a quick-to-shift transmission.
Check also: Popular nick names for Mazda cars.
4. 2018 Mazda CX-5
This marks one of the best Mazda CX-5 years to date, mainly because of the customer satisfaction ratings received this year.
The scoring was influenced primarily by:
comfort,
driving experience,
and value.
The safety reliability ratings also achieved high standards.
As a compact SUV, the 2018 Mazda CX-5 provides agility and a cushioned experience. The precise steering and responsive powertrain put it a class above its competitors.
Most importantly, it has attractive styling and advanced driver assistance features.
5. 2015 Mazda CX-5
Minimal complaints were issued about this model. Additionally, it ranked high for reliability among SUVs for this period. This model has an impressive 26 mpg overall rating.
A 2.5-liter four-cylinder engine powers the performance.
The driving dynamics are impeccable, with efficient gas mileage estimates.
Three trims are available;
Sport,
Touring,
and Grand Touring.
Each is priced according to its notable features. You have the choice between a six-speed automatic or manual transmission.
The 2015 Mazda CX-5 produces 155 horsepower to contend with the best of the best. Not only does it come with standard safety features, but safety amenities such as a blind spot warning system are included.
This makes it a dynamic and luxurious compact SUV for you to enjoy.
Mazda CX-5 Years to Avoid
There are many reasons why you should avoid buying a particular car model.
From production recalls to unprecedented transmission problems, it's always a good idea to know beforehand when to avoid buying a Mazda CX-5 model.
The following are the models that you should consider avoiding, like the plague.
1. 2014 Mazda CX-5
The main problem that was raised about this model is engine failure. Transmission and excessive oil consumption are also severe problems that were widely reported.
In other cases, drivers experienced auxiliary power draining their batteries.
Electrical problems such as accessory power staying on despite the vehicle being turned off became common.
As a result, other drivers had to manually disconnect their batteries to ensure that the ignition powered down.
Many issues caused this model to be recalled for a much-needed facelift.
2. 2016 Mazda CX-5
If you're looking for a good second-hand SUV, you should avoid buying this model. Out of every model year, this Mazda CX-5 has the most complaints.
The most concerning issue was with the emergency brakes.
Drivers witnessed this model lurch forward when trying to engage the brake pedal. The exterior lighting also became a common issue.
Daytime lights failed to illuminate on almost all of these models and replacement parts took weeks to arrive.
1st Generation Mazda CX-5: 2013 – 2016
In 2013, Mazda launched the most stylish medium-sized SUV to date. The Mazda CX-5 is known for its pleasant driving experience with excellent features.
The first generation of the Mazda CX-5 range stood out due to its fuel efficiency, comfortable driving, agility, and versatility.
This five-door SV comes with cruise control. The engine options vary between gasoline and diesel engines. The diesel comes with a standard turbocharged 2.2-liter engine, and the gasoline relies on a 2.0-liter four-cylinder engine.
If you're looking for superior and powerful driving from the first generation of the Mazda CX-5 models, you should consider the turbo-diesel option.
It gives immense handling on rougher terrain.
Above all, the interior is also a great reason to opt for the best-performing models from the first generation.
There is ample space for your needs. Updates have been made over the years to include a more cohesive interior. Since the 2016 Mazda CX-5 model received the most complaints, the production improved the brake system failure.
Now, the braking and blind-spot alert come as standard features.
2nd Generation Mazda CX-5: 2017 till present
The first batch of Mazda CX-5 second-generation models will go on sale in 2017. The engines and primary platforms that these cars use are similar to the first-generation models.
The main changes you'll notice are reduced noise levels when the car accelerates, improved comfort, and more equipment.
For instance, the auto braking system now operates over an array of speed options.
This is what the compact off-road SUV generation is made of. Sport-utility wagon body shapes have also become a standard offering with the models launched in 2017.
The four trim levels in this generation have horsepower that can reach up to 192 hp. Other additions include adaptive cruise control, a standard safety suite, and pedestrian detection.
These improved features have ensured that the latest Mazda CX-5 models remain the most reliable compact SUVs.
Which Mazda CX-5 generation should you buy?
Depending on your budget and the features that you're in the market for, it's a toss between the Mazda Cx-5 2021 and 2022 models. The significant upgrades that come with the latest model make the extra cost worth the buy.
There are tweaked features such as the transmission, suspension, and seat styling that come with the 2022 Mazda CX-5 model.
Both have increased power when you opt for their turbo models. Plus, they come with standard safety features.
However, if you need to tow with your car you should read our guide to how much the Mazda CXC-5 can tow.
What year is the most reliable Mazda CX-5?
For years, the Mazda CX-5 has been known as a reliable compact SUV.
The 2018 Mazda CX-5 maintains its position of being dubbed as the most reliable without many tech advancements compared to the latest models.
It has ticked all the boxes when it comes to standard safety features.
What are the most common problems with Mazda CX-5s?
Despite its high ratings, the Mazda CX-5 has seen some bad reviews. We have another article featuring the most mentioned problems with Mazda CX-50 models.
These are the five most common problems with Mazda CX-5s.
The infotainment system reboots on its own and disconnects your smartphone.
Electrical system failure affects engine performance.
Windshield cracking and defrosting problems under extreme weather conditions.
Failure of daytime running lights.
Exploding sunroof due to high temperatures.
How many miles will a CX-5 last?
The Mazda CX-5 is still considered a relatively new vehicle on the market.
With a lifespan of only 10 years, it's safe to say that these models can last for up to 250 000 miles. You're likely to see more mileage when you ensure regular maintenance on your SUV.
The good news is that you're likely to spend less on your average maintenance costs than similar SUVs. It would be best to consider the factors at play with your Mazda CX-5 to determine how many miles it can last.
What are the closest competitors to the Mazda CX-5?
The Mazda Cx-5 has various competitors that you might want to look at.
It's always essential to ensure that you get a car that fits all your needs.
These are the top competitors that you should research.
Nissan Rogue
Hyundai Tucson
Toyota RAV4
Volkswagen Tiguan
Honda CR-V
KIA Sportage
How long do the transmissions normally last on these models?
The transmission of these models differs due to many factors. On average, you should expect a minimum of 200 000 miles. With more power, you get more transmission. It's essential to keep up-to-date with regular maintenance, such as keeping track of the mileage of your transmission.
Back to best/worst years across all Mazda models.
Was this article helpful?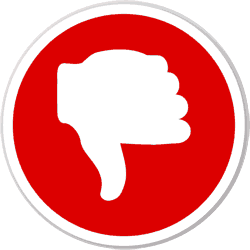 Did you find wrong information or was something missing?
We would love to hear your thoughts! (PS: We read ALL feedback)
ⓘ  The information in this article is based on data from National Highway Traffic Safety Administration (NHTSA) recall reports, consumer complaints submitted to the NHTSA, reliability ratings from J.D. Power, auto review and rating sites such as Edmunds, specialist forums, etc. We analyzed this data to provide insights into the best and worst years for these vehicle models.
---