The Kia Forte replaced the Kia Spectra. Moreover, in specific markets, this car is marketed as a Kia Cerato. Over the years, many updates have ensured that the Kia Forte remains a reliable, affordable, and stylish compact car.
Read on to find out which Kia Forte years are the best and worst.
Most importantly, which generation of the Kia Forte should you choose for maximum reliability?
Its mega value proposition has placed it above many competitors within the same class. With outstanding driver-assistance features such as adaptive cruise control, the latest models of the Kia Forte have maximized safety while ensuring comfort. High-quality materials have made it possible for base models to provide pleasant amenities.
You don't need a string of optional extras when you choose the base model of the Kia Forte.
Best years for Kia Forte
The best years of any car model are made of various factors. When choosing the best car, you consider safety, comfort, and high-value features along with other aspects.
The best years for the Kia Forte are no exception; they combine everything that ensures reliability while you drive.
1. 2022 Kia Forte
This model has come with a much-needed revamped interior and exterior when you compare it to its predecessor. You still get the same design that you've grown to love from this car. The most notable changes that you'll come across are the wheel design, grille, and bumpers.
The sporty appearance of this model makes it both highly capable and affordable. If you're frugal but want the best of both worlds, you buy this car. It's a compact sedan that gives you more value than you can imagine.
You have a choice of two engine options.
A standard 2.0-liter four-cylinder engine with up to 147 horsepower and a turbocharged 1.6-liter four-cylinder engine with up to 201 horsepower. The turbocharged engine gives your Kia Forte competition with a Civic Si and Volkswagen Golf GTI.
2016 Kia Forte
Whether you're looking to buy the coupe or sedan of this model, you're guaranteed enough space to wiggle as you enjoy long drives. You have many standard and optional features to choose from. The 2016 Kia Forte showcases more modern tweaks to the upgraded 2014 Kia Forte model.
You have three engine options, and two of these engines offer you impressive acceleration and competitive power. It's a credible car choice when you want a spacious interior, strong engine performance, and upscale features.
2. 2021 Kia Forte
This Kia Forte model fares well when compared with compact sedans. It comes with a lengthy list of features. Most importantly, it offers you excellent fuel economy efficiency.
The three trims of this model come with an automatic and manual transmission. They all have a front-wheel drive supported by either a regular unleaded engine or a turbocharged one. This model range is loaded with superb safety technology.
The infotainment system comes with lots of features and ample cargo space. It was rated highly for its most minor complaints across the board.
3. 2020 Kia Forte
The first thing you'll notice when you see this model is that it looks similar to the Stinger Sports sedan. The 2020 Kia Forte comes with high-value features.
If you're tech-savvy, the in-car technology is satisfying.
The standard engine is equipped with 147 hp, and it can reach an EPA of 41 mpg. Overall, the 2020 Kia Forte is an excellent and compelling car model.
4. 2019 Kia Forte
The updated safety features of the Kia Forte range came with this model. This compact sedan comes with four trims with the standard 187-hp 2.0-liter four-cylinder engine.
You can enjoy a wealth of features such as an exceptional infotainment system. Its attractive design style and adequate performance make the 2019 Kia Forte one of the best models.
Kia Forte Years to Avoid
Unfortunately, some years come with more issues than manufacturers want. A wide range of issues can affect the performance of any car model. It's best to know which car models come with what issues when you want to buy a Kia Forte.
1. 2017 Kia Forte
This Kia Forte model had many engine failure problems. These included loss of acceleration that customers reported would occur while driving. Drivers would face issues related to car shaking that resulted in the inability to slow down or turn the steering wheel.
Other common problems included the following.
Check engine light warning.
Engine running roughly.
Tail lights need to be appropriately sealed.
Complete engine failure.
You can see a full rundown of the most prevalent problems across the Kia Forte years here.
2. 2015 Kia Forte
This model also had a lot of engine-related problems. Customers reported excessive engine noise and consumption of fluids.
The engine failure problems from the 2015 Kia Forte were widespread and caused a massive recall in that period.
It was believed that the engine failure problems were enough to cause a fire. Other common issues customers had were the radio not working correctly and poor handling under extreme weather conditions.
3. 2014 Kia Forte
Out of all the model years, the 2014 Kia Forte had the worst customer complaints. The concerns were mostly about safety-related car issues. The engine would stall and knock while there was excessive oil consumption.
As a result, most customers spent a significant amount on engine repairs and replacements. The engine was recalled due to sludge that caused a major engine failure.
4. 2013 Kia Forte
The most common problems that were reported with this Kia Forte model were loss of power while driving and those that were engine-related. In other cases, customers reported blown engines and engine knocking that resulted in the car running roughly.
5. 2012 Kia Forte
The main problem with this model stemmed from a flawed manufacturing process of the clutch slave cylinder (CSC) component. As a result, the entire manual transmission had to be replaced.
However, this model was also notorious for engine-related failures that included a lack of power, oil leaks, and engine knocking.
1st Generation Kia Forte: 2009 – 2013
This Kia Forte generation was first introduced with the first model launched in 2009. This was Kia's attempt to branch out into the compact sedan market. The main focus was placed on sharper designs to attract younger consumers.
It didn't take long for the Forte to include a coup and hatchback as part of its designs. The first-generation models received a lot of praise for their functionality and versatility.
It came with a manual and automatic transmission and other standard items such as anti-lock brakes and stability control.
A tire pressure monitoring system ensured drivers had the most comfortable and relaxing drive. Other exciting features included automatic climate control ad heated seats. Other optional extras were available depending on the trim you choose.
We still see lots of the first generation Kia Forte on the roads – which shows the good reliability of the Kia Forte.
2nd Generation Kia Forte: 2014 – 2018
The second generation of the Kia Fore was redesigned with an extensive list of impressive features and a fresh-faced look. The two trim levels have distinct engine and transmission offerings.
You also had the option to transform your car into a premium or technology package.
While this generation of the Kia Forte came with many desirable and innovative features to enhance design and performance, it also had the most engine performance issues. Most car models within this period were recalled due to car-safety issues. In some instances, drivers reported fire-causing engine damage and acceleration issues.
3rd Generation Kia Forte: 2019 till present
The one thing that Kia decided to do with this generation is to focus on simplicity. A fuel-efficient 2.0-liter four-cylinder engine with intelligent variable transmission allows more efficient power. These changes have ensured that you have a smooth and responsive drive.
The design tweaks have helped to eradicate the engine failure issues from the first and second-generation Kia Forte models. With four trims available, you can enjoy various optional extras such as power lumbar support, dual-zone climate control, a keyless entry system and so much more across the board.
Which Kia Forte generation should you buy?
You should buy the third-generation Kia Forte if you want a compact sedan, coupe, or hatchback that caters to your styling and feature needs. This generation didn't skimp on the details. The exterior will meet your aesthetic needs while the interior gives you enough space and comfort.
The infotainment system has improved to include an 8-inch touchscreen that offers Andriod and Apple CarPlay. You have decent cargo space and the comfort that you want when you drive.
What year is the most reliable Kia Forte?
Currently, the most reliable Kia Forte is the 2022 model. It has the best reliability score overall. Most of its features and components are revamped from the previous models. It achieves flawless and smooth driving with three different driving modes.
Additionally, with all the latest features that it comes with, this car model is considered well-priced.
What are the most common problems with Kia Fortes?
Over the years, various Kia Forte models were reported for common problems.
These are the five most common problems that affected the Kia Forte reliability score in specific years.
A software glitch affected the speakers.
Bad ignition coils that cause engine-related failures
Exterior lighting problems
Leaky interiors damaging seats
Mild to severe transmission malfunctioning
How many miles will a Forte last?
On average, a Kia Forte will last for 200 000 miles. However, if you keep up to date with regular oil changes and standard factory maintenance, you can expect your car to last longer. In some cases, the third-generation models are so durable that they last about 300 000 miles.
What are the closest competitors to the Kia Forte?
The Kia Forte has enjoyed some stellar competition over the years. Since it offers high-value features and functionalities, it no doubt rivals many car models. What makes it more competitive is its affordable price.
The following are well-known Kia Forte competitors.
Hyundai Elantra
Toyota Corolla
Honda Civic
Ford Focus
How long do the transmissions normally last on these models?
If your Kia Forte doesn't run into any major transmission problems, it should last up to 200 000 miles. Your car should receive adequate service every 40 000 miles. Your transmission maintenance includes regular transmission fluid checks.
Go Back: Best & Worst Years For ALL Kia Models
Was this article helpful?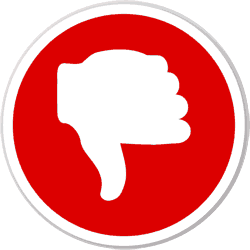 Did you find wrong information or was something missing?
We would love to hear your thoughts! (PS: We read ALL feedback)
ⓘ  The information in this article is based on data from National Highway Traffic Safety Administration (NHTSA) recall reports, consumer complaints submitted to the NHTSA, reliability ratings from J.D. Power, auto review and rating sites such as Edmunds, specialist forums, etc. We analyzed this data to provide insights into the best and worst years for these vehicle models.
---