The Infiniti QX80 is a luxury SUV and RepairPal gave it a 3.5 out of 5.0 for reliability. It has a lot of modern features with a high-performing 5.6-liter V-8 engine.
However, regardless of how good a car model is, some unmistakable problems still spring up from time to time.
In this article, we'll break it all down so that you can make better decisions when buying your QX80.
The best and worst years for the Infiniti QX80 are:
The best QX80 models include the 2016,2021,2022 model years. On the flip side, some Infiniti QX80s you should avoid include the 2014 and 2019 models.
With this, the QX80 presents itself as a great vehicle overall.
What Infiniti QX80 Years Are the Most Reliable?
The Infiniti QX80 is typically a reliable model. After all, RepairPal gave it an overall reliability rating of 3.5 out of 5.0. This rating equally puts this model as the 1st out of 19 luxury full-sized SUVs.
Speaking of full-sized SUVs, you can also check out the best and worst years of the Nissan Armada.
Some years have been identified as outstanding. Below is a list of such model years:
1. 2016 Infiniti QX80
The 2016 model of the QX80 is easily one of the best models ever made. Edmunds says that the high levels of luxury, comfort, and tech make the three-row 2016 Infiniti QX80 a solid pick among large luxury SUVs.
Based on consumer reviews, this model has few complaints about its reliability. Some of its features that attract praise include its performance, safety, and interiors.
It comes standard with a seven-speed automatic transmission and rear-wheel drive. The shift from this transmission is smooth, swift, and stable.
It also features a number of safety controls like
Traction control

Antilock brakes

A 360-degree parking camera

Front-seat side-impact airbags

Full-length side curtain airbags

Front active head restraints
The optional driving assistance package includes: 
Adaptive cruise control

Blind-spot monitoring

Lane-departure warning and intervention

Frontal collision warning and mitigation 

A backup collision mitigation system
Lastly, its interiors are endowed with high-quality materials.
2. 2021 Infiniti QX80
The 2021 model reeks of performance and stance. However, many critics rated several vehicles in its category above it because its interiors are a bit outdated and its EPA rating falls below the average.
Other than that, this model is ideal.
The 2021 Infiniti QX80 has a predicted reliability score of 81 out of 100 and RepairPal describes it as Excellent.
One major reason to buy the 2021 Infiniti QX80 includes its powerful engine. The vehicle comes standard with a 5.6L V8 engine that delivers brawny performance with 400 hp and 413 lb-ft of torque.
Its seven-speed transmission equally delivers smooth and swift gear change for a quality ride experience.
The handling of the vehicle is also remarkable as it feels light, responsive, and stable while the sensory trim offers a hydraulic suspension that reduces body roll.
This makes the ride comfortable even on uneven road surfaces. However, road bumps are felt more in models with the available 22-inch wheels than those with the standard 20-inch wheels.
Lastly, its tech features are easy to navigate through. It features a standard Infiniti InTouch™ infotainment system, which includes a dual-display setup with eight-inch and seven-inch touchscreens.
3. 2022 Infiniti QX80
One remarkable thing to look out for in the Infiniti 2022 is its performance.
This Infiniti still maintains the traditional V8 engine that works powerfully. Its engine delivers a remarkable 400 hp, although its acceleration of 60 mph is below the average.
The brakes of this vehicle are outstanding, especially for a full-sized SUV. They're powerful but easy for daily commutes.
The interior of this model is quite comfortable as the weight, long wheelbase, and tall tire sidewalls lessen the effect of rough surfaces and small bumps.
Its seats are comfortable as they offer support and adjustability while the controls are easy to navigate, but they're not up to the standard of its many rivals in the same category.
However, many critics would recommend going for other luxurious SUVs in this category because they feel the 2022 QX80 is outdated for its price.
You may also be interested in knowing about the best and worst years of the Infiniti QX50.
What Infiniti QX80 Years Should You Avoid?
What we have below is a list of Infiniti QX80 models to avoid if you are looking to buy an outstanding model.
4. 2019 Infiniti QX80
The 2019 model had a lot of complaints in consumer reviews and on the NHTSA website. Some of these complaints include:
Electric Problems
For an SUV like the QX80 with adaptive headlights, electrical problems are bad news.
This was one of the most prevalent complaints about the 2019 model and they often connected this electrical problem to the battery of the car. Most owners stated that they experienced battery drain.
The severity of this issue was so bad that the drain came without any warning. It was worse for folks living in colder regions. This malfunction could damage the heating or cooling system of the vehicle.
Forward Collision Warning Problem
There were instances where the 2019 QX80 emergency braking system suddenly engaged the brakes without warning.
However, it was identified that this problem was a general issue with all Nissan models, as there have been pages of reports on Nissan's AEB system malfunctioning.
Unfortunately, no recalls have been issued on this problem, so owners will have to take the vehicle to a trusted dealership for repairs.
Engine Problems
Owners have complained that a rattling sound comes from the vehicle's engine bay and it can be unsettling. Thankfully, the rattling has been identified to come from a heat shield above the exhaust front tube. 
This problem did not require a complex fix, so there was no recall.
Vehicle Speed Control Problems
Owners have complained about the Infiniti dropping gears, especially when the vehicle is traveling up at a highway speed or when it is in cruise control.
Unfortunately, this issue was taken lightly, as many owners stated that their mechanics told them that it is relatively normal. Everyone can agree this isn't exactly a minor issue and should be regarded more seriously.
5. 2014 Infiniti QX80
The 2014 QX80 is Car Complaint's worse model year so far. A number of complaints have come from the owners of the 2014 Infiniti model, and some of these issues include:
Unusual Sounds From the Vehicle 
Owners have complained that they have often heard a winding noise coming from underneath the vehicle, and it only became more clear when they tried to accelerate.
Most mechanics often associate this problem with a faulty timing belt and a simple replacement will clear the issue. One owner stated that this failure came up around 125,000 miles.
Engine Stall
One owner gave his experience and stated that while going at 50 mph, he noticed that the vehicle began to stall. He simply steered off the road but kept driving.
There were no warning lights to indicate a problem. When the car was returned to the dealership, it was diagnosed with a fuel system malfunction.
Fuel Pressure Sensor Leak
This problem called for a recall by the company because it seemed that the fuel pressure sensors may not have been tightened well enough.
Upon usage, this compartment could loosen and cause a fuel leak which we all know can endanger lives and property. This was enough reason for a recall from the company.
Regarding its fuel system, the Infiniti QX80 has a place among cars with the biggest gas tanks.
Frontal Airbag Rupture
This problem was mainly seen on the driver's side. During airbag deployment in a crash, a sharp component could get in the way and cause the airbags to rupture.
This could increase the risk of metal fragments striking and equally putting the lives of passengers at risk.
Incorrect GAWR Label
Some of the Infiniti vehicles have the wrong Gross Axle Weight Rating. The correct rating was 4,343lb, but some vehicles were listed as 4,497lb.
This incorrect rating could make owners overload their vehicles, which increases their risk of being involved in an accident. 
What Are Some Typical Problems With the Infiniti QX80 Models?
Below are some typical problems with the Infiniti QX80 models:
Electrical system
Rattling noise from the engine
Fuel pump assembly issue
Forward emergency braking system malfunction
Sources
Unreliable Vehicles To Avoid-2019 Infiniti QX80 | Endurance
The Most Common 2014 Infiniti QX80 Problems | GetJerry
Infinity QX80 Model Year Comparison | Car Complaints
Was this article helpful?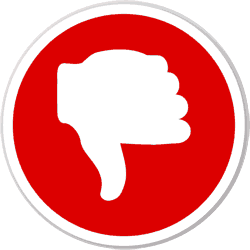 Did you find wrong information or was something missing?
We would love to hear your thoughts! (PS: We read ALL feedback)
ⓘ  The information in this article is based on data from National Highway Traffic Safety Administration (NHTSA) recall reports, consumer complaints submitted to the NHTSA, reliability ratings from J.D. Power, auto review and rating sites such as Edmunds, specialist forums, etc. We analyzed this data to provide insights into the best and worst years for these vehicle models.
---