The Genesis GV70 is a very recent compact luxury crossover SUV introduced by the Korean automaker, Genesis, in 2020.
After the GV80, this SUV is the second SUV model made by the brand, and it has just two model years–2022, and 2023. Regarding the GV80, it's got its own best and worst years too.
So far, this ride has only received positive ratings from critics and reviewers. However, like every other automobile, a model would be better and more reliable than another.
You'll, therefore, discover the best and worst Genesis GV70 years in this article.
The best and worst years for Genesis GV70 are:
The 2022 and the 2023 Genesis GV70; they are both quite impressive. While you might expect us to name the worst model year for this ride, we can't do that for now because GV70 is a very recent car. A later update to this article might present a different rating though.
What Genesis GV70 Years Are the Most Reliable?
Reliability is one of the most important factors people are concerned about when buying a new ride.
Regardless of being a recent car, the Genesis GV70 didn't let its fans down when critics and users started commenting about its reliability tests.
Remarkably, the two GV70 years are reliable. Let's check them out. 
1. 2022 Genesis GV70
The 2022 Genesis GV70 comes with a boastful exterior and gorgeous interior design. It is one of the few compact SUVs that offer a blend of sportiness and luxury while maintaining a budget-friendly price.
While this ride comes in just two trims, it offers up to 375 hp when you go for the 3.5T Sport trim. Even the lower 2.5T trim that works with a 2.5L 4-cylinder engine will offer a swift ride with its 300 horsepower and 311 lb-ft of torque.
This ride has only received excellent ratings from reviewers so far, especially in terms of safety and reliability. That's quite alluring, right? Mind you, GV70 is still very new, and only time will tell how reliable it actually is.
US Car News has given the 2022 Genesis GV70 an overall rating of 8.7/10, and Edmunds follows suit with 8.3/10. In a similar fashion, J.D. Power scores the ride 84/100 on quality and reliability.
These just indicate how impressive the car was when subjected to critical tests and reviews.
Mind you, the Genesis GV70 does not offer ample space, especially for the back occupants.
So, while you may enjoy the powerful engine and the luxurious interior, the back passengers, especially the tall ones, may be a little uncomfortable after sitting in the car for a long period.
Meanwhile, this ride offers quite enticing standard safety features that include adaptive cruise control, forward collision mitigation, lane-keeping assist, blind-spot monitoring, and rear cross-traffic alert.
Some Important Notes About the 2022 Genesis GV70:
| | |
| --- | --- |
| MSRP | $42,595 |
| Fuel Tank Capacity | 17.4 gallons |
| Miles Per Gallon (MPG) | 22 city/28 Highway/24 combined |
| Drivetrain | All Wheel Drive |
| Transmission | 8-speed automatic |
| Engine Type | Gas |
| Engine Size | 2.5 L (base) |
| Horsepower | 300 hp @ 5,800 rpm |
| Torque | 311 lb-ft @ 1,650 rpm |
| Maximum Towing Capacity | 3,500 lbs. |
2. 2023 Genesis GV70
Though the 2023 Genesis GV70 is a very new ride, it has already attracted the fancy of reviewers while meeting the satisfaction of several of its few users. In fact, US News rates it #1 amongst 17 luxury compact SUVs.
The truth is, the 2023 GV70 comes with no notable upgrades to the 2022 version. So you might still not enjoy the tiny but wide 14.5 touchscreen display and its awkward infotainment controls.
Like the 2022 version, the 2023 model also boasts a gorgeous interior, nimble handling, and A-grade materials. It also scores 8.3/10 on Edmunds and 8.7 on US Car News.
We would have rated this ride higher than the 2022 version if not that it doesn't offer a better upgrade to the infotainment control and its lack of a comfortable back seat.
Other competitors, like the BMW X3, have more comfortable seats and bigger cargo space.
However, this ride boasts a more elegant interior and overall performance.
Some Important Notes About the 2023 Genesis GV70:
| | |
| --- | --- |
| MSRP | $43,995 |
| Fuel Tank Capacity | 17.4 gallon |
| Miles Per Gallon (MPG) | 22 city / 28 Highway / 24 combined |
| Drivetrain | All Wheel Drive |
| Transmission | 8-speed automatic |
| Engine Type | Gas |
| Engine size | 2.5 L (Base) |
| Horsepower | 300 hp @ 5,800 rpm |
| Torque | 311 lb-ft @ 1,650 rpm |
| Maximum Towing Capacity | 3,500 lbs. |
What Genesis GV70 Years Should You Avoid?
Genesis GV70 only has two model years–the 2022 and the 2023 editions. These models have proven to be impressive and reliable while attracting positive reviews and accolades from critics.
Maybe because the ride is still very new, it has no complaints on CarComplaints.com as of the time of writing this review.
Mind you, this car has received 4.0/5 out of 54 user reviews on Edmunds. JD Power has also given it an excellent reliability rating of 84/100 for the two model years. More impressive is the 4.7 rating it received out of 433 user reviews on SureCritic.
So, we can't pinpoint a particular model for a year to avoid at the moment. Maybe a later update to this review will spell that out.
Meanwhile, if you're very concerned about a comfortable back seat, you may need to compare the Genesis GV70 with other rivals, as its rear space may be less comfortable.
Even though Genesis is not a famous car maker yet, the brand makes quite impressive rides. That said, we also have an article about the best and worst Genesis G70 years.
What Are Some Typical Problems With the Genesis GV70 Models?
In the automobile world, hardly will you find a flawless ride. While the engine of a car may be highly impressive, its fuel economy may be less admirable.
Well, the Genesis GV70 offers a powerful engine and a little above average rating on fuel economy. Still, it comes with its downsides too.
Here are some of the downsides of the Genesis GV70:
The brake pedal is somewhat too stiff.
The rear space is too small.
Some customers have also complained of the unreliable customer service of the brand.
The infotainment control is quite awkward.
Talking about tight rear space, check out our article about compact SUVs with the most rear legroom.
Final Thoughts
The Genesis GV70 may not be as spacious as some of its competitors, but it offers a swift and impressive ride quality.
Being a compact SUV, it is just logical to claim that Genesis introduced this ride to provide a smaller and cheaper alternative to the bigger GV80.
Truly, all rides have its downsides, and the Genesis GV80 is no exception. Many users have not only complained about the smaller size of the infotainment display, they've also faulted the awkward control knobs that help to navigate through the display screen.
While the compact luxury SUV has received excellent ratings from critics, quite a few reviews by users have also praised its overall performance.
Nevertheless, because it is a very new ride, we believe the true status of the car will be revealed once its popularity becomes more apparent and we have access to more user reviews.
Meanwhile, you may also be interested in our article about the best compact SUVs for all-round use.
Sources
2022 Genesis GV70 Reviews | SureCritic
Genesis GV70 Consumer Reviews | Edmunds
Was this article helpful?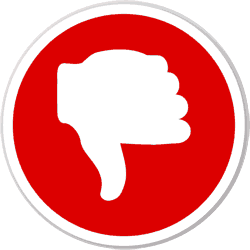 Did you find wrong information or was something missing?
We would love to hear your thoughts! (PS: We read ALL feedback)
ⓘ  The information in this article is based on data from National Highway Traffic Safety Administration (NHTSA) recall reports, consumer complaints submitted to the NHTSA, reliability ratings from J.D. Power, auto review and rating sites such as Edmunds, specialist forums, etc. We analyzed this data to provide insights into the best and worst years for these vehicle models.
---