The Ford Fiesta has been around as far back as 1976.
This model has been over seven generations, and through the years, the Ford Fiesta has undergone a good deal of refurbishment. But the company later discontinued it in 2019.
The Ford Fiesta is an outstanding model that is loved by many because of its impressive fuel economy and affordable price.
However, there are still some model years of this brand that consumers should avoid. Worry not as we have discussed in this article what model years to avoid and those to purchase.
Let's check them out!
The Best And Worst Years For Ford Fiesta Are: 
The reliable models of the Fiesta include the 2019, 2018, 2017, and 2016 models. On the flip side, the models to avoid included the 2015, 2014, and 2013 models. When buying the Ford Fiesta, it is important to take note of these years.
What Ford Fiesta Years Are The Most Reliable?
The Ford Fiesta is an impressive model all-round. However, some models have been found outstanding and reliable.
Here are 4 Ford Fiesta models that are the most reliable:
1. 2019 Ford Fiesta
The solidity of the 2019 Ford Fiesta engine and its problem-free transmission make it a very reliable vehicle. The 2019 model also comes at an affordable price as its MSRP ranges between $12,529 and $20,999 according to Edmunds.
However, to get the best out of this vehicle, it is a good decision to up your game to its higher trim levels as they have better performance and handling, although there is a chance that they're 50 percent more pricey than the base level.
The base level comes equipped with a 1.6-liter four-cylinder that delivers a moderate performance.
The steering of this vehicle is quite responsive and delivers good feedback at any corner. Its well-tuned suspension also complements the driving experience of this model.
Furthermore, the interiors of the 2019 model have a decent selection of controls, plus the SYNC 3 adds to its functionality and easy usage.
Mind you, there is enough headroom for the front passengers, but we can't say the same for the rear passengers. Also, the seats of this vehicle are not properly cushioned, and there's also minimal adjustability on them. 
The 2019 Ford Fiesta secured a 4.2 out of 5.0 on Edmunds while JD power gave it a total score of 74 out of 100. 
2. 2018 Ford Fiesta
The 2018 Ford Fiesta is a splendid vehicle, fun to drive, and relatively affordable as its starting MSRP ranges between $10,678 – $16,053 according to J.D. Power.
This vehicle has three engine options and two of them are turbocharged. Although the engines aren't revving or bashful, they're still pretty great.
The 2018 Ford Fiesta comes with a Standard Torque Vectoring Control and AdvanceTrac stability control. This feature keeps the vehicle firmly on its rails and improves its handling.
Going further, you'll definitely find plenty of technology inside the Ford Fiesta. Starting from the SYNC3 down to the available Voice-Activated Navigation with Sirius Traffic and Travel Link, you can help yourself with weather and traffic information.
Also, with the 2018 Ford Fiesta, you don't have to worry about its safety tools as there are numerous layers of protection.
While it comes with seven standard airbags that deploy as expected, it also comes with a rigid safety cage built into the cabin, which helps to divert crash forces from the passengers.
Lastly, the 2018 Ford Fiesta comes with advanced stability control that keeps your tires firm to the ground to avoid fishtailing. For its reliability, Edmunds rates the 2018 Ford Fiesta model a total score of 4.1 out of 5.0.
3. 2017 Ford Fiesta
The 2017 model of the Ford Fiesta savors a lot of positive reviews as regards its performance, good fuel economy, and impressive cabin.
This model comes equipped with a standard 1.6-liter four-cylinder engine. The engine power is definitely smooth but not particularly revving. Anyway, the turbocharged engines are much better when it comes down to engine power.
The available sport-tuned suspension and precise steering feel makes the reflexes of the vehicle sharp. It also improves the driving dynamics and experience for owners.
As stated earlier, the 2017 Ford Fiesta has an enviable fuel economy as it achieves 27 mpg for city driving, 36 mpg for highway driving, and then 30 mpg combined.
For its price, this Ford Fiesta beats the expectations of its interior build as it is blessed with an impressive high-end quality cabin and a stylish finish.
It is equipped with features like heated leather seats, the premium Sony audio system, and multicolor ambient lighting.
There is enough headroom in this vehicle, complemented by its adjustable driver's seats that provide comfort even on long drives. However, the rear seats are lacking in space for passengers.
Lastly, the 2017 model also carries most of the company's technology controls. It comes with the SYNC 3 system, emergency assistance, and turn-by-turn driving directions.
You might also want to note that the 2017 Ford Fiesta scores 4.2 out of 5.0 on Edmunds for its reliability.
4. 2016 Ford Fiesta 
The 2016 Ford Fiesta is the last model on our list as one of the most reliable version of this car.
Its base engine is equipped with a 1.6-liter four-cylinder engine that produces 120 horsepower and 112 pound-feet of torque. However, the automatic transmission of this model doesn't shift as smoothly as it's supposed to.
Thankfully, the fuel economy of this model is quite impressive as it achieves 27 mpg in city driving, 37 mpg in highway driving, and 31 mpg combined.
Going further, the Ford Fiesta is a relatively quiet car. It does well to subdue wind and road noise to a bearable minimum. Its suspension also complements the ride.
The interior of the Ford Fiesta is quite remarkable for its affordable price. While the vehicle has a pleasant quality and a nice finish, it also comes with available amenities like ambient lighting, heated leather seating, and a premium Sony audio system.
Note that the 2016 Ford Fiesta scores 4.2 out of 5.0 on Edmunds. Over at JD Power, it has received a score of 78 out of 100. While this shows the level of the Fiesta's reliability, make sure to check out how long the Ford Fiesta last here.
What Ford Fiesta Years Should You Avoid?
What we have below is a list of Ford Fiesta models to avoid. These models have been notoriously known to have a lot of problems. Best to stay clear of them.
Here are the Ford Fiesta models you should avoid:
1. 2015 Ford Fiesta
It is best to avoid the 2015 Ford Fiesta because of the numerous problems it is known for, especially at the early stage of ownership.
Some owners reported that they had issues with the vehicles as early as when the car reached 17,000 miles. One of the major problems of the 2015 Ford Fiesta is its power shift transmission problem. 
The 2015 Ford Fiesta was flagged for being jerky and difficult to shift on a drive. The clutch assembly is also known for defects that further damage the transmission.
Common signs of the transmission problem include:
Transmission slipping

Transmission jerking 

Harsh engagement

Premature internal wear

Sudden acceleration

Delay in downshifts

Delayed acceleration
And even in the worst case, the vehicle may have a hard time stopping.
Another minor problem that plagued the 2015 Ford Fiesta model is its door latch failure. Owners complained that the doors weren't firmly closed.
In total, the 2015 Fiesta had 45 complaints at CarComplaints.com and 268 problems at CarProblemZoo.com.
2. 2014 Ford Fiesta
The 2014 model of the Fiesta has also received a lot of problems, and it is best to avoid the model.
The major problem notable for this model is its engine failure. It is quite unfortunate that the engine of the 2014 Ford Fiesta model is always stalling, as reported by different owners.
According to different complaints, it's either the engine hesitates to start, sputters, or generally act unresponsive. To make matters worse, this problem often showed up in vehicles with mileages below 10,000 miles.
Another issue with the model was the faulty pressure drop in the fuel pump, which led to a recall of the vehicle by the manufacturer.
The 2014 model wasn't also free from transmission problems, as it was susceptible to jerking and hard shifts just like its counterparts.
For the manual unit, owners would have to replace the clutch compartment, while for folks who drive the automatic unit, they would have to replace the entire unit. This was very frustrating for the owners. 
Other issues that plagued the 2014 model include:
Steering failure

Door latches issues
3. 2013 Ford Fiesta
Just like the 2014 and 2015 models, the 2013 Ford Fiesta pretty much has the same problems. It has equally been flagged for having transmission problems as there were a series of complaints on hesitation in the first gear.
This vehicle is also known for jerking, sputtering, stalling, and losing power.
Most unfortunate is the fact that even when this vehicle was taken to the dealership, there were not many changes that could be done as the dealers could not find the root problem of its faults.
To the dismay of many owners, they were even advised on different occasions to manage the problem, as there was no permanent solution.
Note that the transmission failure of the vehicle often comes up when it reaches 25,000 miles, and many owners had been made to pay a lot of money for its replacement 
Moreover, there were other cases of engine failure, decreased acceleration, and sudden loss of speed.
In total, the 2013  model has about 207 complaints at CarComplaints.com and 840 problems at CarProblemZoo.com. Please check the 11 Ford Fiesta statistics to know here.
What Are Some Typical problems with the Ford Fiesta Cars?
Here are the five typical problems with the Ford Fiesta:
Engine failure

Transmission issues 

Door latch problems 

Radio not working
Learn more about these by reading our article on the common problems with the Ford Fiesta.
Go Back: See best and worst years for all ford models.
Was this article helpful?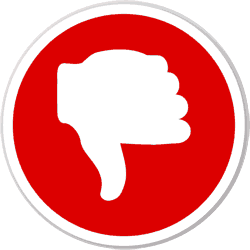 Did you find wrong information or was something missing?
We would love to hear your thoughts! (PS: We read ALL feedback)
ⓘ  The information in this article is based on data from National Highway Traffic Safety Administration (NHTSA) recall reports, consumer complaints submitted to the NHTSA, reliability ratings from J.D. Power, auto review and rating sites such as Edmunds, specialist forums, etc. We analyzed this data to provide insights into the best and worst years for these vehicle models.
---