The Ford Escape is a compact crossover SUV that was sold by Ford in partnership with Mazda, starting from the year 2000.
Many have loved this brand as it reeks of smooth handling, impressive interiors, and comfy seats, especially in the most recent years.
However, there are still some of their model years that are best to avoid, as they have been flagged for having numerous issues. Stay on this page to discover the best and worst Ford Escape model.
What Are the Best And Worst Years of the Ford Escape?
The best and most reliable years for the Ford Escape include the 2021, 2020, 2019, and 2016 models, while on the other hand, the models to avoid include the 2017, 2014, 2013, and 2005 models.
This list should guide you on what models to buy in the market. 
What Are The Most Reliable Years of the Ford Escape?
Below are the dependable years of the Ford Escape that buyers can confidently purchase without a second doubt.
1. 2021 Ford Escape
The 2021 Ford Escape is one of this brand's most reliable model choices. It offers quick acceleration, updated safety features, and the latest technology.
This model offers a variety of powertrains for owners to pick from. Particularly, the 2022 Ford Escape model also offers a hybrid power train, which is equipped with a 3.5-liter twin-turbo V-6, a 35 kW electric motor, and a 10-speed automatic transmission.
For its interiors, the 2021 model is blessed with many standard tech features that run from the 8.0-inch infotainment display down to Apple car play and android auto.
This model also features a host of standard safety features. However, the higher the trim, the more feature you get.
Some of the key safety features of the 2021 Ford Escape include:
Automated emergency braking with pedestrian detection

Lane-departure warning with lane-keeping assist

Adaptive cruise control
Kelley Blue Book gives this model a score of 4.4 out of 5.0 for its reliability rating.
2. 2020 Ford Escape
The 2020 Ford Escape is another great pick as a reliable vehicle. One of its major highlights is its reasonable starting price, as it has an MSRP of $19,234.
The 2020 model has a lot of practicality, just like the other models. Its 2.0-liter turbo engine delivers plenty of power and allows for easy maneuvering through traffic and on the highway.
However, its paired eight-speed transmission shifts slowly and can jerk upward in some situations. Also, the handling is a little rough and disappointing, as you will feel the rolls and bumps easily.
Even worse, the tires don't grip as they should. Thankfully, the level of comfort provided by this model covers its handling inadequacies.
The front seats are properly cushioned, and they provide comfort on long drives. The 2020 Ford Escape also offers a fairly quiet ride. It does well to manage wind and road noise to a bearable level.
Added to its comfort is its ample legroom and headroom, but tall folks might have a brief struggle with the headspace. But there's no difficulty with its entry or exit.
The ford 2020 is also blessed with some safety features which is generally called the Co-pilot 30, and it comes standard on this model. Some of the key safety features include:
 Forward-collision warning 

Automated emergency braking

Lane-departure warning 

Lane-keeping assist

Blind-spot monitoring with rear cross-traffic alert
For its reliability rating, JD power gives it a score of 77 out of 100, while the Kelley Blue Book scores it 4.4 out of 5.0
3. 2019 Ford Escape
The 2019 model is another great pick for reliability. It is a rare breed that blends performance and utility, which meets the expectations of any SUV.
To get the best out of your 2019 Ford Escape model, it is good to opt for the available 2.0-liter engine that delivers 245 horsepower, only that it will bite into your fuel bill.
The engine of the ford is quite snappy and smooth. While some owners have stated that this model felt more like a sedan on a drive, but the unresponsive steering and low grip tires do not meet the sportiness expectations.
The transmission also doesn't shift as great as it is supposed to on any of the trims.
However, the model comes with supportive seats and minimal engine noise that complements the driving comfort of owners.
The interior controls look a bit dated, but they're easy to see and navigate through, regardless. Moreover, the sync 3 infotainment also comes standard on all trims, unlike in the previous models when it was optional.
Lastly, the 2019 Ford Escape performed well in its crash testing by the National Highway Traffic Safety Administration because it features a host of safety features for its passengers. Some of its key features include: 
Adaptive cruise control

Lane-keeping assist

Forward-collision warning
Note that the 2019 Ford Escape scores 4.0 out of 5.0 on Edmunds and gets 80 out of 100 on JD power. 
2016 Ford Escape
The 2016 Ford Escape is one of the least problematic models produced before the 2019 model.
Edmunds describes the 2016 model as one of their favorite small crossover utility vehicles that deliver impressive driving dynamics and features modern technology.
The base model is equipped with a 2.5-liter four-cylinder engine that delivers 168 horsepower and 170 pound-feet of torque while the higher trims come standard with a turbocharged 1.6-liter four-cylinder that makes 178 hp and 184 lb-ft of torque.
These engine options offer smooth acceleration, plus their responsive steering adds to their juiciness. While this impressive combination gives the 2016 model a sharp reflex, its driving position is also elevated, giving room for good visibility.
Inside the 2016 Escape, you'll find plenty of interior controls with a good-quality build and finish. However, there's not much storage in this vehicle as you might expect and some of the controls may be a little hard to use.
However, the sears are generously padded and well-shaped for comfort. It also gives ample headroom and legroom for passengers.
To get the most out of its safety features, it is best to opt for the Ford Co-Pilot360 Technology.
Some of the key features of the 2016 Ford Escape include:
Cruise Control

Rear View Camera

Evasive Steering Assist

Lane Keeping System
Mind you, the 2016 Ford Escape scores 3.7 out of 5.0 on Edmunds. On JD Power, it has a score of 81 out of 100. Make sure you check out how long the Ford Escape last.
What Are the Worst Years of the Ford Escape?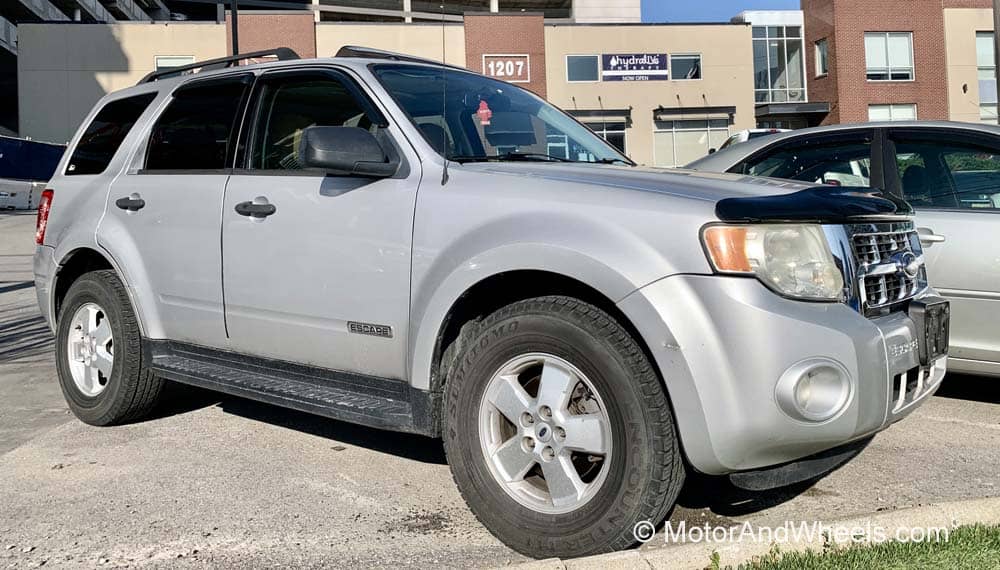 Below is the list of Ford Escape models that you should avoid.
1. 2017 Ford Escape
The 2017 Ford Escape is one model to avoid, as many consumers have stated that the vehicle has premature engine failure.
Some owners stated that their check engine light came on and others complained about a coolant leak in the cylinders, which has often resulted in engine failure because the engine could easily get overheated.
Another problem common to the 2017 Ford Escape is brake failure.
As stated by different owners, the brakes may suddenly cease to stop working, and it has led to different crash issues. This failure often comes up around 10,000 miles.
Moreover, the structural integrity of Ford has also been comprised on this model. This is because there have been cases of water leakage into the vehicle.
This boils down to the quality build of the sunroofs, headlights, and windows as they lack the sufficient weatherproofing 
Other problems that plagued the 2017 Ford Escape include:
Transmission failure

Faulty interior accessories
2. 2014 Ford Escape
The 2014 Ford Escape is one model that you should really avoid because it has a major transmission failure that review sites have placed the tag "Beware of the clunker," to alert buyers.
The severity of this failure is alarming, as many owners had stated that their cars suddenly stopped working because of this issue.
Other related issues came around the transmission not shifting correctly, and losing all the engine power. Worse still, both the manual and automatic transmissions are jointly affected.
Make sure you check other cars with transmission issues, like the Ford Escape.
Unfortunately, this failure often comes up between 70,000 and 80,000 miles. According to MotorBiscuit, owners had to pay up to $4,500 to fix this transmission problem.
Meanwhile, the National Highway Traffic Safety Administration had to issue 14 recalls for this model because of various complaints on their website. Even on carcomplaints.com, it has a total of 327 complaints.
Other problems that plagued the 2014 Ford Escape include:
Engine cooling issues

Faulty ignition 

Depleting battery

Water leaks

Backup cameras not functioning 
3. 2013 Ford Escape
The 2013 Ford Escape is another year to cautiously avoid. This is because the model is also plagued with a ridiculous amount of problems, which all showed up before the vehicle hit 100,000 moles.
The major problems of the 2013 Ford Escape are the transmission failure and loss of engine power. It was so bad that the NHTSA had to order a total of 16 recalls for this vehicle due to its safety risk.
This transmission problem was predominantly found with the 6F35 automatic transmission, which is particularly prone to oil leak.
The electrical compartment of this vehicle was also known to have issues like broken GPS, communication system, Bluetooth, radio, or speakers.
4. 2005 Ford Escape
The 2005 model is ranked as the worst model year overall and the problems found in this vehicle are alarming. This vehicle has problems with almost every compartment of the car.
Starting from a faulty ignition to the check engine light not functioning, to structural body problems, electrical problems, and even engine problems, you may have various tough moments with this car. 
To add to it, these problems occurred frequently, leading to expensive repairs and maintenance. In total, the 2005 Ford Escape has about 532 complaints at CarComplaints.com and 1,931 problems at CarProblemZoo.com, as of the time of writing this post.
What Are The Typical Problems of the Ford Escape?
Below are some typical problems with the Ford Escape models:
Engine failure
Transmission failure
Power steering failure
Ignition misfires
Brake issues
Learn more about this by reading the 5 known issues with the Ford Escape here.
Go Back: See best and worst years for all ford models.
Was this article helpful?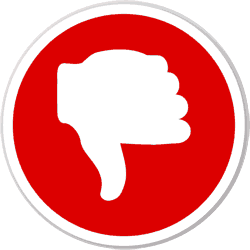 Did you find wrong information or was something missing?
We would love to hear your thoughts! (PS: We read ALL feedback)
ⓘ  The information in this article is based on data from National Highway Traffic Safety Administration (NHTSA) recall reports, consumer complaints submitted to the NHTSA, reliability ratings from J.D. Power, auto review and rating sites such as Edmunds, specialist forums, etc. We analyzed this data to provide insights into the best and worst years for these vehicle models.
---