If you're an urban dweller, you may have considered getting a Chevy Spark. It's ideal for city driving, thanks to its affordable price tag, agile handling, comfortable cabin, and solid build.
As this vehicle has proved, affordable cars don't have to be soulless or barebones. Its small size also makes it easy to maneuver through streets and parking lots.
Do these qualities sound like something you would want in a car? Then you may want to consider getting a Chevy Spark.
But before we get ahead of ourselves, let's take a closer look at the best and worst years for this subcompact vehicle.
The Best and Worst Years for Chevrolet Spark Are:
The best Chevrolet Spark years include models 2017, 2018, 2019, and 2021. On the flip side, the models you'll want to avoid are 2013, 2014, 2015, and 2016. Generally, the earlier models weren't exactly the best, although Chevrolet kept improving after every year.
What Chevrolet Spark Years Are the Most Reliable?
We'll start off with the most reliable Chevy Spark years, which didn't report too many issues.
2017 Chevrolet Spark
If you want a perfectly serviceable vehicle with a pocket-friendly price tag, go with the 2017 Chevy Spark. The base LS model goes for about $13,800, while the top-of-the-line (2LT trim) is about $20,000.
In addition, the cost of maintenance is reasonable.
There's also the youthful appearance that this vehicle has. That sporty front fascia and the narrow body give this car an adorable look. Even the base model boasts a sleek rear.
Another thing we appreciate about the 2017 Spark is its nimble handling capabilities. While behind the wheel, you'll notice you can easily maneuver on the roads as the car is tiny.
You'll also love the car's ability to change lanes quickly, and it's also stable even when going at highway speeds. In fact, the Chevy Spark is quite good on the highway.
With everything we've mentioned, it shouldn't be a surprise that the 2017 Spark has impressive fuel economy.
It delivers 41 mpg on the highway and 30 mpg in the city.
Considering the car's affordability, its safety scores are quite impressive. The Insurance Institute for Highway Safety gave it a score of Good in side crash and moderate overlap frontal tests.
Lastly, the interior is fashionable and user-friendly.
The vinyl upholstery offers a touch of luxury, and the controls are easy and simple to locate and use.
2018 Chevrolet Spark
Although there weren't major changes between the 2017 and 2018 models, the biggest change was in color choices.
Chevy eliminated the Kalamata color option and added the Sorbet color.
This might not seem like a big change, but if you love sorbet, then you can get this eco-conscious vehicle in your favorite color to fit your personality.
Chevrolet didn't make significant changes to this already great car. It remained extremely drivable with agile handling.
All the features you've come to love as a daily city commuter are still there.
For a car that doesn't cost much, the infotainment system in the 2018 Spark is quite impressive. The easy-to-use 7.0-inch screen is functional with features such as:
Bluetooth,
Android Auto,
Apple CarPlay,
a single USB outlet,
and a 4G LTE WI-FI hotspot.
If you're a young buyer on a budget, these features will certainly make you happy.
Combine that with great looks and great fuel economy, and that should seal the deal for you.
2019 Chevrolet Spark
The 2019 Spark is another great option to get.
The major upgrade with the 2019 Spark was that Chevrolet revised the headlights, updated the front end by adding a fresh grill design, and brought in new wheel designs.
In addition, the company introduced more exterior colors, such as:
passion fruit,
orange burst,
raspberry,
and Caribbean blue.
Chevy also updated the infotainment system by adding a modern touchscreen interface (infotainment 3) and two illuminated USB ports.
The safety features in this model include lane-departure warning, forward-collision warning (FCW), automated emergency braking (AEB), and rear parking sensors.
When it comes to the interior, Chevy avoided the shoddy interior that is often common with inexpensive cars.
The textures are attractive, giving the car a great feel. Of course, the most desirable features are the heated front seats and leather trimmings.
The upright driving position and fold-down armrest ensure your rides are comfortable.
Also, the raised seat height and the large front doors make climbing into the cabin easy.
2021 Chevrolet Spark
The last model we have in this category is the 2021 Spark.
It's also a low-dollar Chevy with a not-so-bad performance and good handling. Chevy went ahead and introduced more color options, such as mystic blue metallic and cayenne orange metallic.
You'll get the most out of this vehicle when you tour the city, commute to work or school, or take a leisure drive.
The compact car can quickly move around tight spaces, and the smooth automatic engine provides a quality ride.
The fuel economy is also decent, with 29 mpg for manual and 30 mpg for automatic transmission.
Another reason to love this car is the clean and sleek interior.
It come with:
quality upholstery,
heated front seats,
leather trim,
and fold-down armrests.
If you're taking a weekend trip or driving to the airport, you'll find ample space in the back seats, which have enough room for two or three carry-on bags.
Just like its predecessor, the 2021 Spark has some solid safety features like:
lane-departure warning,
forward-collision warning (FCW),
automated emergency braking (AEB),
and rear parking sensors.
This car is generally easy to navigate, thanks to the latest technological features that assist the drivers.
In terms of entertainment, you won't be bored during your drive to town.
The infotainment system comes with a 7-inch touchscreen and straightforward controls.
The wireless connectivity is compatible with Apple CarPlay and Android Auto.
Before we move on, there are several older Chevy Sparks that are still going well. We have more here on how long a Chevy Spark normally lasts.
What Chevrolet Spark Years Should You Avoid
With the good comes the ugly, or in this case, models that weren't so great.
Below, we highlight the Chevy Spark years you'll want to avoid.
2013 Chevrolet Spark
Although Chevy Spark joined the market in 1998, it was introduced in the US and Canadian markets in 2013.
This being the first car here, it also came with plenty of complaints.
According to CarComplaints.com, there were about 315 NHTSA complaints and four recalls.
The major issue that most car owners reported was excessive oil consumption. Reports suggest that the car burns oil abnormally first, especially for such a small car.
Other car owners claimed that the check engine light warning would appear a few thousand miles after an oil change.
The issues had to do with the engine, which led to excessive oil consumption.
Some owners also said the vehicle lost power when driving, and the engine would stop working all of a sudden. Unfortunately, an engine fix has never been cheap, and this can be frustrating, especially if your car is not that old yet.
2014 Chevrolet Spark
The following year wasn't that great, either.
Let's just say the earlier years of the Chevy Spark aren't exactly the best.
Again, according to CarComplaints.com, there were about 304 complaints and five recalls. This model struggled with several issues, including a transmission problem that everyone dreads.
We have more here on problems with the Chevrolet Spark (including the transmission).
Most owners said their vehicle's transmission system would slip regularly or fail. In some instances, the transmission didn't change gear well or stay in gear.
Unfortunately, that sudden and uncontrolled shifting is a safety hazard, especially when you are on the highway. The transmission issue happened when the car reached about 80,000+ miles.
And just like an engine, the repair cost isn't exactly cheap.
Another issue car owners reported had to do with the car hesitating when accelerating. This model didn't engage when the driver accelerated from a complete stop. Sometimes, this will happen when turning a corner. This is a problem no one wants to experience, especially in heavy traffic.
2015 Chevrolet Spark
Although the 2015 Chevy Spark was better and more reliable than the 2013 and 2014 models, it also came with some concerning issues.
Between 76 NHTSA complaints and four recalls, car owners were also quite frustrated with this model.
Some car owners complained of a busted AC system. There are several culprits for malfunctioning AC with the most common being a refrigerant leak and a defective compressor.
What's frustrating is that the issue started at a low mileage of 8000. And if you happen to be in a region with severe weather conditions, you know that a faulty AC system isn't acceptable.
Another issue we saw with the 2015 Chevy Spark was with the transmission. Although the issue wasn't as prevalent compared to the former years, some car owners still complained.
Several reports suggest the car would buckle or vibrate while accelerating to highway speeds.
A few car owners said they experienced a loss of acceleration speed or power because of transmission problems.
2016 Chevrolet Spark
The last vehicle on this list is the 2016 Spark.
It's better than the other models because, at this point, the company has succeeded in eliminating the many kinks experienced in the earlier years.
With that said, the 2016 model comes with several complaints that potential buyers should know about.
The biggest area of concern has to do with the airbags and seat belts. According to reports, a glitch would activate the airbag SDM (sensing and diagnostic module) software.
With the system going into diagnostic mode, the seat belt and the airbags would refuse to deploy, which is very dangerous if you get into an accident at that moment.
Most vehicles were recalled for this issue.
Another issue you might experience with this model is faulty brakes. Many Spark owners have complained of stuttering brakes or complete brake failure.
The good news is that complaints regarding the brakes are few.
Still, it's worth mentioning as it's a safety issue.
What Are Some Typical Problems With the Chevrolet Spark Models?
Finally, the Chevy Spark might be a great compact car, but not without some issues.
Some of the common problems we've experienced with this vehicle include the following:
Excessive oil consumption
Transmission slipping and failure
Steering problems
Loss of power
Random alarms
Sources
Go Back: Best & Worst data on all Chevrolet models
Was this article helpful?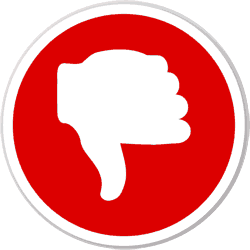 Did you find wrong information or was something missing?
We would love to hear your thoughts! (PS: We read ALL feedback)
ⓘ  The information in this article is based on data from National Highway Traffic Safety Administration (NHTSA) recall reports, consumer complaints submitted to the NHTSA, reliability ratings from J.D. Power, auto review and rating sites such as Edmunds, specialist forums, etc. We analyzed this data to provide insights into the best and worst years for these vehicle models.
---