The Chevy Camaro is one of America's favorite muscle cars and has been held in high regard for many decades.
The manufacturers first graced us with its presence in 1966 and continued to produce them to this day, except for an eight-year gap between 2002 and 2010.
The models began with the infamous F Body style and moved on to the Zeta and Alpha platforms in later years.
Consumers loved the Camaro primarily for its:
amazing design,
powerful motor,
and prominent Bowtie emblem.
However, as with any other vehicle, some years were better than others.
Therefore, we'll talk to you about the best and worst years for the Chevrolet Camaro.
The Best and Worst Years for Chevrolet Camaro Are:
The best years for the Chevrolet Camaro are 2021, 2020, 2019, 2018, 2000, and 2001. The worst years for the Chevrolet Camaro are 2010-2015 as they had several customer complaints and the most recalls.
It's crucial to consider this information when considering purchasing a gorgeous Camaro.
You'll want to get the most reliable model to extend the time you spend with the car as its owner.
What Chevrolet Camaro Years Are Most Reliable?
There are several Camaro models with positive feedback, high reliable scores, and an excellent reputation from the community of car enthusiasts.
These are what we determined were the most reliable Camaro models:
1. 2021 Chevrolet Camaro
The 2021 Chevrolet Camaro is rated above average by both critics and customers on U.S. News. It has an overall rating of 8.2 out of 10 points and has an 86 out of 100 for its J.D. Power quality and reliability score.
These scores tell a story about a vehicle's:
resale value,
overall quality,
and dealership experience.
Many consumers raved about this model because of its fantastic handling and various engine options.
The least favorable feature of it was its not-so-roomy second row of seating and its medium-quality interior.
2. 2020 Chevrolet Camaro
The critics rated the 2020 Camaro higher than the 2021 model, but the J.D. Power score stayed the same. The model also had a safety score of 8.8 points and a performance score of 8.9 points.
The score for its interior was a little less desirable. The most favorable qualities of this model were:
the strong front seats,
the great handling,
and the robust motor options.
3. 2019 Chevrolet Camaro
The 2019 Camaro's performance score ranked very high on the U.S. News site. It also had a super high critic's rating of 9.2 out of a possible 10 points.
The consumers who left positive reviews for this model were more pleased by its tech than anything else.
They appreciated:
the user-friendly touchscreen,
the beefy engine options,
and the superb handling.
Consumers' least favorite attributes of this car were its small trunk and cramped rear seating.
4. 2018 Chevrolet Camaro
The 2018 Chevrolet Camaro has beautiful scores all the way across the board. The model has a 9.4 critic rating, a safety score of 9.3, and a J.D. Power score of 3.5 points.
This model has many great features consumers have and will enjoy.
The options include everything from a zippy four-cylinder option to a full-blown V8 powerhouse.
Consumers who have purchased the model say they enjoy its ride and handling, and many were also impressed with its infotainment system and user-friendly controls.
It's an excellent choice for a used sports car if you're in the market for one.
5. 2001 Chevrolet Camaro
The 2001 Chevrolet Camaro was an attractive and sleek model, and it was also a favorite with the consumer. It's very durable. Here you can see how long a Chevrolet Camaro generally lasts.
Many consumers had wonderful things to say about it, according to Cars.com.
We saw repetitive commendations about the vehicle's handling and massive power.
Some consumers said it was a reliable car that they drove every day of their lives. Other said it was extremely fast for them, and they never had to repair a single thing on it. A few consumers even commented about the way it made other people turn their heads when they saw them in it.
It sounds like an overall fun year to get, and you might want to consider it.
6. 2000 Chevrolet Camaro
The 2000 model Camaro has a rating of 4.6 from consumers who have used it before. One of the key praises this vehicle received was for its longevity.
Some previous owners claimed that they owned their Camaros for many years and ran them for more than 200,000 miles.
We have more statistics and facts on the Chevy Camaro models here.
Other consumers were much more impressed by its stylish design. Some were overjoyed about its super fast speed. After all, it is a sportscar.
This year's model seems to be one of the best, as owners state that they have had it for eight years or more and only experience minor issues, such as the need to change their batteries.
This particular model was very affordable for consumers as well.
The starting price when it first came out was $17,040. It wasn't the lowest price for a sports car, but it was affordable for some who wanted one.
What Chevrolet Camaro Years Should You Avoid?
The Chevrolet Camaro model years you'll want to consider avoiding are anything between 2010 and 2015.
However, since we only listed five of them, we'll give you a little more information about the 2010-2014 models.
7. 2015 Chevrolet Camaro
The most common problems with the 2015 Camaro were engine problems and issues with the interior accessories. Some owners claim that their Camaros died while they were driving. 
We have a full article here on the most prevailing problems with the Chevy Camaro.
Other people had problems with the keys getting stuck in the ignition.
An additional common problem with this model is a blank dash screen. Some individuals also complained that the vehicle had early seatbelt wear.
This year's Camaro also experienced some recalls due to a faulty airbag system.
8. 2010 Chevrolet Camaro
The 2010 Camaro seems like a promising year at first glance. After all, it gained a high-reliability score from J.D. Power and had an overall rating of 8.9 points.
However, the problems and recalls were a bit excessive, and most of them were major issues.
Engine and emissions problems seem to run rampant on this model.
CarComplaints lists over 100 types of complaints, with the most prominent having to do with premature timing chain wear, a stalling engine, rough idling, and similar issues.
Aside from that, the model had numerous electrical issues. Chevrolet also needed to recall some of these vehicles for faulty key fobs.
Thus, it doesn't sound like this year's model is one you should desire.
9. 2011 Chevrolet Camaro
The 2011 model Camaro doesn't have an excellent reputation, either.
In fact, this model had almost 400 different complaints on CarComplaints.com. The most prevalent complaints for this vehicle involved the airbag system.
The second most popular complaint had to do with engine issues.
For example, some consumers heard about ticks, and others experienced excessive oil consumption problems. This model also had some issues in the recall realm.
There was a problem with the ignition system that caused the car to cut off while the driver operated the vehicle. Such a problem made driving the vehicle unsafe, and thus, the company recalled the cars and offered to fix the issues.
10. 2013 Chevrolet Camaro
The 2013 Chevrolet Camaro birthed a few different brands of issues.
The main problems with this year's model existed inside the vehicle's interior and within the electrical system. The most common interior issues were failing radios and radio screens.
The electrical problems consisted of:
radio shorts,
Limp Mode activation,
and a host of other issues.
The model was recalled for ignition key fob problems as well.
11. 2014 Chevrolet Camaro
The 2014 Chevrolet Camaro had an array of complaints.
The total complaint number reached over 300, and most involved electrical, interior, and engine problems.
The most prevalent issues with this year involved:
the Bluetooth,
radios,
door panels,
ignition switches,
and so forth.
The vehicle also had A.C. heater problems and various additional electrical issues.
The most prevalent recall for this year was the ignition key fob recall that many other models also experienced.
12. 2012 Chevrolet Camaro
The 2012 Chevrolet Camaro is also one of the less desirable models.
The model had almost 200 different types of complaints, with most of them being engine-related issues. 
The problems varied from total engine failure to:
shuddering,
acceleration issues,
and blinking engine lights.
Furthermore, this model saw recalls for faulty seat belts and airbags.
Years With The Most Recalls
The Chevrolet Camaro, like any other vehicle, has had its share of recalls over the years. Some years have had a higher number of recalls, affecting the reliability and reputation of the model.
Based on the information from various sources, the Camaro models with the most recalls include:
The issues that led to these recalls varied but were mainly related to:
engine issues,
electrical problems,
and faulty components.
Some common problems reported by owners include:
Key not being pulled out of the ignition switch
Radio and Bluetooth malfunctioning
Power train and engine problems
Although these years have the most recalls, it is essential to keep in mind that individual vehicles can have different experiences based on various factors such as maintenance, usage, and production variations.
When purchasing a used Camaro, it is crucial to thoroughly inspect the vehicle and its vehicle history report to make an informed decision and be aware of any potential issues.
What Are Some Typical Problems With the Chevrolet Camaro models?
As you can see from the short list of poor Camaro years, many engine issues and electrical problems exist.
The top issues are:
timing chain wear,
faulty radios,
transmission shudders,
and ignition issues.
Keep in mind the expense of engine repair projects when considering a Camaro as your next vehicle.
You'll be better off choosing one of the most highly rated models and keeping money in your bank just in case an issue occurs.
Models with recalls can be fixed for free by the manufacturer, however.
Now you have some data about the best and worst years for the Chevy Camaro.
Use the information wisely so that you can choose the most productive model for yourself.
Was this article helpful?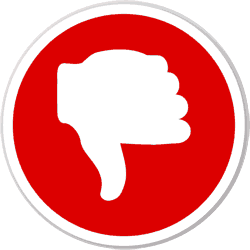 Did you find wrong information or was something missing?
We would love to hear your thoughts! (PS: We read ALL feedback)
ⓘ  The information in this article is based on data from National Highway Traffic Safety Administration (NHTSA) recall reports, consumer complaints submitted to the NHTSA, reliability ratings from J.D. Power, auto review and rating sites such as Edmunds, specialist forums, etc. We analyzed this data to provide insights into the best and worst years for these vehicle models.
---