The Cadillac ATS has experienced various highs and lows throughout its production years.
In this article, we will explore the best and worst Cadillac ATS years.
While some model years have been praised for their performance and features, others have faced criticism and a higher number of complaints.
Let's take a closer look at the models to watch out for and those that stand apart in terms of quality and reliability.
The Best Year for Cadillac ATS
In terms of performance, handling, and customer satisfaction, the 2016 Cadillac ATS stands out as the best model year.
Which improved from earlier versions and addressed some of the most frequently reported issues in previous model years.
The 2016 Cadillac ATS Sedan boasts a turbocharged 2.0L engine, advanced all-wheel-drive system, and a well-engineered chassis making it a preferred choice among enthusiasts who value dynamic handling and performance cues.
While previous years, such as the 2013 and 2015 models, received more complaints and criticism due to various issues, the 2016 ATS continued to refine its features and luxury appointments.
Furthermore, it was recognized for its:
enhanced interior quality,
infotainment system upgrades,
and improved driving dynamics.
Ultimately, its combination of performance, comfort, and attention to detail made the 2016 Cadillac ATS a standout choice among its competition.
The 2nd Best Year for Cadillac ATS
The 2017 Cadillac ATS stands out as the second-best year for this model. One of the factors that contributed to its success was the consistent performance of the car's 2.0T engine.
The 2017 model accelerated from 0 to 60 mph in 5.6 seconds, which matches the time achieved by the 2013 model.
Buyers in 2017 appreciated the refinements Cadillac made to the ATS.
The exterior design remained sleek and sporty, while the interior offered a combination of luxury and functionality.
The available Cadillac User Experience (CUE) infotainment system provided an accessible interface for navigation, communication, and entertainment, enhancing the overall driving experience.
In addition to these features, the 2017 Cadillac ATS boasted improved safety and technology options. Advanced safety features included front and rear park assist, a rear-view camera, rain-sensing wipers, and lane departure warning systems.
These added elements reinforced the car's reputation as a reliable choice in the luxury sports sedan segment.
Though not the absolute best year for the Cadillac ATS, the 2017 model represents a well-rounded vehicle offering high-quality performance, style, and features that made it a top contender in the market.
Other Good Years for Cadillac ATS
Aside from the widely praised 2013 and 2015 models, the Cadillac ATS has seen commendable success in other years.
The ATS lineup has consistently displayed improvements in performance, design, and technological advancements over the years.
Here, we'll explore a few additional good years for the Cadillac ATS:
2014: This model year demonstrated significant improvements in handling, proving that the ATS was more than just a luxurious driving experience. With a refined suspension, the 2014 Cadillac ATS provided an optimal balance between sportiness and comfort.
2016: Cadillac continued to enhance its technology offerings with the introduction of the upgraded CUE infotainment system. The 2016 ATS also featured enhanced safety features, such as lane-departure warnings and forward-collision alerts, making it an ideal choice for those who prioritize safety.
2017: The performance-oriented ATS-V was introduced in this year, offering a powerful 3.6-liter V6 engine and exceptional handling capabilities. This model quickly became popular among driving enthusiasts and received praise for its impressive driving dynamics.
2018: Featuring a revised base engine and offering additional standard features, the 2018 ATS demonstrated Cadillac's commitment to refining its lineup. The 2.0-liter turbocharged four-cylinder engine provided excellent power and fuel efficiency, while the infotainment system received yet another update for smoother operation and usability.
These model years of the Cadillac ATS hold their own in terms of advanced features, performance, and overall driving experience.
Borrowing elements from successful model years like 2013 and 2015, each of these alternatives stands out in their own way, making them great choices for buyers searching for a capable luxury sedan.
The Worst Year for Cadillac ATS
According to research and data, the 2013 model year of the Cadillac ATS experienced the most criticism as reported by the National Highway Traffic Safety Administration (NHTSA).
Issues related to the 2013 Cadillac ATS were not limited to one specific issue but extended to various components, which led to this model year being considered one of the worst.
While complaints and issues did decrease in the following years, it is essential to note that new models are not exempt from occasional criticisms or minor issues.
It is crucial not to exaggerate the problems with the 2013 model, but to highlight the learning experience for both the manufacturer and consumers.
In comparison, other model years of the Cadillac ATS, such as the 2014 and later ones, saw a reduction in the number of issues experienced, making them relatively more reliable choices for potential buyers.
While no car is flawless, later models indicate that Cadillac took the feedback and used it to improve the ATS models that followed the 2013 release.
Other Bad Years for Cadillac ATS
While the 2013 and 2015 models received the most criticism, there are other years that have exhibited particular problems.
The following is a list of additional Cadillac ATS years that have been reported to have issues:
2014 – Though not as problematic as the 2013 model, the 2014 Cadillac ATS received a notable number of complaints. The primary concern for this model year was problems related to the infotainment system.
2016 – Transmission shaking was the primary issue reported for the 2016 model year. However, this year saw fewer complaints compared to previous years, so it's essential to keep this in perspective.
2017 – For the 2017 model year, there were some concerns about fuel efficiency, particularly in the ATS V, which achieved only 16 miles per gallon. As gas mileage may vary based on driving conditions and other factors, this might not be an issue for all drivers.
While these years showed specific issues, it should be noted that the Cadillac ATS continued to improve over time.
Many drivers have been satisfied with their ATS vehicles despite these reported problems.
It's always wise to research and test drive each model year to ensure that it meets your individual needs and preferences.
Years with the Most Recalls
The Cadillac ATS has seen some model years with more recalls and issues than others.
In this section, we will discuss the years with the most recalls and common problems based on National Highway Traffic Safety Administration (NHTSA) reports and other sources.
These years should be taken into consideration when deciding to purchase a used Cadillac ATS.
Let's take a look at the most problematic ATS model years:
| Year | Common Issues |
| --- | --- |
| 2013 | transmission issues, shaky engine, electrical problems |
| 2015 | transmission problems, engine failure, higher repair costs |
According to NHTSA reports and other sources, the 2013 and 2015 model years experienced the highest number of recalls and most significant problems. Both years had issues with their transmissions, and the 2013 model also had engine and electrical issues.
The 2015 model year had even more severe concerns like engine failure and higher repair costs.
It's worthwhile to note that the 2014 model year also had some complaints, such as exhaust fumes from other vehicles entering the cabin and a shaky engine.
However, these issues are not as severe as those found in the 2013 and 2015 models.
In conclusion, prospective buyers should be cautious when considering the 2013 and 2015 Cadillac ATS models due to their higher number of recalls and more severe issues.
Taking this information into account can help avoid potential problems and expensive repairs in the future.
Common Cadillac ATS Problems to Look For
The Cadillac ATS has experienced several issues over the years that prospective buyers should be aware of.
Some of the most common problems include:
Misfiring and coolant leaks in the 2013 – 2014 models with the 2.0t engine
Electrical failures due to a bad battery
Transmission shuddering caused by a detached transmission shift cable in 2013, 2016 – 2017 models
Loss of power steering in 2013, 2016 – 2017 models
Motor mount issues in 2013 and 2014 models
Moldy AC smell in 2013 and 2014 models
Sluggish CUE (Cadillac User Experience) system in 2015 models
Transmission jerks when starting in 2019 models
By being aware of these common issues, buyers can make an informed decision when considering a Cadillac ATS.
Go back to select best and worst year for every Cadillac model.
Was this article helpful?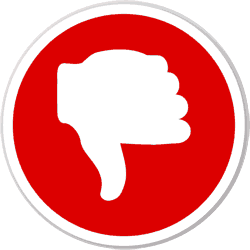 Did you find wrong information or was something missing?
We would love to hear your thoughts! (PS: We read ALL feedback)
ⓘ  The information in this article is based on data from National Highway Traffic Safety Administration (NHTSA) recall reports, consumer complaints submitted to the NHTSA, reliability ratings from J.D. Power, auto review and rating sites such as Edmunds, specialist forums, etc. We analyzed this data to provide insights into the best and worst years for these vehicle models.
---