The Honda Fit has been a popular choice among subcompact car buyers for years due to its reliability and efficiency. However, not all model years are equal, with some shining brighter than others.
This article will go into the best and worst years of the Honda Fit.
The Best Years for Honda Fit
The Honda Fit has been a popular choice for many car buyers due to its fuel efficiency and versatility. However, some years stand out more than others.
For those looking to buy a used Honda Fit, the 2009-2014 models, which belong to the second generation, are considered a great option.
These second-generation Honda Fits feature a well-built interior and improved fuel efficiency compared to their first-generation counterparts. They offer a comfortable ride and agile handling, making them enjoyable to drive.
In addition, this generation of Fits received high reliability ratings from various sources, further solidifying their reputation as a solid buy.
The second-generation Honda Fits are also known for their spacious cabins and impressive cargo capacity, thanks to the Magic Seat feature. This design element allows the rear seats to be folded down, creating a flat load floor that accommodates larger items with ease.
This unique feature enhances the practicality and utility of the Honda Fit, which is perfect for people who need more storage space in their compact car.
Another notable aspect of these models is their safety features.
The 2009-2014 Fits come equipped with multiple airbags and available electronic stability control. Furthermore, they earned high marks in crash tests conducted by the Insurance Institute for Highway Safety (IIHS).
Featuring solid reliability, impressive cargo capacity, and enhanced safety features, these models deliver a balanced combination of practicality, performance, and affordability.
Other Good Years for Honda Fit
When it comes to choosing a reliable and comfortable Honda Fit, there are several good years worth considering:
2011: Among the second generation Honda Fits, the 2011 model has been viewed favorably. As part of a well-regarded generation, it shares many of the same benefits and is still relatively modern when compared to earlier years.
2017 Honda Fit LX: This car stands out with its superior ergonomics and an extra inch of space that designers utilized to make the vehicle's interior even better than before. The 2017 Honda Fit LX is part of the third generation of the Honda Fit series which started with the 2015 model, but it is the 2017 model that seems to be a fan favorite
It's important to note that choosing the right Honda Fit often comes down to personal preferences such as specific features, body style, and mileage.
However, these recommended years should serve as a helpful starting point for buyers looking to find an ideal balance between age, reliability, and overall quality in a Honda Fit.
A Notable Year For Honda Fit
In the world of Honda Fit, the 2012 model stands out as an excellent choice for those seeking a reliable and efficient hatchback. This model year checks many boxes for its owners, offering a solid combination of performance, fuel efficiency, and practicality.
Honda Fit is known to last long, which also make the older models relevant today.
The 2012 Honda Fit, part of the second generation (GE6/7/8/9) series, garnered praise for its versatile interior.
Among the highlights of this model were its ample storage space and cleverly designed seats that could easily be configured for various cargo-carrying needs. The Magic Seat, for instance, was especially impressive as it allowed for multiple configurations to accommodate passengers and cargo alike.
Another strong point for the 2012 Fit was its fuel efficiency.
Its 1.5-liter engine, combined with either a 5-speed manual or an automatic transmission, provided a solid balance of power and economy.
In fact, this model was known to achieve up to 28 miles per gallon (mpg) in the city and 35 mpg on the highway, making it an attractive option for those seeking to minimize their carbon footprint and save money at the pump.
While some downsides to the 2012 Honda Fit were noted by its owners, such as a slightly noisy cabin during rain and an absence of advanced safety features commonly found in later models, the general consensus among the community was this hatchback was a worthy contender for those in search of a reliable and affordable option in the subcompact car segment.
If one had to pick a Honda Fit model that delivers on various fronts, the 2012 version proves to be a solid contender. With its practical design, fuel-efficient engine, and overall reliability, this model year left a lasting impression on the minds of Honda Fit enthusiasts everywhere.
The Worst Year for Honda Fit
The 2015 Honda Fit seems to have garnered the most complaints among its counterparts.
One of the major issues that emerged during this year was the car's seats being less comfortable.
Another concern that surfaced during this period was the overall number of complaints. Nonetheless, it is crucial to remember that the occurrence of these issues may be unique to some of the vehicles produced in 2015, and not necessarily reflective of the quality of every Honda Fit made that year.
Additionally, it's worth mentioning that every car make and model tends to have some imperfections or drawbacks.
So, while the 2015 Honda Fit had its share of reported difficulties, many Honda Fit owners from different years have reported being satisfied with their vehicles.
Other Bad Years
2010 Honda Fit: This year's model had 14 complaints, with some owners experiencing transmission failure. It's worth noting that such issues might not affect every car produced that year.
2016 Honda Fit: With 11 complaints, the 2016 model faced complaints mainly focused on uncomfortable seats. While this may not be a deal-breaker for some, it could be bothersome for others during long drives.
2015 Honda Fit: Generally, there were various complaints during these years, though the number of complaints isn't too alarming. The issues may not be widespread, but it's good to be aware of the potential problems.
Note also, that the Honda Fit has been made in MANY countries. This can also cause less consistency in the built and quality.
Common Problems to Look for in Used Models
Check first our list of problems across the Honda fit models.
When shopping for a used Honda Fit, be aware of these common issues that may arise in certain model years. First-gen Honda Fits (2007-2008) may have fewer cup holders but are a great option for those on a tight budget.
In some instances, the 2009-2010 base models may not have cruise control, which can be a major drawback for those who enjoy long drives. Starting from 2011, all Honda Fit models come standard with cruise control, making it a more comfortable choice.
Some Honda Fits have experienced problems with insufficient oil flow. As a result, the heat isn't properly dissipated, causing the gear tooth to chip or even break completely. This issue may lead to automatic transmission lockup and, in some cases, cause a crash.
Keep these potential problems in mind as you compare different Honda Fit models, and consider opting for a model that has fewer of these issues. Happy shopping!
Back to overviews: Best & Worst Years Per Honda Model.
Was this article helpful?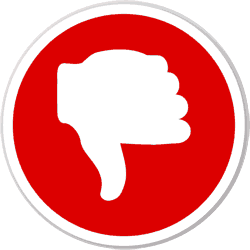 Did you find wrong information or was something missing?
We would love to hear your thoughts! (PS: We read ALL feedback)
ⓘ  The information in this article is based on data from National Highway Traffic Safety Administration (NHTSA) recall reports, consumer complaints submitted to the NHTSA, reliability ratings from J.D. Power, auto review and rating sites such as Edmunds, specialist forums, etc. We analyzed this data to provide insights into the best and worst years for these vehicle models.
---