When it comes to the Chevrolet Trax, there are notable differences in the best and worst model years.
This article dives into the various Chevy Trax years, highlighting which ones to consider and which ones to avoid.
By investigating factors such as reliability, performance, and overall value, readers can make informed decisions when purchasing a Chevy Trax.
Stay tuned as we examine the top choices and disappointments in this popular car model lineup.
Check also: Most seen problems with the Chevy Trax models.
The Best Chevy Trax Year
The best years for the Chevy Trax appear to be 2021-2023, as these models received high marks for their reliability, performance, and overall value.
These recent models were equipped with advanced technology, infotainment features, and safety features, setting them apart from earlier versions.
During this time period, Chevrolet focused on improving the Trax's interior quality, ensuring a more comfortable ride for passengers.
Additionally, enhanced driver assistance systems were introduced, offering greater security and confidence for those behind the wheel.
Features that contributed to the success of the 2021-2023 Trax models include:
An efficient turbocharged engine, optimizing both performance and fuel economy
Popular smartphone connectivity through Apple CarPlay and Android Auto
Available advanced safety features, such as forward-collision alert, lane departure warning, and rear cross-traffic alert
In summary, the 2021-2023 Chevy Trax models stand out as the top choices for consumers interested in a reliable and feature-rich subcompact crossover.
The 2nd Best Chevy Trax Year
The 2016 Chevrolet Trax is considered one of the better years for the model in terms of reliability and overall satisfaction.
This year, the vehicle was equipped with advanced technology, infotainment features, and safety features that contributed to its positive reputation in the market.
One of the most popular features of the 2016 Trax was its well-designed interior, which provided ample space and comfort for passengers.
The seats offered good support, and the cabin was made of quality materials that contributed to the overall driving experience.
Additionally, the infotainment system was user-friendly and offered a variety of connectivity options.
On the safety front, the 2016 Trax received high ratings for its suite of available safety features. These included options such as:
a rearview camera,
rear park assist,
blind-spot monitoring,
rear cross-traffic alert,
and forward collision warning.
These advanced safety options helped the vehicle earn a reputation as a trustworthy and reliable option for families and individuals alike.
Other Good Years for the Chevy Trax
While some years have a higher number of reported issues, there are additional Chevy Trax years worth mentioning that stand out due to their reliability, performance, and value.
The following list highlights these particular Chevy Trax models:
2017 Chevy Trax: This model saw several improvements compared to the previous 2015 and 2016 models, which had a higher number of complaints and recalls. The 2017 Trax has fewer complaints and features an upgraded engine, although it is still considered underpowered by some.
2018 Chevy Trax: The 2018 model continued to show significant improvements in quality over the earlier models. With fewer reported issues and a more refined design, the 2018 Trax became a more appealing option for buyers.
2019 Chevy Trax: As a part of the 2016-2019 group mentioned by chevytrends, the 2019 Trax builds on previous improvements, offering advanced technology, infotainment features, and safety features while maintaining its reliability and performance.
2021-2023 Chevy Trax: These years represent the latest generation of the Chevy Trax, receiving high marks in terms of reliability, performance, and overall value. With state-of-the-art technology, infotainment, and safety features, the 2021-2023 models ensure that the Trax continues to be a popular choice in the subcompact crossover segment.
It is important to note that every model year may still have some minor issues or drawbacks, but the years mentioned above demonstrate a trend towards improved quality, performance, and features in the Chevy Trax lineup.
The Worst Chevy Trax Year
The 2016 Chevy Trax stands out as the least desirable model year for the subcompact crossover.
This particular year experienced numerous mechanical, electrical, and engine problems that dampened its appeal to consumers.
While it is important to note that every vehicle can have its share of issues, the frequency and nature of these issues for the 2016 Trax made it less attractive compared to other years in its production run.
A common issue that was reported by owners of the 2016 Trax resulted from a faulty A/C system. In addition to this, there were over 150 National Highway Traffic Safety Administration (NHTSA) complaints and five recalls linked to this model year.
It is worth mentioning that recalls are a common practice among automotive manufacturers to address potential safety concerns, and that the presence of recalls does not automatically indicate a lack of quality.
According to some sources, the 2015 Trax also had some concerns, with seven NHTSA safety recall actions associated with it.
Although these recalls indicate a proactive approach taken towards addressing potential hazards, they do contribute to the relatively lower appeal of the 2015 and 2016 Trax years. Potential buyers should be aware of these issues while considering a purchase.
Despite the setbacks faced in these model years, Chevrolet continued to innovate and improve the Trax in subsequent production years.
The 2017 model, for instance, has considerably fewer reported complaints, indicating steps taken by the manufacturer to address concerns from previous years.
This highlights the importance of staying up-to-date with evolving automotive technology and trends, ensuring that future models align with customer expectations and industry standards.
Other Bad Years for the Sonic Trax
While the 2016 Chevy Trax is widely regarded as the worst model year for this subcompact crossover, there are a few other years that have also experienced issues.
The following list provides a selection of other Chevy Trax model years that have faced notable problems:
2015 Chevrolet Trax: As the first model year in its series, the 2015 Trax faced some growing pains. Reports suggest that it had some issues with its electrical system and heating/cooling system. However, as it was a debut model, it can be expected that the automaker needed some time to iron out the initial flaws.
2017 Chevrolet Trax: While the 2017 Chevy Trax did receive some improvements compared to its 2016 counterpart, there were still a few lingering issues that carried over. This model was found to have occasional problems with its engine and transmission, although these issues were not as widespread as those in the 2016 model.
2018 Chevrolet Trax: The 2018 model year also had its share of issues, albeit less significant compared to previous years. Some consumers reported problems with the vehicle's interior accessories and electronics. However, these issues were relatively minor and did not impact the overall driving experience.
It is essential to recognize that no car model is perfect, and it is natural for vehicles to have some issues, especially during their early years.
The Chevy Trax is no exception to this, and although there have been problematic years, the manufacturer has continuously made improvements to address these concerns.
As car buyers, it is vital to have adequate knowledge of each model year's potential issues and make informed decisions when purchasing a subcompact crossover like the Chevy Trax.
Years with the Most Recalls
The Chevrolet Trax has experienced varying levels of reliability throughout its production years.
In this section, we will highlight the years with the most recalls, which can serve as a helpful guide for potential buyers.
According to the information provided, the 2016 and 2015 model years are the ones to watch out for when it comes to recalls.
The 2016 Chevy Trax was plagued by over 150 NHTSA complaints and 5 recalls, causing it to be regarded as the worst model year for this subcompact crossover. The primary concern was the faulty A/C system, among other electrical and mechanical issues.
Meanwhile, the 2015 Chevy Trax carried its own set of problems.
This model garnered the highest number of complaints and has been subject to 7 recalls. One prominent issue faced by drivers was the vehicle's dangerous propensity to roll down an incline, even on slopes that were not particularly steep.
To provide an overview, the following table lists the Chevy Trax model years with the most recalls:
| Model Year | Number of Recalls |
| --- | --- |
| 2015 | 7 |
| 2016 | 5 |
While other model years of the Chevy Trax have experienced recalls and complaints, it is important to consider these highlighted years when making an informed decision about purchasing a used Trax.
Common Chevy Trax Problems to Look For
One of the key concerns reported by Chevy Trax owners are transmission problems. Issues have been reported with difficulty shifting gears, sudden jerking, and unresponsiveness during acceleration.
These problems can lead to costly repairs if not addressed properly.
Another common problem found in some Chevy Trax models is body rolling. This could cause the vehicle to feel unstable during turns or at higher speeds, potentially affecting its handling and safety.
In addition, wheel alignment issues have been reported, which can lead to uneven tire wear and decreased fuel efficiency.
Brake problems have also been noted in some Trax models, particularly in the 2019 year.
Issues with disconnected brake lines, as well as problems with brake performance, have been reported by frustrated drivers. Ensuring your brakes are in good working condition is essential for safety on the road.
Lastly, some Chevy Trax owners have mentioned concerns with the quality of the vehicle's interior.
Complaints range from low-quality materials to a cramped, uncomfortable cabin. While not necessarily a safety concern, it's something to keep in mind for the overall enjoyment and satisfaction of owning a Chevy Trax.
Was this article helpful?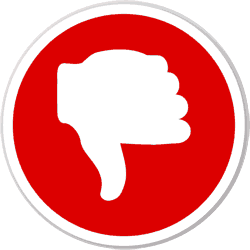 Did you find wrong information or was something missing?
We would love to hear your thoughts! (PS: We read ALL feedback)