When it comes to the Chevy Sonic, there are notable differences between various model years.
This article will discuss the best and worst Chevy Sonic years, providing valuable insight for potential buyers.
Drawing from industry reviews, consumer feedback, and National Highway Traffic Safety Administration (NHTSA) statistics, this comprehensive analysis will highlight Sonic model years to consider, as well as those to avoid.
Check also: What are the most common problems with Chevy Sonic cars?
The Best Chevy Sonic Year
The 2020 Chevrolet Sonic stands out as one of the best model years due to its technological advancements, impressive features, and strong performance record.
This model year offers seamless compatibility with Android Auto and Apple CarPlay, ensuring that drivers can easily connect their devices to access music, navigation, and other smartphone functionalities while on the road.
Safety was also a top priority in the design of the 2020 Sonic.
The vehicle is equipped with a range of features designed to enhance driver safety, including:
a rearview camera,
forward collision alert,
lane departure warning,
and rear parking assist.
Additionally, drivers can take advantage of a built-in 4G LTE Wi-Fi hotspot, providing passengers with reliable internet connectivity during their travels.
In terms of performance, the 2020 Chevy Sonic offers a smooth driving experience largely due to its refined powertrain.
The engine delivers sufficient power for daily driving and boasts an EPA-estimated fuel economy of 26 mpg in the city and 34 mpg on the highway.
Handling is agile and reliable, ensuring that drivers feel confident navigating winding roads and city streets alike.
The 2020 Sonic's interior design and amenities add to its appeal.
A user-friendly infotainment system is easily accessible through a standard 7-inch touchscreen, featuring voice recognition and smartphone integration capabilities. The cabin offers a comfortable atmosphere with high-quality materials and ample cargo space to accommodate passengers and their belongings.
The 2nd Best Chevrolet Sonic Year
The 2019 Chevrolet Sonic stands out as the second-best model in the lineup.
This year, the Chevrolet Sonic showcased a perfect balance of performance, reliability, and fuel efficiency.
Equipped with a standard turbocharged 1.4-liter engine, the 2019 Sonic delivered 138 horsepower and 148 lb-ft of torque. Automobile enthusiasts praised its smooth handling, comfortable ride, and quick acceleration.
In terms of fuel economy, the 2019 model also boasted an impressive 26 MPG in the city and 34 MPG on the highway, making it an ideal choice for daily commuting and long road trips.
Another highlight of the 2019 Chevrolet Sonic was its extensive list of standard features.
Owners of the 2019 Sonic model also reported high levels of satisfaction with its reliability. Fewer common issues were reported compared to earlier models, suggesting improvements in quality control and manufacturing processes.
Its design, both interior and exterior, remained stylish and modern, and its spacious interior allowed for comfortable seating for up to five passengers.
Other Good Years for the Chevy Sonic
The Chevy Sonic has experienced several good manufacturing years, resulting in strong customer satisfaction and reliability.
Some key years have shown exceptional performance:
2017: A powerful engine was introduced in the 2017 Sonic, offering better fuel economy and performance. Additionally, a sleeker exterior design made it stand out amongst competitors.
2018: This year marked a significant technological upgrade for the Sonic, with Android Auto and Apple CarPlay integration implemented for increased convenience and connectivity.
2019: The Chevy Sonic maintained its strong reputation in 2019, continuing to offer a roomy interior for its class and upgraded safety features to ensure passengers felt secure on the road.
2020: The most recent model year has been praised for including even more advanced features like a built-in 4G LTE hotspot and enhanced safety gear, making it one of the best options in the Sonic lineup.
Although each year may have specific strengths, the overall quality and performance of the Chevy Sonic has remained consistent.
An emphasis on improved technology and well-balanced design has made it a reliable contender in the compact car market.
The Worst Chevy Sonic Year
Among the various model years of the Chevrolet Sonic, the 2012 version has been reported as the least desirable choice.
This year experienced an assortment of issues negatively impacting vehicle performance and reliability, but these should be viewed in context as part of the overall manufacturing process.
Some of the complaints registered for the 2012 Chevy Sonic included problems with the transmission. Transmission-related occurrences, though not uncommon in vehicles, were more prevalent during this particular model year.
Another area where the Sonic faced challenges were early engine failures.
Some drivers reported engine trouble well before typical wear and tear expectations, which could be an inconvenience.
Furthermore, the 2012 Sonic had a few issues with the braking system, specifically concerning noises and reduced overall effectiveness. To provide potential owners with important context, not all units of the 2012 Sonic experienced these issues – only a portion of owners reported them.
It is crucial to bear in mind that car manufacturers learn and improve from earlier models, and subsequent years of the Sonic have addressed many of the concerns mentioned above.
Thus, while the 2012 Chevy Sonic may have had its challenges, the manufacturer has since made efforts to refine and perfect their product.
Other Bad Years for the Sonic
Aside from the previously mentioned 2015 and 2017 models, the Chevrolet Sonic has had other years where it faced various issues.
Here's a list of additional years where the Chevy Sonic had notable problems:
2012: In its debut year, the Sonic experienced several recalls, with a total of 7. Issues ranged from potential brake fluid leaks to problems with the vehicle's headlights.
2013: This model year had 5 recalls, addressing issues such as potential airbag malfunction, loss of power steering, and electrical issues in the transmission.
2014: With a total of 4 recalls, common concerns for the 2014 Sonic involved possible fuel leaks, loss of power steering, and issues with the vehicle's safety belt buckles.
Nonetheless, it is important to stress that recalls and issues do not automatically mean all vehicles of that year are problematic.
Some owners have had very satisfying experiences with these models, and vehicle quality can depend on factors like proper maintenance or attentive repair practices.
Years with the Most Recalls
When considering the Chevrolet Sonic's best and worst years, it's essential to factor in the number of recalls each model year experienced.
A higher number of recalls indicates potential issues related to various components of the vehicle. For the Chevrolet Sonic, the years with the highest recalls come from three different model years:
During these years, recalls mainly targeted specific issues such as potential electrical system problems or transmission defects.
Some of the common complaints noted by consumers include malfunctioning lights, doors locking and unlocking randomly or while driving, and power steering issues.
Importantly, consumers should take recall numbers into account while evaluating their purchase decisions.
Although it's normal for vehicles to experience occasional recalls throughout their lifecycles, a higher number of recalls within specific model years might indicate bigger concerns regarding the vehicle's safety, reliability, or performance.
Common Chevy Sonic Problems to Look For
The Chevy Sonic, while a popular choice for many drivers, has had some common issues reported that potential buyers may want to be aware of.
Below are several of the most frequently reported problems:
Hesitation when shifting gears: This issue, more prevalent in automatic versions of the Sonic, usually appears after around 30,000 miles of driving.
Check engine light staying on for unclear reasons: This can be a cause for concern as it may indicate potential engine problems.
Engine not starting: Some owners have reported instances where their Chevy Sonic fails to start, showing possible ignition system difficulties.
'Key in ignition' sound not playing: This might seem like a minor issue, but it can be an annoyance for those who rely on the audio cue to remind them to remove their key.
Radiator fan and thermostat failures: The 2013 Chevy Sonic, in particular, is known for issues with its coolant system, leading to overheating and potential engine damage.
Odometer issues: Some owners have reported that the mileage on their Sonic suddenly disappears and is replaced with dashes, making it difficult to track the vehicle's usage.
While not every Chevy Sonic will experience these problems, it's important for potential buyers to be aware of the reported issues.
Go Back: Best & Worst data on all Chevrolet models
Was this article helpful?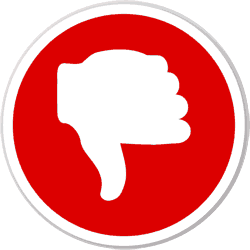 Did you find wrong information or was something missing?
We would love to hear your thoughts! (PS: We read ALL feedback)
ⓘ  The information in this article is based on data from National Highway Traffic Safety Administration (NHTSA) recall reports, consumer complaints submitted to the NHTSA, reliability ratings from J.D. Power, auto review and rating sites such as Edmunds, specialist forums, etc. We analyzed this data to provide insights into the best and worst years for these vehicle models.
---