The Chevrolet Malibu has experienced a variety of highs and lows over the years, with some models being praised for their reliability and performance while others faced numerous issues.
Throughout this article, we will discuss the best and worst Chevy Malibu years, providing valuable insight for those considering purchasing this popular midsize sedan.
The Best Chevy Malibu Year
The 2015 Chevrolet Malibu stands out as the best year for this popular midsize sedan. This model marked the end of the 8th generation and delivered excellent performance and reliability for its class.
The 2015 Malibu boasts a comfortable and spacious interior, a smooth and fuel-efficient engine, and an array of safety features that collectively contribute to its top ranking.
Under the hood, the 2015 Malibu comes with a standard 2.5-liter four-cylinder engine delivering 196 horsepower, providing ample power for daily driving needs. Additionally, it features a six-speed automatic transmission, ensuring smooth gear shifts and a pleasant driving experience.
For those seeking a bit more performance, an optional 2.0-liter turbocharged engine with 259 horsepower is available.
When it comes to fuel efficiency, the 2015 Malibu offers an EPA-estimated 25 miles per gallon in the city and 36 miles per gallon on the highway. These numbers are quite competitive for its class, further solidifying this model year as a top choice.
Safety is a priority for Chevrolet, and the 2015 Malibu is no exception.
It received a 5-star overall safety rating from the National Highway Traffic Safety Administration (NHTSA), as well as high scores from the Insurance Institute for Highway Safety (IIHS). Standard safety features include:
a rear view camera,
10 airbags,
and electronic stability control.
Optional safety features, such as forward collision alert and lane departure warning, were also available, enhancing the overall safety package.
Overall, the 2015 Chevrolet Malibu offers a blend of performance, comfort, safety, and reliability that makes it stand out as the best year for this midsize sedan. This model sets a high standard for its successors, ensuring that the Chevrolet Malibu remains a popular choice in the automotive market.
The 2nd Best Chevy Malibu Year
The 2022 Chevrolet Malibu stands out as the second-best year for the model.
This sedan delivered a well-rounded driving experience with its reliable performance, comfortable interior, and advanced safety features.
The powerful engines, combined with excellent fuel efficiency, made this model a top choice for consumers.
One notable characteristic of the 2022 Malibu is its spacious cabin, which offers ample legroom and headroom for passengers. High-quality materials and soft-touch surfaces contribute to the overall comfort of the interior.
Additionally, the infotainment system comes equipped with user-friendly features, such as Apple CarPlay, Android Auto, and a 4G LTE Wi-Fi hotspot, enhancing the driving experience.
In terms of safety, the 2022 Chevy Malibu comes with a range of standard and optional features, including:
forward collision warning,
lane keep assist,
adaptive cruise control,
and automated emergency braking.
These driver assistance technologies helped this model earn top marks in various safety categories.
The 2022 Chevrolet Malibu also offers two engine options: a fuel-efficient 1.5-liter turbocharged inline-4 and a more powerful 2.0-liter turbocharged inline-4.
With smooth shifting and responsive handling, this sedan provides an enjoyable driving experience for both city and highway driving.
Other Good Years for the Chevy Malibu
While we have previously discussed the best and worst years for the Chevy Malibu, there are a few additional years that are also noteworthy for their performance, reliability, and positive owner reviews.
In this section, we will highlight a few of these standout years:
2003: This year marked a significant improvement in terms of build quality and interior design. The 2003 Malibu also featured a more powerful V6 engine with improved fuel efficiency, making it a popular choice among drivers seeking a midsize sedan with performance and style.
2011: The 2011 model represented a major redesign for the Malibu, offering improved fuel economy, updated styling, and a more spacious and comfortable interior. Many owners praised the 2011 Malibu for its attractive design and smooth, quiet ride.
2012: The 2012 Malibu continued to build on the success of the previous year's redesign, adding a new turbocharged four-cylinder engine option and further enhancing its reputation for a quiet cabin and comfortable ride. Reliability ratings for this year were also noteworthy, with owners reporting few significant problems.
2017: Another standout year, the 2017 Malibu benefited from a complete redesign that included a sleek, modern exterior, improved fuel efficiency, and advanced technology and safety features. Many owners appreciated the user-friendly infotainment system and spacious, comfortable interior.
2018: The 2018 Malibu maintained the successful redesign from the previous year and made several minor adjustments to improve driver experience. The Malibu received high marks for its combination of performance, efficiency, and overall value in the midsize sedan segment.
These years should not be overlooked when considering a reliable and well-performing Chevrolet Malibu.
Their positive attributes contribute to the legacy of this iconic midsize sedan, offering owners excellent value and satisfaction.
The Worst Chevy Malibu Year
Among the various Chevy Malibu model years, 2010 bears the unfortunate distinction of being the most problematic.
This year's model faced significant challenges, specifically with its engine and transmission systems. These issues led to costly repairs and inconvenience for the owners.
One of the primary concerns with the 2010 Chevy Malibu was its transmission.
Known to fail abruptly at around 90,000 miles, this problem had many drivers facing unexpected repair costs.
Some even reported having to replace the transmission more than once over the vehicle's lifetime, with an average repair cost of roughly $3,000.
Engine problems were another area where the 2010 Malibu faltered. Owners encountered various difficulties, such as power loss or stalling, leaving many frustrated and searching for a solution. As a close runner-up, the 2002 Malibu model also experienced issues, most notably with its passlock system and leakage problems.
Other Chevy Malibu models have had their share of problems too, such as electrical, brake, and steering troubles.
However, it is essential to remember that, like any vehicle, each Malibu model year has its unique characteristics, and not all will encounter these issues.
Other Bad Years for the Chevy Malibu
While there are many years with great designs and excellent features for the Chevy Malibu, some years stand out as less than ideal.
Check our list of the most seen problems across the Maliby models.
Below is a list of additional years that have garnered less favorable reviews:
2004: This year faced issues with steering problems and caused some owners to spend on expensive repairs.
2006: The 2006 model experienced electrical system malfunctions, including issues with the power steering.
2010: Known for its transmission problems, the 2010 Chevy Malibu sometimes required costly repairs for its gearbox failing under 100,000 miles.
2013: This year faced a higher number of issues, with some cars needing engine repairs or experiencing electrical problems with the audio system.
2016: With a redesigned model, the 2016 Malibu was reported to have issues with the engine stalling and various minor system malfunctions.
It is worth mentioning that despite these shortcomings, many owners of these Chevy Malibu years had positive experiences with their vehicles.
The importance of proper maintenance and car care should not be overlooked.
Years with the Most Recalls
The Chevrolet Malibu has seen numerous recalls over its production years. Identifying and understanding the years with the most recalls can help potential buyers make informed decisions about their choice of vehicle.
Based on the information provided from various sources, the model years that experienced significant recalls include:
| Year | Recall Issues |
| --- | --- |
| 2010 | Transmission problems, resulting in early gearbox failure at less than 100,000 miles. |
| 2011 | Transmission issues similar to the 2010 model, along with additional recalls for electrical and power steering concerns. |
| 2013 | Multiple recalls for issues like defective brakes, airbags, and fuel system components. |
| 2016 | Several recalls addressing airbags, seatbelt, and electronic stability control problems. |
These recalls demonstrate the importance of considering vehicle history when purchasing a used Chevrolet Malibu.
While some years performed better in terms of recalls, it is essential to account for other factors like consumer feedback and overall reliability.
Keep in mind that prompt resolution of recall issues can contribute to enhanced vehicle safety and performance.
Common Chevy Malibu Problems to Look For
One issue that spans across various model years for the Chevy Malibu is reduced engine power, often leading to the vehicle decelerating or stalling.
This problem has been reported for the 2005, 2006, 2007, 2009, 2010, 2011, 2012, 2013, 2014, 2015, 2016, 2017, and 2018 models.
Transmission problems are another area of concern, particularly for the 2010 and 2011 models.
In these cases, the majority of complaints related to transmission failure.
Aside from engine and transmission issues, some model years are prone to other common problems. Below is a list of several issues organized according to the model years they are most observed:
2010: Engine problems, electrical issues, brake troubles, and steering faults
2002: Passlock and leakage issues
2013: Poor acceleration and water leaks
2016: "Shift to Park" warning message, check engine light, and power loss
Being aware of these common Chevy Malibu problems can greatly help potential buyers determine the best model year for their needs and make an informed decision when choosing a vehicle.
Go Back: Best & Worst data on all Chevrolet models
Was this article helpful?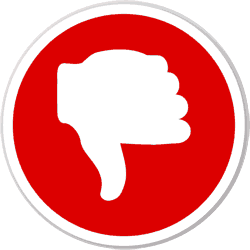 Did you find wrong information or was something missing?
We would love to hear your thoughts! (PS: We read ALL feedback)
ⓘ  The information in this article is based on data from National Highway Traffic Safety Administration (NHTSA) recall reports, consumer complaints submitted to the NHTSA, reliability ratings from J.D. Power, auto review and rating sites such as Edmunds, specialist forums, etc. We analyzed this data to provide insights into the best and worst years for these vehicle models.
---