The Cadillac CTS has seen many changes since its introduction, with certain model years standing out as the best or worst.
In this article, we will discuss the most notable years for this vehicle, from the most reliable to those with the most issues.
By analyzing various sources, we'll provide readers with a comprehensive view of which Cadillac CTS years to consider and which to avoid.
This valuable information will help aspiring Cadillac CTS owners make informed decisions based on reliability, features, and overall value.
The Best Year for Cadillac CTS Is 2016
When evaluating the Cadillac CTS lineup, the 2016 model emerges as the best year for this luxury sedan.
This year's model stood out for its reliability, showcasing significant improvements over earlier, problematic years.
CHECK ALSO: CADILLAC SRX PROBLEMS
One of the key features of the 2016 Cadillac CTS was the incorporation of a new and refined infotainment system, offering drivers and passengers an improved user experience. Additionally, the 2016 CTS benefited from a robust engine lineup, providing a variety of options to cater to different preferences and driving styles.
In terms of safety, the 2016 Cadillac CTS received high safety ratings, thanks to an array of advanced safety features, such as:
forward collision warning,
lane-departure warning,
and blind-spot monitoring.
These safety enhancements helped instill confidence in both drivers and passengers alike, setting the 2016 CTS apart from models of previous years.
Moreover, the 2016 CTS offered impressive handling and a comfortable, luxurious ride, gaining recognition for its exceptional performance on the road.
In summary, the 2016 Cadillac CTS stands out as the best year for this impressive luxury sedan, thanks to its reliability, advanced features, and high safety ratings.
The 2nd Best Year for Cadillac CTS Is 2019
The 2019 Cadillac CTS holds its place as the second-best model year for the luxury sedan.
As the final model in the CTS lineup, it offers a multitude of benefits for drivers who are looking for a reliable and stylish ride.
Although it did not bring any significant changes to the table when compared to its predecessor, the 2019 CTS still showcased impressive features and retained a high level of quality.
Some standout features include:
a smooth and powerful 3.6L V6 engine,
an 8-speed automatic transmission,
and comfortable seating for its passengers.
This model also boasted advanced safety technology features, providing added peace of mind for drivers.
When it comes to value, the 2019 Cadillac CTS continued to impress by maintaining its top-tier status amongst its competitors.
For those seeking a sophisticated and reliable sedan, the 2019 CTS presented an attractive option. Additionally, the lower price of the 2018 model made it a more budget-friendly choice, which was essentially the same as its 2019 counterpart.
In summary, the 2019 Cadillac CTS merits its position as the second-best year for the luxury sedan, primarily due to its high-quality features and reliable performance.
With a fine balance of comfort and performance, this model is sure to please owners.
Other Good Years for Cadillac CTS
Aside from the 2016 model, which is considered the best year for the Cadillac CTS, there are other standout years praised for their performance, design, and reliability.
Some of these noteworthy years include:
2005 Cadillac CTS
2010 Cadillac CTS Sport Wagon
2015 Cadillac CTS
The 2005 Cadillac CTS received high marks due to its performance and variety. Drivers had the option to choose between a 210 horsepower 2.8-liter V6 engine or a 255 horsepower 3.6-liter V6.
Additionally, this model came with 2 trims and 2 configurations, providing more options for potential owners.
The 2010 Cadillac CTS Sport Wagon stood out for its unique body style and capability.
As a luxury wagon, it offered a more spacious interior and cargo area, while maintaining the performance and style that Cadillac CTS models are known for. The Sport Wagon was an excellent alternative for those seeking a luxury vehicle with added practicality.
The 2015 Cadillac CTS was praised for its:
refined ride,
comfort,
and handling.
It featured a revamped interior with a cutting-edge infotainment system, as well as upgraded safety features, making it a great choice for individuals and families in the market for a reliable luxury sedan.
The Worst Year for Cadillac CTS Is 2003
Among the Cadillac CTS years, 2003 stands out as the worst. This model faced numerous issues, making it difficult for owners to enjoy a smooth driving experience.
The 2003 Cadillac CTS received the highest number of consumer complaints compared to other years, leading to a consensus that it was an unfavorable choice.
The most common issue reported with the 2003 CTS was the rear bezel cover falling off, which proved to be a persistent annoyance for drivers.
Furthermore, the 2003 model experienced a myriad of other problems that tarnished its reputation.
Another Bad Year Is 2009
Another year worth noting is 2009, as it did not fare well either.
The 2009 Cadillac CTS was plagued by all top three issues that affected the CTS lineup throughout its lifecycle. One particularly dreaded problem was the dead transfer case, which significantly impacted the reliability of the vehicle.
Other Bad Years for Cadillac CTS
While the 2009 Cadillac CTS year is considered one of the worst, a few other years also stand out as problematic.
In this section, we take a closer look at the additional bad years for the Cadillac CTS:
This year's model received 481 complaints from consumers. The major issues that year revolved around the rear differential and the transmission.
Another drawback was the engine, specifically with the V6 models.
Similar to the 2003 model, the 2004 Cadillac CTS experienced problems with the rear differential and transmission.
The vehicle was also found to have issues with the timing chain, which would require repairs more frequently than usual.
Although not as problematic as the earlier models, the 2006 CTS still had its fair share of issues. The timing chain problems persisted in this year's model, and reports of engine failure caused significant concern among consumers.
It is important to note that not all vehicles within these years will have the aforementioned issues.
However, these particular Cadillac CTS models experienced a higher rate of complaints compared to others.
Years with the Most Recalls
When considering the best and worst Cadillac CTS years, it's important to take into account the number of recalls and problems associated with each model year.
Three particular years stand out with the highest numbers of recalls and problems reported:
Let's take a closer look at these specific years and discuss the issues surrounding them:
The 2003 Cadillac CTS was the first model of the sedan ever released, and it was plagued with a variety of issues making it one of the worst CTS years to own. The most common problem reported was the rear bezel cover falling off.
The following year, 2004, continued to experience problems with the CTS model.
While not quite as problematic as the 2003 model, it still garnered a significant number of complaints and recalls, most notably engine troubles.
In 2009, another spike in complaints and recalls occurred, again highlighting concerns with the engine in the Cadillac CTS.
These engine issues persistently troubled the 2006 and 2007 models, among others.
To summarize the recalls and complaints, a table of the most problematic years is provided below:
| Year | Number of Recalls | Common Problems |
| --- | --- | --- |
| 2003 | 6 | Rear Bezel Cover Falling Off |
| 2004 | 5 | Engine Troubles |
| 2006 | 6 | Engine Troubles |
| 2007 | 4 | Engine Troubles |
| 2009 | 7 | Engine Troubles |
These years with the most recalls are essential to acknowledge for potential buyers who are considering owning a Cadillac CTS.
Being aware of these problematic years can help buyers make informed decisions and potentially avoid issues associated with these specific model years.
Common Cadillac CTS Problems to Look for
One recurring issue faced by Cadillac CTS owners is premature timing chain failure. This problem is not only expensive to repair, but it also necessitates a complete change of the timing chain.
Additionally, there have been reported issues with the steering and suspension systems, as well as delayed braking due to braking system problems.
In the case of the 2009 Cadillac CTS, a dead transfer case is a significant concern. This issue has contributed to the overall negative reputation of this specific model year.
Another common problem, mostly found in the 2003 Cadillac CTS, is a loose rear bezel cover.
This issue is relatively minor compared to the more severe problems mentioned earlier but is still a noteworthy and prevalent issue faced by owners.
Interior accessories within the Cadillac CTS, particularly the 2014 model, have exhibited their share of issues as well.
For example, numerous owners reported a cracked touch screen in their vehicles without any apparent reason.
The Cadillac CTS is equipped with a vehicle stability enhancement system called StabiliTrak. Despite its benefits, there have been concerns raised about its reliability and effectiveness reported by some CTS owners.
Go back to select best and worst year for every Cadillac model.
Was this article helpful?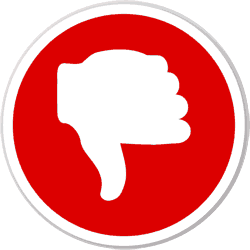 Did you find wrong information or was something missing?
We would love to hear your thoughts! (PS: We read ALL feedback)
ⓘ  The information in this article is based on data from National Highway Traffic Safety Administration (NHTSA) recall reports, consumer complaints submitted to the NHTSA, reliability ratings from J.D. Power, auto review and rating sites such as Edmunds, specialist forums, etc. We analyzed this data to provide insights into the best and worst years for these vehicle models.
---