When it comes to the Cadillac CT6, there are notable differences in quality and performance across model years.
This article will dive into the best and worst years for the Cadillac CT6, providing readers with valuable insights on this luxury vehicle.
By examining consumer reports, reliability ratings, and owner experiences, readers can confidently make an informed decision when considering a CT6 for their next automobile purchase.
The Best Cadillac CT6 Year
In recent years, the 2020 Cadillac CT6 stands out as one of the best model years for this luxury sedan.
The CT6 made significant improvements in terms of performance, features, and overall driving experience, making it a strong contender in the luxury car market.
One of the highlights of the 2020 CT6 is its engine lineup.
It offers a variety of engines, including:
the base turbocharged 2.0-liter four-cylinder engine producing 265 horsepower and 295 pound-feet of torque.
For those looking for more power, the CT6 also offers a 3.6-liter V6 engine with 335 horsepower
and a 3.0-liter twin-turbo V6 engine delivering an impressive 404 horsepower.
With a combination of rear-wheel drive and all-wheel drive options available, the 2020 CT6 caters to a wide range of drivers.
Another notable feature of the 2020 CT6 is its advanced technology and safety features.
This model year offers an impressive suite of driver-assistance technologies, including:
forward-collision alert,
lane departure warning,
and blind-spot monitoring.
The 2020 CT6 is also equipped with the Super Cruise semi-autonomous driving system, which enables hands-free driving on select highways, providing a comfortable and effortless driving experience.
The 2020 Cadillac CT6 also boasts an elegant interior, offering luxurious materials and a spacious cabin for passengers to enjoy.
With a perfect blend of style, performance, and technology, it is no wonder why the 2020 model reigns as one of the best years for the Cadillac CT6.
Other Good Years for the Cadillac CT6
While the Cadillac CT6 has seen ups and downs since its introduction, a few other good years have stood out:
2018 Model Year: The 2018 CT6, as mentioned in Consumer Reports, has a considerable resale value, with average retail prices ranging between $25,850 and $39,825. This suggests that the 2018 model is regarded as a reliable and solid choice.
2017 Model Year: While there might not be enough specific data to rank the 2017 CT6 model, the owner satisfaction and reported miles per gallon (MPG) outcome are worth noting. As seen in the search results snippet from Consumer Reports, the 2017 CT6 seems to have a high owner satisfaction rating.
Although the Cadillac CT6 has faced strong competition in the luxury car segment, these other good years show that the model has its strengths and can be an appealing choice for prospective buyers.
The Worst Cadillac CT6 Year
The 2007 Cadillac CT6 received some complaints from owners regarding the engine's timing chain. These issues led to the timing chain breaking, preventing the vehicle from driving.
It's important to keep in mind that overall, Cadillac is a reputable manufacturer that works hard to address consumer concerns and improve its vehicles every year.
While these years had some issues, today's Cadillac CT6 line continues to offer new advancements and exceptional quality with each new model release – though you don't find the current CT6 models in U.S. at the moment (only in other countries, such as China).
Years with the Most Recalls
The Cadillac CT6, a luxury sedan introduced in 2016, has seen its fair share of recalls over the years.
However, information regarding the 2016 Cadillac CT6 reveals that it had several reported problems and defects.
Please be aware that recalls can occur for any vehicle, and it's always a good idea to check for outstanding recalls on any car you're considering purchasing.
Additionally, stay up to date on any recalls for your current vehicle to ensure your safety and the efficient performance of your Cadillac CT6.
Common Cadillac CT6 Problems to Look For
While the Cadillac CT6 is known for its luxury and superior driving experience, some model years have reported issues that potential buyers should be aware of. By being informed, you can choose a CT6 model that is likely to meet your expectations without any unexpected surprises.
One widely reported issue in the 2020 Cadillac CT6 is the Super Cruise feature not working properly.
This is commonly seen as the vehicle reaching about 8,000 miles. It's important to test this feature thoroughly before purchasing a 2020 model, especially if this advanced driving feature is of paramount importance to you.
In addition to the aforementioned Super Cruise problem, some owners have reported transmission problems with CT6 models produced between 2016 and 2018.
While not every vehicle will experience these issues, it's worth researching further and considering whether purchasing an extended warranty could be beneficial in the long run.
Lastly, although the Cadillac CT6 does not have a widespread reputation for poor quality or reliability, it's always wise to have a trusted mechanic inspect a pre-owned vehicle before purchase. They can identify potential problems or signs of previous issues so you can make an informed decision prior to finalizing your purchase.
Go back to select best and worst year for every Cadillac model.
Was this article helpful?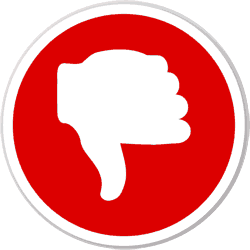 Did you find wrong information or was something missing?
We would love to hear your thoughts! (PS: We read ALL feedback)
ⓘ  The information in this article is based on data from National Highway Traffic Safety Administration (NHTSA) recall reports, consumer complaints submitted to the NHTSA, reliability ratings from J.D. Power, auto review and rating sites such as Edmunds, specialist forums, etc. We analyzed this data to provide insights into the best and worst years for these vehicle models.
---