The Buick Century has been a staple American vehicle since its introduction in 1936, with production spanning over multiple generations until 2005. Within these years, Buick produced some memorable as well as some forgettable versions of the Century.
This article check the best and worst years for the Buick Century.
We dive into the various years of the Buick Century's production, we offer valuable insights to those searching for an iconic American ride.
The Best Year for Buick Century
The 2005 Buick Century stands out as one of the best years for this popular sedan. With a starting price of just over $22,000, the 2005 model offered a comfortable and smooth ride that was well-received by consumers.
What made the 2005 Buick Century so great was its combination of affordability, comfort, and reliability. The sedan featured a spacious interior, providing ample room for passengers. Drivers also appreciated the smooth driving experience, coupled with its good fuel efficiency.
The 2005 Buick Century came with a variety of standard features, such as power windows and door locks, air conditioning, and a six-speaker audio system.
Additionally, the car had available options like leather upholstery, a power driver's seat, and dual-zone automatic climate control for added luxury and convenience.
When it came to safety, the 2005 Century had several standard features, including anti-lock brakes and daytime running lights. Although the car didn't come with advanced safety technology like modern cars, these features contributed to the vehicle's overall dependability on the road.
In summary, the 2005 Buick Century stood out as one of the best years for the sedan due to its combination of comfort, reliability, and affordability. The car offered a smooth ride, appealing to both drivers and passengers, while maintaining a stylish appearance that many appreciated.
The 2nd Best Year
1987 was another fine year for the Century, and its standout features made it deserving of the 2nd Best Year title.
Here are some of the reasons:
Roomy Interior: The 1987 Century offers a spacious interior for both drivers and passengers, enhancing the comfort of long journeys.
V6 Engine Performance: The V6 engine version offered strong performance and power output for the era.
Affordability: As a mid-size sedan, the Buick Century was relatively affordable and provided good value for money.
Easy to Maintain: The Buick Century's parts were widely available and relatively inexpensive, which made it an easy and cost-effective vehicle to maintain.
Other Good Years
In addition to some well-known favorites, there are other Buick Century years worth noting for their unique characteristics and features.
Here's a list of some good Buick Century years that stood out:
1939: The first production year of the Buick Century was 1936, marking the introduction of the model. Thearly year versions combined the smaller, lighter body of the Special model with the bigger and more powerful engine of the larger models, making it a standout during its time. It delivered powerful performance and set the stage for what was to come in future generations of the Century.
1966 Buick Wildcat GS: A rare gem, the Wildcat Gran Sport. Out of 1200-1300 models produced, there were models with a V8 engine. This specific year was notable for its rarity and increased performance capabilities.
2003 Buick Century: The 2003 Century was a popular pick among consumers. It came in a stylish sedan body style and offered reliable performance. This model year is highly regarded due to its combination of dependability, comfort, and affordability.
These are just a few examples of good Buick Century years, each showcasing unique traits that made them favorable among both enthusiasts and everyday drivers alike.
The shifting appeal of these models throughout the decades demonstrates Buick's ability to adapt and mold the Century to meet the needs of the market at the time.
The Worst Year for Buick Century
The 2002 Buick Century year seems to have a rough time when it comes to customer complaints.
Although the 2001 model is not far behind with the number of complaints, the 2002 Century takes the top spot for being the worst year for the model. The major concern reported by customers during these years was issues with the window regulators.
Despite the issues, it's essential to mention that not all Buick Century cars from 2002 had these problems. That said, we also saw these issues on the BUick Skylarks.
Some drivers enjoyed their experience with the vehicle without any significant hiccups. However, the number of complaints for the 2002 model year is a marker worth considering.
Aside from the window regulator problems, the 2002 Buick Century had an appealing design and came with a decent set of features. It came with a 2.5L engine, providing adequate performance for its class. Moreover, the vehicle offered a comfortable ride, handling, and cabin space, making it suitable for families during that time.
The 2002 Buick Century may not have been the best year for the model, but it still had its fair share of positive aspects. While the window regulator issue stands out as a primary concern for owners, it's worth noting that many drivers still enjoyed the vehicle for its overall design and performance.
Other Bad Years
2001 Buick Century: This year experienced the most complaints overall, with many of them being about issues with window regulators. While this might not be a deal-breaker for some buyers, it can be an inconvenience and an added expense.
2002 Buick Century: This model also faced problems with its window regulators, though the number of complaints was slightly less than the 2001 model. It's normal for older cars to have issues, but still something to consider.
2003 Buick Century: With a 4.6 out of 5 consumer rating and a starting MSRP range between $20,535 – $23,565, this model year wasn't inherently terrible. However, it's worth noting that as time went on, the Century's reputation waned, and it became less popular among consumers. This could potentially give buyers pause when considering this particular year.
2004 Buick Century: A slightly improved version, but it still had its fair share of complaints. Some owners encountered transmission issues and engine problems, leading to a potential decrease in reliability and buyer satisfaction.
These bad years aren't meant to discourage potential buyers from considering a Buick Century, but rather to provide a more comprehensive view of the brand's history.
It's essential to do thorough research and carefully consider personal preferences and priorities when choosing a car from any manufacturer.
Years with the Most Recalls
The Buick Century has had its fair share of ups and downs over the years. While there are many notable models that contributed to the brand's success, certain years encountered higher recall numbers, affecting the Century's long-lasting reputation.
One such year with a significant number of recalls was the 2002 Buick Century. Issues with the window regulators made up the largest portion of complaints during this time. Although the 2001 model year experienced more overall complaints, the 2002 model topped the list when it came to recalls specifically.
Similarly, the 1998 Buick Century witnessed several recalls addressing problems such as engine cooling, suspension, and fuel system issues. These recalls impacted the overall reliability of the vehicle, raising concerns amongst owners and potential buyers alike.
Here is a brief table summarizing the recall numbers for some of these problematic years:
| Year | Number of Recalls |
| --- | --- |
| 1999 | 2 |
| 2000 | 5 |
| 1999 | 4 |
The brand continued manufacturing the Century until 2005, with several successful years and models in between.
It's important to remember that while some years experienced higher recall numbers, other years and models within the Century's lineage left a positive mark on the automotive industry.
Common Problems to Look for in Used Buick Century
When shopping for a used Buick Century, it's essential to keep an eye out for common issues that have been reported in various model years.
For instance, 1994-1996 models are known to have several problems that might need addressing.
One issue to look for is the timing gears causing a knocking sound. Some owners have reported this problem, which may indicate a more significant issue with the vehicle's timing system.
Another common problem is oil-soaked spark plug wire rubber boots, which can lead to a misfire or rough idle. This issue is easily fixable by replacing the affected spark plug wires.
A more general recommendation for Buick Century owners is to flush the cooling system every 60,000 miles. Three people have reported this preventative measure as essential for maintaining the vehicle's longevity. Additionally, be aware of the potential for a failed shifter causing the ignition key to get stuck.
This issue has been mentioned by three owners and might require repairing or replacing the shifter assembly.
Go Back to list of all Buick models (best and worst years)
Was this article helpful?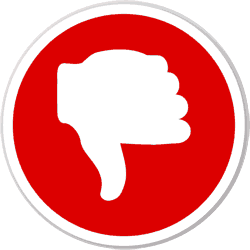 Did you find wrong information or was something missing?
We would love to hear your thoughts! (PS: We read ALL feedback)
ⓘ  The information in this article is based on data from National Highway Traffic Safety Administration (NHTSA) recall reports, consumer complaints submitted to the NHTSA, reliability ratings from J.D. Power, auto review and rating sites such as Edmunds, specialist forums, etc. We analyzed this data to provide insights into the best and worst years for these vehicle models.
---