Launched in 1983, Falken is a tire manufacturer that specializes in making tires for cars, SUVs, and trucks.
The Sumitomo-owned company puts years of racing experience to create performance tires that provide exceptional handling and durability.
Are Falken tires quiet or noisy?
Falken has invested a lot into perfecting its noise-reduction features, including the Silent Core technology. Exploiting these noise-reduction solutions, Falken tires offer a quiet and relaxed riding experience. Falken tires are highly recommended for anyone who desires a quiet driving experience.
Are Falken Tires More Quiet Than Other Brands?
Falken tires integrate various design elements designed to reduce road vibration and noise and produce quiet and relaxed rides.
Features like the Silent Core noise-canceling technology make Falken tires some of the quietest in their respective classes.
Are Falken tires quieter than other brands? It depends on the brand in question. Against low-cost discount tires, Falken fares well in terms of quiet performance.
However, we cannot say the same for its comparison with premium tire brands such as Michelin or Pirelli. These have more advanced noise-limiting devices and are quieter than most Falken tires.
Falken tires make for a cheaper alternative to premium brands, particularly if you want quiet rides.
Although not as quiet as, say Goodyears, they do not produce so much noise that the ride becomes unpleasant.
Falken's unique Silent Core technology contributes to the quietness of its tires. Here's a brief guide to the inner workings of the system:
External rolling noise results from the vibration of air in the tire, which causes tire cavity resonance, and inevitably, noise.
To reduces the vibrations, Falken fits a polyurethane foam layer in the tire's interior.
This foam absorbs road impact and vibrations, preventing tire resonance and noise. As the foam is lightweight, the tire's performance is hardly affected.
How Are Falken Tires Tested for Noise?
Tire manufacturers, including Falken, use the following tests to assess the noise level on their tires:
Coast-by Assessment:
Per this method, the driver enters the test track at a pre-determined speed, but moves into neutral gear and kills the engine once he is on track proper. He may repeat the maneuver several times, entering the track at different speeds.
Drive-by Assessment:
The driver advances towards the test zone at a speed of 50kmh in second or third gear and then speeds across the track.
Cruise-by Assessment:
Also called the fixed speed test, it involves the driver moving through the test track at a constant speed.
What Falken Tires Are the Quietest?
Falken makes many tires aimed at different users.
As expected, these tires do not always share the same quality, which explains why some models are quieter than others.
To guide your buying decision, we have reviewed the quietest Falken tires available:
Falken Sincera SN250 A/S
The Falken Sincera SN250 is an all-season touring tire that provides excellent year-round performance.
It features a high-silica content tread compound that improves handling and grip in wet conditions and increases tread life.
The silica-infused tread combines with 3D Canyon sipes and a series of circumferential grooves to provide better traction in winter. Particularly, these features reduce the risk of hydroplaning, which is a major concern when driving in winter.
In addition, the Falken SN250 uses Dynamic Range Technology for a better grip on wet roads.
Combined with the optimized tread block placement, the DRT bolsters stability and enhances ride smoothness.
Ride quality on the Falken SN250 A/S is exceptional no matter where or when you drive. In fact, the SN250 is as comfortable as premium models, including the Continental PureContact or Michelin Premier A/S.
If you want quiet highway drives, this is the tire for you.
You should also be reading our article which talks about Are Sumitomo Tires Quiet or Noisy?
Falken Sincera SN201 A/S
Passenger all-season tires have to provide smooth rides, year-round traction, and long tread life.
The Falken SN201 delivers on all fronts and is perhaps one of the best affordable all-season tires available.
This tire comes loaded with features designed to improve various performance aspects. For instance, it uses center ribs that guarantee solid and responsive handling.
It also comes with an asymmetric tread pattern that enhances tire stability at high speeds.
Furthermore, the SN201 features Falken's unique Dynamic Range Technology. This feature ensures the tire remains flexible in all temperatures and performs well regardless of the weather.
It also decreases braking distances while improving stopping power and lowers road noise.
Speaking of road noise, the Falken SN201 is hardly noisy during rides.
This results from the unidirectional tread pattern and Dynamic Range Technology combining to deliver a comfortable riding experience.
Falken ZIEX ZE001
The FALKEN ZIEX ZE001 boasts superior ride quality, all-season performance, and long-lasting tread life.
This explains why several automakers use it as OEM equipment on their vehicles. Models such as the Nissan Rogue, as well as Subaru's Forester and Ascent models, use ZIEX ZE001 tires.
On the ZIEX ZE001, an asymmetric tread pattern enables year-round traction, responsive steering, and exceptional ride comfort.
Circumferential grooves expel water from the tires while driving over wet pavement, reducing the risk of hydroplaning.
This partly explains the ZE001's ability to provide up to 80% traction in winter conditions.
The ZIEX ZE001 comes with chamfered tread block corners that enhance tread life, thus prolonging the service life of the tire. It also comes with a 2-into-3 tread block pattern that minimizes road noise.
Reduced noise makes for an enjoyable ride.
Falken Azenis FK453
Who says performance-focused tires have to be noisy and uncomfortable to ride?
The Falken Azenis FK453 blends several design elements to balance high-level performance and rider comfort.
With this tire, cruising in your Mustang or Corvette becomes a pleasure, not a noise-filled nightmare.
The Azenis FK453 ultra-high-performance (UHP) tire comes with a high-silica-content tread compound that increases grip and traction. It also sports a combination of the asymmetric tread pattern and big shoulder tread blocks.
This combo provides the tire with better cornering ability and reduces braking distances significantly.
Furthermore, deep-cut grooves boost wet performance by expelling water from under the thread and prevent hydroplaning. Twin steel belts in the tire provide needed stability at higher speeds and also increase durability.
In addition, the unique tread design on the Azenis FK453 helps keep road noise and vibrations at minimal levels.
This explains why the tire ranks as one of the quietest tires in its class.
Falken Azenis FK510
In designing the Azenis FK510, Falken brought years of expertise in making Ultra-High-Performance tires to play.
This is evident in the number of unique performance-enhancing features found on this tire.
For example, it sports a 4D Nano Design that prolongs tread life and boosts traction on wet surfaces. Also, large shoulder blocks bolster the tire's cornering abilities and directional stability.
Additionally, a series of uniquely designed sipes help increase cornering ability, particularly on slick surfaces.
The Azenis FK510 employs Adaptive Constant Pressure (ACP) technology, a pattern that enables proper pressure distribution in the tire.
This further improves performance elements such as cornering ability, stopping power, and driving dynamics.
In the middle of these, Falken still ensured the Azenis FK510 tires make as little noise as possible. On the one hand, you get exceptional performance courtesy of the aforementioned features.
On the other, you get a serene ride where you do not have to deal with excess road noise.
Sounds like a good deal, in our opinion.
What Falken Tires Are Noisier?
These Falken tires are not known for being quiet:
Falken ZE-512
Per its description, the Falken ZE-512 combines touring tire ride quality with all-season performance.
Although it gets the all-season performance part right, it fails on the ride quality front as user reviews reveal.
According to buyers, the Falken ZE-512 tires are susceptible to high levels of road noise. In some cases, the noise becomes pronounced after a brief period of use.
For example, a Honda owner reported getting road noise on the tire after just 2,000 miles of use. This owner described the noise as resembling the sound of an exhaust pipe droning.
Another group of Honda owners also reported experiencing terrible noises on their Falken ZE-512 tires.
They explained that the tires often made a "wah-wah" sound whenever the vehicle slowed down.
This often made for uncomfortable rides, forcing these buyers to opt for other tire brands.
The "wah-wah" problem seems to be a common problem for the ZE-512 tires, particularly at low speeds. On a forum for Acura vehicle owners, we found similar complaints of rhythmic tire noise in low-speed situations.
The average mileage where the Acura owners heard the noise was between 7,000 to 8,000 miles.
While the ZE-512 tire is one of the best tires in its class, its noisy performance is a deal-breaker.
If you buy this tire, prepare for road noise, which will progressively get worse as the tire wears out.
Can You Make Falken Tires Quieter?
Tire noise can make for very unpleasant rides.
To help you out, we have compiled a to-do list for winning the battle against noise on your Falken tires:
Ensure the wheel bearings are in good condition
Rotate the tires
Take your vehicle for wheel alignment.
Ensure the wheels are balanced
Note: Before you do the aforementioned things, check how much tread life you have on your tires.
Tires often produce increased noise as they wear, and a replacement may be the only way to solve the problem.
Which Tire Brand Is The QUIETEST?
Based on reviews, here are the quietest tire brands:
1. Bridgestone
2. Michelin
3. Goodyear
4. Dunlop
5. Pirelli
6. Continental
7. Cooper
8. Hankook
Was this article helpful?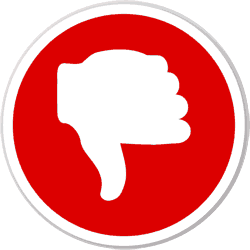 Did you find wrong information or was something missing?
We would love to hear your thoughts! (PS: We read ALL feedback)