Bumper stickers are quite popular and can be made with a Cricut machine. Let's explore all we can about these machines and whether they're great for our special stickers.
Meanwhile, explore the best places for bumper stickers on cars.
Here's the Short Answer to Whether Cricut Machines Are Good for Bumper Stickers:
Cricut machines are great if you've got your mind set on creating quality bumper stickers. This is because they deliver a more precise cut on the stickers than you get using regular cutting tools.
They're also better with vinyl materials. 
What Is A Cricut Machine?
A Cricut machine is a cutting machine that cuts different materials for craft projects, such as cardstock, heat transfer vinyl, paper, and vinyl.
Some Cricut machines cut hard materials such as fabric, leather, wood, etc. 
You can also connect your Cricut machines wirelessly through Bluetooth to create and download designs onto your PC.
You can send these designs to your Cricut for cutting of your designs. Meanwhile, you should know how much bumper stickers cost.
Can Cricut Machines Make Good-Quality Bumper Stickers?
Cricut machines are used for the production of high-quality bumper stickers and decals.
With a Cricut machine, you can cut and design any sticker or decal in any color, size, or shape based on your preferences. 
What Is the Best Paper for Making Bumper Sticker With Cricut?
Cricut machines are unique tools for creating different bumper stickers. 
Silhouette Clear Sticker Paper is the most excellent option because of its compatibility with Cricut, InkJet Printer, Laser Printer, and Silhouette. 
The paper size is 8.5 x 11 inches, and the finish is clear. 
Another excellent paper option is the Silhouette White Sticker Paper. It comes with a white paper background, and not a transparent background.
Neato Labels Clear Sticker Paper and Silhouette Matte Sticker Paper are great options for Cricut machines.
We will recommend you use matte tape on glossy sticker paper. 
Silhouette sticker paper is excellent for beginners with inkjet printers without hassle.
Using the White Sticker Paper from Silhouette America is the best decision if you have Silhouette Cameo and Cricut machines. 
Examples of excellent paper options are Silhouette Clear Sticker Paper, Neato Labels Clear Sticker Paper, Silhouette Matte Sticker Paper, White Sticker Paper from Silhouette America, and Koala Printable Vinyl Stickers. 
These are some of the best paper options for making bumper stickers with Cricut machines. 
Should You Use Paper or Vinyl?
When it comes to the best material for making bumper stickers and decals on Cricut makers, vinyl is the best material to use.
Vinyl is made from a plastic-like material and is more durable than paper for stickers.
Vinyl is more robust, can survive harsh weather conditions, and last longer than paper stickers. However, if you'd use vinyl, then you should know all about the easiest ways to remove vinyl bumper stickers.
You can have your printable vinyl rather than cutting them from vinyl sheets. 
Cricut Maker can cut several materials, including mat board, leather, basswood, fabric, etc. 
If you want to create a vinyl decal for your vehicle with a Cricut maker, you need permanent vinyl in white or your desired
Color

Transfer paper

A basic toolset and

A grip mat 
If you choose the fonts of your choice, you need to scale your design correctly; this is the best time to prepare your materials for cutting. 
Vinyl is a better and more formidable material for making bumper stickers on Cricut Maker than paper. 
How Do Bad Stickers and Decals Affect Car Paint?
The chances of nasty stickers and decals ruining your car paint are low. However, if the car paint is inferior, nasty stickers and decals can ruin your car paint. 
Stickers and decals can act as sunscreens to protect the paint from sunlight damage. On the other hand, if stickers are not applied appropriately, they can cause damage to the car paint. 
However, cleaning the surface where you want to paste the bumper sticker is essential to eliminate debris or dirt. If debris comes in contact with adhesives, it could ruin the car paint. 
Vinyl bumper stickers and decals are safe for vehicles and will not cause damage to your car paint when appropriately applied. 
Most automotive paints are thick and sealed with a coating that ensures protection from UV rays. 
Vinyl sheets used in die-cutting machines like the Cricut Maker are not toxic to damage car paint. Rain does not harm decals and bumper stickers made with vinyl.
However, the rain contains some chemicals that cause harm to the decals and stickers.
Some car owners sometimes use laminates to protect their decals from these chemicals from the rain. 
How Easy Are Cricut Makers To Use for Bumper Stickers?
Cricut Maker is a creative tool for making customized stickers and decals. 
These vinyl decals and bumper stickers are easy to make with the Cricut Maker, and these are great for those who want to make money with their Cricut machines. 
How Many Types of Cricut Cutting Machines Do We Have?
Currently, there are three varieties of Cricut machines: Cricut Maker 3, Cricut Explore 3, and Cricut Joy. 
Each cutting machine has free Design Space software, and your choice is based on the project type you want to create. 
Another name used for Cricut makers is die-cutter machines or craft plotters. There are other brands of die-cutting machines, and these are Brother ScanNCut and the Silhouette Cameo. 
The Cricut Explore 3 is one of the best machines for producing decals and bumper stickers. It is the mid-level option among the three machines. 
The Cricut Explore 3 lets you import your design from your smartphone, tablet, or computer. 
You can even use the design from its library of pre-made designs, which most designers prefer because it cuts with accurate precision and writes more than 370 fonts. 
Another option is the Cricut Maker 3, an upgrade to the Explore 3 machine. 
The Cricut Maker 3 can cut different materials and offer you access to more tools than the Explore 3 machine. It can cut different materials ranging from balsa wood and paper to fabric. 
The Cricut model is one of the most renowned options in the market. However, the knife blade allows for cutting thick materials, and it is sold as a separate entity. 
The Cricut Joy machine is a portable and user-friendly option. 
The machine can cut an image up to 5 inches wide and 4 feet long or repeated cuts up to 20 feet long. 
What Type of Vinyl Is Used For Car Bumper Stickers?
The best vinyl used in making bumper stickers is permanent adhesive vinyl. 
It is advisable not to use removable craft vinyl as it does not last long on vehicles. 
Using permanent adhesive vinyl is better as it makes your sticker durable and robust in harsh weather conditions. 
What Are the Kind of Stickers Suitable for Cars?
You can use white vinyl to create bumper stickers, which can be pasted on any surface and usually last five years.
Front-facing adhesive on clear glass is excellent and can last for five years. 
Reflective vinyl is another component for making bumper stickers, and it can be pasted on any surface and can last up to five years. 
White vinyl is the most popular ingredient in making bumper stickers. Also, find out what the fish bumper sticker means.
Is Cricut Vinyl Safe for Cars?
Yes, they are safe for your vehicles. 
Is There a Difference Between a Vinyl Decal and a Sticker?
Decals are made of vinyl and die-cut. However, stickers are plastic and have either a colored or transparent background.               
Sources
What is a Cricut Machine, and What Can it Do | Sarah Maker
Was this article helpful?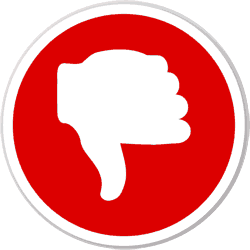 Did you find wrong information or was something missing?
We would love to hear your thoughts! (PS: We read ALL feedback)