Unlike some sedans, the Lexus ES highlights interior comforts and ride quality that many owners will love. The ES has also been the best-selling Lexus sedan for over a decade, owing to its reliability and safety features. 
However, despite this, the ES has its best and worst model years and we've explored these years in this article.
Before we dive into the details, we have an article on 5 important differences between Toyota and Lexus that may interest you.
The Best and Worst Years for Lexus ES Are:
Getting a used Lexus ES with no prior knowledge of the best and worst years may negatively affect the experience of the buyer.
The best years for the Lexus ES include the 2012, 2017, 2018, and 2020 models. On the other hand, the worst years for this Lexus are the models from 2007, 2008, 2013, and 2014.
What Lexus ES Years Are the Most Reliable?
Note that the ES models include ES 250, ES 300, ES 300h, ES 330, and ES 350. We included these Lexus models for clarification.
Check out the best Lexus ES model years below.
You may also like to know whether you can lease your Lexus ES.
Lexus ES 250
The ES 250 is the first ES generation and was launched in the year 1989. However, it didn't last on the market and only stayed from 1981 to 1991. Owing to this, we did not include the ES 250 years on our list. 
Lexus ES 300/ES 330
The ES 300 followed the ES 250 as a second generation and debuted in 1991. It got redesigned in 1996 as the third generation, then Lexus introduced it as the fourth generation ES model in 2001 as a 2002 model.
It later became Lexus ES 330 after Lexus upgraded it in 2004,
However, this model could not make our list owing to its year of production, which we believe is too far back.
Lexus ES 350
The Lexus 350 was launched as the fifth-generation ES 350. It, however, has stayed with the Lexus brand ever since. We listed the model's best years below.
Generally, the ES 350 is a great car. RepairPal reported it has a reliability rating of 4.0 out of 5 and it is the fourth rank among 31 premium midsize cars. Below are its best years.
2012 Lexus ES 350
The 2012 Lexus ES 350 offers excellent manufacturer quality that has proven to be reliable with time. It also offers a comfortable ride with outstanding performance.
So far, this model year has few overall recalls of up to 3 from research. The National Highway Traffic Safety Administration (NHTSA) has recalled the 2012 ES 350 only 3 times. This is minimal compared to some vehicles in the same category.
There are also minimal complaints from owners' reports on certain car expert platforms. According to Cars.com's consumer review, 97% of drivers recommend the 2012 Lexus ES 350.
This car has a rating of 4.9  for reliability and 4.7 for performance, all out of 5 according to the site.
The 2012 ES 350 also got 47 overall reviews on Edmund. 79% of these owners awarded the vehicle 5 stars according to the data, while only 21% rated it lower.
2017 Lexus ES 350
The 2017 Lexus ES 350 is a brilliant choice when considering a Lexus with high reliability. Aside from its several lists of standard safety features, it also delivers a comfortable and great ride quality.
Most owners of the 2017 ES 350 on the Edmunds consumer review platform have rated the vehicle 5 stars for its reliability.
These include 24 of the 31 car owners that rated the vehicles. Others gave it a lower rating or didn't rate its reliability.
J.D. Power also awarded this car 5-star ratings for the Predicted reliability score.
Cars.com consumer review documented 4.8 stars for reliability and 92 percent of recommendations from drivers.
2018 Lexus ES 350
The 2018 Lexus ES 350 includes a long list of standard and available features owners can opt for. It also comes with a long list of strengths but few weaknesses, making it a great model year for reliability.
The 2018 Lexus ES has had only two safety recalls by the NHTSA. These two recalls include the fuel pump in the year 2020.
It, however, has a reliability rating of 5 stars from JD Power, while Cars.com consumer reports reported 4.9 stars, which is near perfection.
Edmunds consumer reviews, however, reported 43 car owners reviewed the overall performance of the car and 70% of them awarded it 5 stars, the rest lower.
2020 Lexus ES 350
2020 is another model year that offers extremely reliable Lexus ES models. Just like other ESs on this list, most drivers have reported little to no issues with the 2020 Lexus ES so far.
Along with its great quality performance, it has gotten only two recalls from the NHTSA. These recalls involved the fuel system, the engine, and the engine cooling system.
So far, out of 112 reviews from car owners on Edmunds, 52% awarded the car 5 stars and 13% 4 stars for overall performance. The others rated it lower.
Though a little above average, the 2020 Lexus ES received better ratings than some models of Lexus ES.
Additionally, Cars.com has reported that the 2020 ES has a rating of 4.9 out of 5 and that 98% of drivers recommend it.
Lexus ES 300h
The ES 300h is the Lexus hybrid model which became available with the sixth generation model launched in 2012. Check out the best years below.
2017 Lexus ES 300h
The Lexus ES 300h offers a roomy and classy cabin with exceptional fuel economy. Its 2017 model is quite reliable, with no recalls from the NHTSA so far.
Car Complaints also recorded zero complaints except for one complaint from the NHTSA. However, these complaints did not involve any critical problem but were concerning the drivetrain.
Cars.us.news has also awarded it the score of 8.4 out of 10 for its hybrid overall rankings, while J.D power awarded it 5 out of 5  stars for reliability.
2018 Lexus ES 300h
The 2018 Lexus ES 300h offers an upscale cabin for owners. The fuel economy is outstanding and there is the benefit of a smooth ride.
There are no recalls from NHTSA and Car Complaints recorded zero complaints.
The NHTSA recorded only 5 complaints and U.S. News gave it an overall rating of 8.4 out of 10. J.D. Power, however, gave it 4.5 out of 5 stars.
2020 Lexus ES 300h
This model includes a long list of standard and optional features, a classy interior, spacious cabin, among others.
The 2020 ES 300h is quite reliable, with zero recalls. It also got zero complaints from the NHTSA and Car Complaints.
It got a score of 7.8 out of 10 from U.S. News' overall rating. J.D. Power as well scored the 2020 ES 300h 79 out of 100 for quality and reliability ratings.
What Lexus ES Years Should You Avoid?
Car owners should avoid the Lexus ES models under this list as they have low reliability with lots of complaints from drivers. Also, there are some Lexus ES problems you should know about.
Lexus ES 350
This includes the list of Lexus ES 350 to avoid. Most of these model years have reliability issues that may cost you more to maintain your car.
2007 Lexus ES 350
The 2007 Lexus ES has received a lot of complaints from drivers owing to its many faults. This is the reason we recommend you should avoid this model year if you want a better driving experience with your Lexus ES 350.
Aside from having 5 recalls so far, it has also gotten 797 complaints from owners on Car Complaints.
This is surely too many complaints for a reliable vehicle.
Most issues involve the melting of the dashboard, which can cause risky engine problems. They further include blown engine heads, ticking noise, and oil dripping from the timing chain cover, among others.
2008 Lexus ES 350
The 2008 Lexus ES didn't see as many complaints from car owners as the 2007 Lexus, but complaint rates were still high for this model.
Car Complaints recorded 359 complaints from owners and 5 recalls so far. These complaints, however, are similar to those from the previous year's model.
They include the melting of the dashboard, which takes a higher percentage of the complaints.
There is ‌an oil leak as well, which causes excessive oil consumption which can lead to a faulty engine. The engine noise is another issue owners will find uncomfortable when driving.
2013 Lexus ES 350
The 2013 Lexus ES is not as bad as the previous model years we listed in this segment. This model has gotten 75 complaints so far according to Car Complaints and only 1 recall from the NHTSA.
However, it has certain issues that have contributed to its low reliability among drivers.
The worst complaints, according to Car Complaints, include the explosion of the sunroof, unwanted reflection in the outside mirror, and water leaking into the cabin, among others.
2014 Lexus ES 350
Compared to other model years, 2014 also falls short in reliability, despite being a great Lexus ES model. Car Complaints recorded only 53 complaints from drivers and 1 recall, which is an improvement from previous models on our list.
However, this is not as good as some model years that have way fewer complaints. There are issues of blown head gaskets and transmission problems, among others.
Lexus ES 300h
The Lexus ES 300h has seen little to no complaints so far. So far, where there are complaints, they have minimal issues. Owing to this, all the 300h model years may not pose any major problems.
What Are Some Typical Problems With the Lexus ES Models?
We've listed some problems common with Lexus ES models. However, note that these issues are prominent in some models more than others.
1. Melting Dashboard
The melting dashboard issue is quite common with some Lexus ES models, especially those from 2008. In most cases, the plastic on the dash melts under the Sun.
This can cause the release of VOCs, which is harmful to drivers and passengers. 
2. Blown Cylinder Head
Another typical issue with Lexus ES models is that the cylinder heads are prone to get blown.
This may occur because of a blown head gasket, coolant leaks, or overheating that affects the alignment of the gasket.
3. Oil leaks
Oil leak is a problem common with most Lexus ES models. This problem results in decreased engine performance and higher repair expenses.
In the worst situation, where there is oil starvation, it might cause a total engine failure.
4. Unintended Acceleration
Another prominent issue common to the ES models is unintended acceleration.
This happens because of an electronic flaw that allows the throttle to open and the car to speed without the driver hitting the accelerator.
Check our article on the problems with Lexus cars for in-depth information.
Go back: Overview of best/worst years for all Lexus models.
Was this article helpful?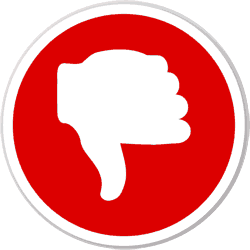 Did you find wrong information or was something missing?
We would love to hear your thoughts! (PS: We read ALL feedback)
ⓘ  The information in this article is based on data from National Highway Traffic Safety Administration (NHTSA) recall reports, consumer complaints submitted to the NHTSA, reliability ratings from J.D. Power, auto review and rating sites such as Edmunds, specialist forums, etc. We analyzed this data to provide insights into the best and worst years for these vehicle models.
---