The Suburban is the ultimate family vehicle. It's big, it's comfy, and it's reliable. It's also one of the best choices if you want to tow a boat, camper, or other large items.
But other SUVs can offer even more space, and they're worth considering if you're looking for an SUV that seats seven or more people.
If you like the size of a Suburban but want something with even more room, height, and towing power, these vehicles are worth considering.
These SUVs are Taller Than the Suburban
When it comes to SUVs, the taller the vehicle, the better.
In fact, an SUV with more height is more likely to have better off-road capabilities and headroom than shorter ones. The higher vantage point allows you to easily see traffic and road obstacles.
However, with their tall, boxy designs, it's hard to beat the Suburban when it comes to height. Nonetheless, there are a few options available.
1. 2022 Ford Expedition
The 2022 Ford Expedition is one of the largest and most versatile family haulers on the road today.
As Ford's largest SUV, the Expedition offers drivers a roomy interior, performance, and power.
The SUV is equipped with three rows of seats, a remarkable 9300-pound maximum towing capacity, and the capability to travel off-road.
While some other large SUV models have these characteristics, the Expeditions feature one of the most spacious cabins and the smoothest rides.
However, the Expedition does fall short in a few key areas:
They aren't as simple to get in and out compared to their rivals
Unfortunately, Ford's offering isn't as enjoyable to drive as more capable competitors like the Suburban from Chevy.
Both SUVs are enormous. However, the Expedition comes in two different sizes:
The standard Ford Expedition is 210 inches long and has a wheelbase of 122.5 inches. The Expedition MAX body measures 221.9 inches long with a wheelbase of 131.6 inches.
Overall, the Expedition is 81.6 inches wide and 76.4 to 76.6 inches tall, depending on the purchaser's preferred body style.
Despite measuring a whopping 224.4 inches long, 80.5 inches wide, and 74.4 inches tall, the Chevy Suburban is still a few inches shorter than the Ford Expedition.
2. 2023 Cadillac Escalade ESV
The Cadillac Escalade has long been the brand's showpiece, its enormous stature and intimidating appearance promote its outgoing, American approach to elegance.
The 2023 model is no exception.
The Escalade competes against other luxurious SUVs despite sharing a platform similar to the Chevy Suburban.
This is due to the large cabin that includes the most luxury and cutting-edge amenities available from the manufacturer.
While very comparable to the Suburban, the Escalade differs in a few aspects.
The 2023 Escalade is slightly superior when it comes to height. While the Suburban measures 74.4 inches, the Escalade sits at 76.7 inches (about 2 inches taller).
Additionally, the Cadillac Escalade has an edge in base engine power, while the Suburban features better pricing and fuel efficiency.
Overall, the Suburban is superior in most aspects but height and performance.
These SUVs Have More Cabin Space Than the Suburban
SUVs have always been known as roomy rides capable of ample seating and cargo space.
That said, the Suburban is a larger vehicle than many of the SUVs on the market today. But as it turns out, the dimensions don't necessarily translate into more cabin space.
While it's challenging to match the Suburban when it comes to the roominess of the vehicle, a few other SUVs offer even more cabin space.
1. 2023 GMC Yukon XL
The Yukon XL and Suburban can both be set up to transport up to nine people and a ton of luggage in their respective cargo areas.
Functionality is a given with both models as they offer the following:
9 maximum passengers
Large cargo capacity
Third-row seats that can fit adults
Regarding cabin space, the GMC Yukon XL and Suburban are nearly identical. But the Yukon has a slight edge.
According to the figures, the Yukon XL can fit 145 cubic feet behind its seats and even more than 41 cubic feet behind the third row. Small goods can be stored in its cabin with about a dozen pockets, bins, and consoles.
Overall, the figures for both models are nearly identical regarding head, leg, and shoulder room.
However, regarding cargo volume, the Yukon takes the cake with more space in the first and second rows of seating, while the suburban offers greater room in the third.
Either SUV is still a solid option for any motorist who requires a lot of space and towing capabilities.
The Suburban is more affordable and may be the best option if getting a reasonable price is your top priority.
That said, the preferred choice for cabin room continues to be GMC's largest SUV.
2. 2023 Jeep Wagoneer L
The Jeep Wagoneer L is one of the most prominent SUVs on the road. It offers bus-like cabin space levels because of its enlarged wheelbases, length and height, and three seating rows.
Its truck-based design and four-wheel drive combine with pickup-like towing abilities to appeal to larger families seeking a towing-capable vehicle with lots of space to grow.
Jeep decided to increase the length of this SUV to 12 inches, which is extended to the rear of the vehicle, greatly expanding the load capacity behind the third row.
The Wagoneer L offers 50% more space than the standard Wagoneer.
Storage capacity is up to 42.1 cubic feet with all seat rows up. Therefore, it should be fine to fit guests in all three rows without bothering about storage.
Cargo volume increases to 70.8 cubic feet when the third row is removed and to 116.7 cubic feet when the second row is removed.
The Wagoneer L's cargo room is more adaptable than the suburban because it's been designed around creating a spacious cabin.
Ultimately, the Wagoneer L is more versatile than a Suburban in terms of cabin space due to its additional load capacity and length.
These SUVs Can Pull More Than the Suburban
Towing is an essential aspect of owning an SUV. It is also a great way to use the vehicle's full capabilities and increase its utility.
While Suburban's can tow up to a whopping 8,300 pounds, a few other SUVs match and even exceed this towing capacity.
1. 2022 Nissan Armada
With their angular shapes, broad stances, and LED headlights, the Chevrolet Suburban, and 2022 Nissan Armada make very similar, yet striking debuts.
These full-size SUVs are kitted with features such as heated side-view mirrors to help maintain visibility and roof-rack rails to carry bulky cargo.
The maximum towing capacity of the Nissan's engine, coupled with a seven-speed automatic transmission with a higher rating than any of the Suburban's engines, is 8,500 pounds.
Even though the Suburban is superior in almost every category (including height and cabin space), it only has a towing capacity of 8,300 pounds when properly equipped.
Therefore, consider opting for a Nissan Armada if your vehicle needs an extra 200 pounds of towing capacity.
2. 2023 Toyota Sequoia
If you're looking for even more towing capacity, don't sleep on the 2023 Toyota Sequoia.
The Sequoia can meet your overpacking demands, whether storing your belongings or towing a large trailer.
Although the inside storage compartments and center console aren't as nicely structured as they are in specific competitors, like the Suburban, owners can also customize the cargo capacity for different demands thanks to an adjustable-height storage system.
By full-size SUV standards, the maximum load room is lacking.
Behind the third seat, the Sequoia provides up to 22.3 cubic feet of space. Drivers will have 86.9 cubic feet available if the second and third rows of seats are dropped down.
Nonetheless, the Sequoia makes up for the lack of space with a more substantial towing capacity when compared to the Suburban.
With a maximum towing capacity of 9,520 pounds, the 2023 Toyota Sequoia outperforms the Suburban and many other vehicles of its class in terms of towing.
Sources
10 Best Luxury SUVs for 2021: Ranked
Best Large SUVs for 2022 and 2023
Largest SUVs for 2023: Mega Yachts for the Road
Was this article helpful?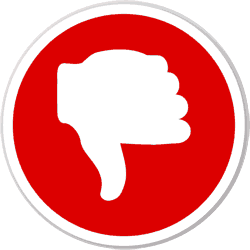 Did you find wrong information or was something missing?
We would love to hear your thoughts! (PS: We read ALL feedback)