The Mercedes-Benz S-Class is a luxury sedan known for its high-end features and performance.
With a long history dating back to the 1950s, the S-Class has undergone numerous updates and redesigns over the years.
As with any vehicle, some model years have been more successful and reliable than others.
In this article, we will take a closer look at the best and worst years for the Mercedes-Benz S-Class, as well as the most reliable model years and those that should be avoided.
The Best and Worst Years for Mercedes-Benz S-Class:
The best Mercedes-Benz S-Class models include 2009, 2012, 2020-2021. These model years also come with a variety of updates and improvements. Model years that may be worth avoiding include the 1999-2006 and 2007 and 2014 model years, which have been known to have some reliability issues.
What Mercedes-Benz S-Class years are the Most Reliable?
Below are the most reliable Mercedes-Benz S-Class years.
2009 Mercedes-Benz S-Class
This model year features opulent finishings and its technology and performance stands ahead of the rest for its time. 
It comes with AWD and supreme handling and performance. Though, much like other luxury models, this vehicle comes with a price tag.
The 2009 model comes with 3 trim options, Distronic cruise control, surround sound audio and adaptive seats. Owners have driven in comfort and style for over ten years in this agile and powerful vehicle.
According to Edmunds.com;
The 2009 Mercedes-Benz S-Class is the benchmark for those desiring a large ultra-luxury sedan that has everything and can do everything.
Based on our reading, countless owners have been more than happy with this vehicle. Many have commented that their 2009 model is almost "fault-free". Though, we do note that this isn't the most fuel-efficient car.
Over a decade later and this luxury sedan is still considered a stellar vehicle.
2021 Mercedes-Benz S-Class
The 2012 model's design is not as impressive as is luxury vehicle counterparts. However, its interior is roomy and comfortably seats 5 passengers.
It offers a smooth, quiet ride and comes standard with excellent-quality safety features.
Cars.us.news evaluated 101 items of data and gave this S-Class an overall score of 8.9/10, including a critic's rating of 9/10.
The Detroit News has this to say about the luxurious vehicle,
Technology begets more technology and that's always been the story of the S Class. The S550 continues that story. It rides, drives and acts like a Mercedes should.
[Source: Cars.usnews.com]
The 2012 S-Class received 4/5 on the J.D. Power reliability scorecared.  And, the National Highway Traffic Safety Adinistration (NHTSA) has issued only one recall of this model due to a faulty fuel system.
Any vehicles produced between April 18, 2011-July 12, 2011 should have been taken to the then-owners local dealership.
2020-2021 Mercedes-Benz S-Class
The 2020 and 2021 model years of the Mercedes-Benz S-Class received positive reviews for their reliability and overall performance. These model years also received updates to their exterior and interior design, as well as new technology features.
The new engines offer improved performance and fuel efficiency, while the updated technology features provide a more connected and convenient driving experience.
The 2020 model received a 4.9/5 consumer rating from Cars.com.
Owners of these model years have reported few significant issues and have generally been satisfied with their vehicles.
It is also worth noting that as with any vehicle, it is always a good idea to have regular maintenance performed and to address any issues promptly to ensure the long-term reliability of the vehicle.
What Mercedes-Benz S-Class years should you avoid?
Overall, Mercedes designs and manufactures premium vehicles. However, the Mercedes Benz S Class has had some rough years in the past with some owners complained about the reliability and  performance of the vehicles.
Most buyers rank a vehicle by looking at the overall performance and these years have been said to be the worst.
Let's take a look at the worst years for the S-Class below:
1999-2006 Model Years
Pre-owned S-Class W220 vehicles manufactured in the early naughts should be avoided. 
This generation has arguably had many issues over the years. They are said to be more prone to rust and have poor suspension.
Newer models have more modern interior and exterior designs as well as superior safey-featues.
2007 Mercedes-Benz S-Class
This was the first model year of the W221 S-Slass and it unfortunately received numerous complaints.
These included issues related to suspension, overheating, and transmission. The 2007 model has 61 complaints logged on the NHTSA.gov website., and has had 3 safety recalls issued.
While we wouldn't categorize this as an outright terrible vehicle, it certainly doesn't have the same reliability grading that we have come to enjoy from Mercedes-Benz.
2014 Mercedes-Benz S-Class
The 2014 model was the first year of its generation. It comes in two trim levels and, in terms of performance, most drivers will be satisfied.
This vehicle's reliability has be graded below average in its class. J.D. Power gives it a reliability score of 3/5. According to industry standards this is an average score, but considering the luxury design of the Mercedes-Benz we would expect a higher grading.
Some owners have reported issues with the air suspension system, including leaks and failure of the system.
The National Highway Traffic Safety Adinistration as issues 5 safety recalls of the 2014 Mercedes-Benz S-Class.
However, this model received the J.D. Power Performance Award. This award is given to car models with, "the highest owner ratings for design and performance after the first 90 days of ownership" [Source: J.d.power.com].
Based on our research, there are mixed reviews of this model. If you're considering a 2014 S-Class we recommend that you take a careful look at the vehicle\s history.
What are some typical problems with the Mercedes-Benz S-Class models?
Some common Mercedes-Benz S-Class issues reported by owners include problems with the air suspension system, the transmission, and various electrical components.
Additionally, some owners have also reported issues with the vehicle's fuel system including clogged fuel filters and leaks in the fuel lines.
However, it is worth noting that many of these issues are not unique and can affect other types of vehicles too.
Common problems include:
Problems with the air suspension system
Transmission issues:
Electrical problems
Engine problems
Leaks
Suspension issues
Fuel pump problems
Take a look at our article on common problems with Mercedes cars for more information.
Final Thoughts
Many people consider the Mercedes-Benz S-class to be a luxury flagship vehicle with a reputation for high quality and advanced technology. The S-class has a history dating back to the early 1950' and has been consistently updating and improving its models over the years.
Most of the Mercedes Benz S-Class models are known to offer a comfortable, spacious interior, and a variety of powerful engines, but they also have their own downside.
Overall, it's important to research the specific model and year you're interested in buying in order to make a well-informed decision.
Please also read our article about Mercedes cars with the most recalls.
Sources
Every Mercedes-Benz S-Class Generation Ranked
Which Mercedes Benz Class is best?
Mercedes S-Class years to avoid
Was this article helpful?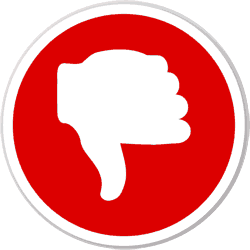 Did you find wrong information or was something missing?
We would love to hear your thoughts! (PS: We read ALL feedback)