The BMW X2 is a compact SUV that combines sporty design and performance with the practicality of an SUV. With its sleek and athletic appearance, it stands out on the road and offers a driving experience that is both dynamic and comfortable.
However, not all model years of the X2 are created equal.  As car enthusiasts, we understand the importance of making informed decisions when purchasing a vehicle. T
his article will look closely at the standout years of the BMW X2 and those that may not live up to the brand's reputation. 
The Best and Worst Years for BMW X2 Are:
The best and most reliable model years for the BMW X2 are the 2021 and 2023 models. These models have ironed out a few kinks that plagued their predecessor's thanks to technological improvements. On the other hand, you should avoid older, outdated models from 2018 and 2019.
What BMW X2 Years Are the Most Reliable?
Purchasing a reliable vehicle is one of the most critical decisions a car buyer can make. A reliable car can save you money and hassle in the long run, while an unreliable one can lead to costly repairs and unexpected downtime. 
One of the critical factors to consider when looking for a reliable car is the vehicle model's history of reliability. Some car models and model years are known for their reliability, while others have a reputation for problems.
Knowing which model years offer the best reliability is crucial when purchasing a car. For instance, some model years may have had a redesign or updates that improved reliability, while others may have had issues that were not addressed until later model years.
By understanding the reliability history of a particular car model and its model years, you can make a more informed decision about which car to purchase.
2021 BMW X2
The 2021 BMW X2 is a compact luxury crossover SUV that offers a combination of sporty handling, stylish design, and a comfortable ride. 
It's based on the latest BMW X1 platform and comes with various engine options, including a turbocharged four-cylinder and a plug-in hybrid powertrain.
Owners and experts have given the 2021 BMW X2 favorable feedback on reliability. The car hasn't been associated with severe documented problems and is regarded as a dependable option in its class.
The X2 earned an astounding 97.7% in What Car's 2021 Reliability Survey, making it one of the most reliable family SUVs now on the market.
BMW's three-year, unlimited-mileage guarantee edges out several of its competitors' three-year, 60,000-mile warranties, including Audi and Volvo.
The 2021 BMW X2 has generally received good customer satisfaction ratings, with owners appreciating the vehicle's dynamic handling, smooth ride, and stylish appearance.
The quality of the materials and the design of the controls used in the interior are praised by owners. 
However, the X2 has drawn criticism from some owners for a small back seat and minimal cargo space, as well as for being expensive.
The 2021 BMW X2 has several standard and optional safety technologies, including:
Lane departure warning
Automatic emergency braking
Blind-spot monitoring
Furthermore, considering its safety ratings, this model reiterates its stance as a reliable family SUV. 
The 2021 X2 achieved a Top Safety Pick award from the Insurance Institute for Highway Safety and a five-star overall crash test rating from the National Highway Traffic Safety Administration (NHTSA) (IIHS).
Overall, this BMW X2 is a well-rounded car with a smooth and comfortable ride in terms of performance. 
The standard eight-speed automatic transmission changes smoothly, and the turbocharged four-cylinder engine has enough power. 
The hybrid powertrain provides even greater power and fuel efficiency, which is also an option to consider. Additionally, the X2 has standard all-wheel drive, which increases stability and traction.
Although some owners have criticized the X2 for its shortage of space and for being expensive, the car delivers exceptional value for the money thanks to its standard and additional features and its high safety ratings.
2023 BMW X2
BMW's commitment to excellence and innovation is evident in the 2023 X2, which builds on the model's history of delivering a premium driving experience. This vehicle is an excellent option for a stylish, reliable, high-performing, and safe crossover SUV.
The 2022 and 2023 models are similar to one another. 
For the 2023 model, BMW will make the GoldPlay aesthetic package accessible and add Android Auto to the list of standard X2 capabilities. 
Numerous paint options, gold highlights on the exterior trim, 19-inch wheels, and sports front seats are included in this package. 
Regarding reliability, the 2023 X2 has a strong track record, with few reported issues and a history of dependable performance throughout the model's lineup. 
J.D. Power has given the 2023 BMW X2 an above-average predicted reliability rating of 80 out of 100.
When reliability is coupled with a solid warranty, it's sure to turn heads. 
Like the 2021 model, this one is covered by BMW's extensive warranty program, which includes a limited warranty with a 4-year/50,000-mile limit and a corrosion perforation guarantee with a 4-year/unlimited-mileage limit.
The 2023 X2 has yet to undergo crash testing by the National Highway Traffic Safety Administration (NHTSA) or the Insurance Institute for Highway Safety (IIHS).
However, the similar 2022 model received the second-highest rating for how well the headlights illuminate the road in front of it and the top rating in all six crash tests from the IIHS. 
Overall, the 2023 BMW X2 is a compelling choice for luxury crossover SUV shoppers. The vehicle offers a combination of style, performance, and reliability that is hard to match. 
Consumer reviews have consistently praised the X2, and it is also backed by BMW's comprehensive warranty coverage, which provides added peace of mind for buyers.
What BMW X2 Years Should You Avoid?
While a specific model may have a good reputation overall, certain model years may have had more reported problems or lower customer satisfaction scores. 
This is where knowing which model years to avoid can be helpful. By understanding which years of a specific model had the most reported issues, you can make a more informed decision when purchasing a vehicle.
Below we will take a closer look at the BMW X2 models you should steer clear of. 
2018 BMW X2
The BMW X2 was first introduced in the 2018 model year and has been widely popular among luxury SUV buyers. However, some owners of the 2018 BMW X2 have reported several vehicle problems. 
In terms of reliability, the 2018 X2 has received mixed reviews. 
Some owners have reported that their X2s have been relatively trouble-free, while others have had issues with the transmission, suspension, and electrical system.
It is important to note that not all BMW X2 models will have the same problems, and some years may be more prone to specific issues than others.
Regarding consumer satisfaction reviews, the 2018 BMW X2 has received some criticism for its handling, which some reviewers have found to be less precise than other luxury SUVs in its class. 
Additionally, some reviewers have reported problems with the car's infotainment system, including difficulty connecting to Bluetooth and issues with the navigation system.
Two recalls for the 2018 BMW X2 have been issued as of this writing. One recall concerned the crankshaft sensor firmware, which might cause the car to stall, while the other involved the steering.
Considering this is a relatively new model in the BMW's lineup, as a general rule, it is recommended to avoid purchasing a used vehicle from the first few years of production.
These cars may have more issues that need to be identified or resolved.
It's also worth mentioning that newer models have less chance of having issues as car manufacturers have more time to identify and fix problems. 
Therefore, it's a good idea to consider models that have been in production for a while and have undergone some updates.
2019 BMW X2
The 2019 BMW X2, one of the older model years, may be an unreliable option for some buyers. 
While the X2 was praised for its sporty handling, comfortable ride, and stylish design, it has also had its fair share of reliability issues reported by owners.
Some common complaints from owners of the 2019 X2 include issues with the engine, such as immediately following an MSA restart, the engine shuts off. 
The automatic start/stop system known as MSA, which is meant to increase efficiency, only makes driving this BMW more risky. Nobody wants to be stuck waiting for their car to start or move in the middle of the road.
Additionally, some owners have reported problems with the steering column. 
According to complaints to the National Highway Traffic Safety Administration, certain automobiles have improperly built steering gear tie rods.
This flaw might cause the tie rod end to wear out too quickly. It might break as a result, causing the vehicle to lose control.
This problem was the reason for the 2019 models' first and only recall.
It's important to note that not all X2s from the 2019 model year have had these issues and that many owners have been satisfied with their vehicle's reliability. 
However, as the 2019 X2 is an older model year, it may have a higher likelihood of experiencing problems than newer model years.
Moreover, as the 2019 X2 is an older model year, it may have less advanced safety features, less efficient engine options, and less advanced infotainment systems than newer model years.
The 2019 model is in no way completely unreliable. But consumer satisfaction ratings could be better, and the vehicle needs features that can top newer models to be considered one of the best. 
What Are Some Typical Problems With the BMW X2 Models?
When it comes to luxury vehicles, BMW is a well-known and respected brand that is known for its high-performance cars and sleek designs. 
However, like any vehicle, BMWs are not immune to problems and issues. The BMW X2 is a compact luxury SUV that has been on the market since 2018. 
Despite its popularity, some owners have reported several problems with their X2 models.
The most common problems BMW X2 owners face are as follows:
Faulty coolant system
Software fault with the crankshaft sensor
A leaky oil gasket
The high-voltage battery short circuit
Issues with outer door handles
Electronic problems
Faulty brakes
Tail lamp assembly problem
Noisy tires
For a more in-depth analysis, please read our article about common issues with the BMW X2.
Remember that these problems may only be present in some BMW X2, and it's always a good idea to do further research and consult a professional mechanic before making a purchase. 
Nevertheless, it's essential to be aware of the potential issues reported by other owners.
Sources
Was this article helpful?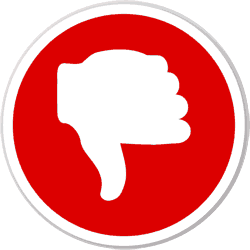 Did you find wrong information or was something missing?
We would love to hear your thoughts! (PS: We read ALL feedback)
ⓘ  The information in this article is based on data from National Highway Traffic Safety Administration (NHTSA) recall reports, consumer complaints submitted to the NHTSA, reliability ratings from J.D. Power, auto review and rating sites such as Edmunds, specialist forums, etc. We analyzed this data to provide insights into the best and worst years for these vehicle models.
---