The Mercedes-Benz GLB-Class is an SUV that caters to families in the luxury compact market. It offers more space and flexibility than other models in its class.
The GLB is positioned between the GLA and GLC and stands out with the option of an additional row of seating. This feature makes it a unique choice for families in need of extra space.
However, like most vehicles, there are some models that have had some issues.
In this article, we look at the best years of the Mercedes-Benz GLB-Class and which years you ought to avoid. 
The Best and Worst Years for Mercedes-Benz GLB-Class are:
The 2021 and 2022 Mercedes-Benz GLB models are some of the greatest vehicles produced by the company. If you are interested in purchasing a Mercedes-Benz GLB Class, you should avoid the 2019 model. According to reviews and user feedback, this was the worst year for the Mercedes-Benz GLB Class.
What Mercedes Benz GLB-Class years are the most reliable?
The Mercedes-Benz brand is known for producing reliable automobiles in general.
Every GLB is equipped with the same powertrain, which is a turbo-four engine that provides sufficient output for the majority of driving conditions. 
But, there are a few models that stand out from the crowd when it comes to their dependability.
The following is a list of the most dependable Mercedes-Benz GLB class vehicles that have ever been produced:
2022 Mercedes-Benz GLB-Class
The GLB has received somewhat higher-than-average ratings for its features. However, it has proven to be a fierce and top-performing sport utility vehicle, earning a rating of 75 out of 100 points.
Additionally, the GLB has demonstrated its capability as one of the best SUVs on the market.
When it comes to the number of standard safety measures included, the 2022 Mercedes-AMG GLB 35 does not mess about.
The sporty family hauler is outfitted with all the standard safety features, such as anti-lock brakes (ABS), seven airbags, and electronic stability control (ESP).
Blind-spot assist (which also monitors the vehicle's departure) and crosswind assist are also included as standard features, in addition to braking assist.
The attention assist (drowsiness detector) is responsible for monitoring the driver at all times.
If this is not enough, Mercedes offers a variety of additional safety features, such as active braking assist with capabilities for crossing traffic, lane-keep assistance, and side-impact airbags for the second row of passengers.
There are also some very innovative technologies available to select from, such as pre-safe sound, which protects your hearing in the event of a crash.
In the event of a system failure, it makes a noise that, when heard, causes the eardrum to respond in a way that makes it less sensitive to subsequent loud sounds. A head-up display and a surround-view monitor are two more optional safety measures that are offered.
Careful attention has certainly been made to the design of the 2022 model.
2021 Mercedes-Benz GLB-Class
This GLB has strong scores for fuel efficiency and provides a pleasant ride.
Additionally, the 2021 model has a 302-hp engine and also a stiffer sport-tuned suspension, improving on the 2020 model. It steers smoothly, and the car remains stable on turns.
As stated on Cars.usnews.com,
The 2021 GLB has a predicted reliability score of 67 out of 100.
And, based on  J.D. Power reliability criteria, this is a fair rating.
Although it isn't as sporty as some other premium compact SUVs, it handles well and achieves high marks for both.
The cabin of the GLB is chic and well-built, including wide seats that are pleasant to sit in and lots of space for cargo.
2020 Mercedes-Benz GLB-Class
Based on owner reviews, a significant number of owners are satisfied with the 2020 Mercedes-Benz GLB.
Many customers are interested in purchasing this vehicle because it has cutting-edge technology features, a roomy interior, optional luxury extras, and a snappy engine.
In addition to that, the GLB has a hidden strength in its seating capacity, which can accommodate up to seven people.
The GLB has very few drawbacks, which makes criticism of it difficult. It has some areas that are constructed with materials of a lower quality, it has an uncomfortable third row, and it is missing some active safety equipment that is standard.
The GLB class has received a total of just 34 complaints about automotive issues. This is one of the very few complaints that have been made about the platform.
It is one of the least troublesome cars in the GLB class that you will come across.
What Mercedes-Benz GLB-Class years should you avoid?
Even though Mercedes-Benz is a reputable company that produces high-quality automobiles in the GBL class, there are still certain models that you should steer clear of if you want to ensure that you end up with an excellent vehicle.
2019 Mercedes-Benz GLB-Class
This was the very first GLB class that was ever produced. Even though it just has a few complaints, the total number of complaints is fewer than 100.
It continues to be listed as one of the models that should be avoided. This is due to the very high price of repairs as well as the relatively low average mileage at which significant problems manifest themselves.
Some 2019 models of the GLB have been affected by a variety of problems, some of which are cause for concern.
For example, a corroded front axle carrier is not something that one expects to see in a performance SUV in this price range.
Problems of a less significant nature, such as faulty backup cameras and improperly mounted spoilers, have also been raised.
What are some typical problems with the Mercedes-Benz GLB-Class models?
Some issues won't manifest themselves until the product has been in use for a significant amount of time, while others are due to technical fixes that have prompted the manufacturer to initiate a recall.
Without further ado, here are some problems with the Mercedes-Benz GLB:
Suspension and steering
Airbags
Electrical systems
Fuel system,
Information and entertainment system.
These issues are the ones for which Mercedes-Benz has declared a recall via the EU Rapex system.
These issues may not affect the dependability of your Mercedes-Benz GLB if it is detected and fixed promptly.
Generally speaking, the very first model years of a particular model fare significantly worse than the later ones because manufacturers can collect feedback from customers and fix issues for the newer models.
However, some of these problems are more serious than others, and as a result, you must visit your dealership if any of these problems occur.
Final Thoughts
Overall, the  Mercedes-Benz GBL class is known to be a reliable and well-rounded compact luxury SUV that offers a unique feature of an additional row of seating, making it a great option for families in need of extra space.
The GLB is built on the same MFA2 platform as the GLA, and offers comparable handling and ride quality. It comes with all of the important technologies and amenities that one would expect in a premium SUV and also receives good marks for its safety features.
The Mercedes SUV also receives good marks for its safety features, which should not come as a surprise given that the GLB received a perfect score of five stars from Euro NCAP.
Sources
2020 Mercedes-Benz GLB Pros and Cons Review
Was this article helpful?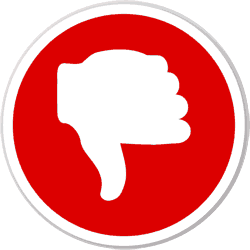 Did you find wrong information or was something missing?
We would love to hear your thoughts! (PS: We read ALL feedback)
ⓘ  The information in this article is based on data from National Highway Traffic Safety Administration (NHTSA) recall reports, consumer complaints submitted to the NHTSA, reliability ratings from J.D. Power, auto review and rating sites such as Edmunds, specialist forums, etc. We analyzed this data to provide insights into the best and worst years for these vehicle models.
---