Most SUV owners buy this vehicle because it offers a larger passenger capacity, forgetting that there are other numerous benefits to owning this model.
One major benefit of driving an SUV is the good road presence it offers. In fact, research has shown that the love Americans have for SUVs is crazy.
Jump on this article to find out 12 other benefits of SUVs.
1. Cool Design Features
There's a particular outlook that comes with an SUV. They are known for their tall, rugged and aggressive look. 
They also tend to have more powerful engines, towing capabilities and off-roading features you won't find in most sedans.
2. More Car For Your Money
If you need a new vehicle, starting with an SUV may be a good choice. One, they are relatively affordable relative to the features they provide. If we take a look at the 2018 Nissan kicks, it has only a starting price of $17,990.
Another option is the Jeep Renegade and the 2018 Chevrolet Trax. The former has a starting price of $18,445, while the latter has a starting price of $21,000.
Imagine getting a vehicle with a lot of height advantage, good visibility and large cargo space without breaking the bank. 
3. You Might Not Need to Hire a Towing Truck 
SUVs might tow that extra cargo for you. 
The logical thing to do if you have to tow with your SUV is to check your vehicle's manuals and look for the towing capacity your SUV can handle.
The stronger chassis and more powerful engines allow SUVs to tow larger loads compared to sedans. Other than towing, you should know the other reasons people buy SUVs.
4. They Last Longer
SUVs are built to last. Manufacturers intentionally make the components of SUVs larger and sturdier than that of sedans. Thus, they have stronger tires, bigger bodies and bigger engines.
These extra features make the SUV able to withstand harsher terrain and use. SUVs typically cope better with harsh conditions, bad weather, bad roads and extra loads.
So long as you keep to the manufacturer-recommended maintenance schedule, your SUV will likely outlast a sedan if the model and brand is reliable.
For example, the Chevrolet Suburban, Toyota Land Cruiser and Toyota Sequoia are some of the longest lasting vehicles of all time.
5. Feature Tech Savvy Interiors
Most SUVs come with the latest tech gadgets. These include Apple CarPlay, Android Auto, cooled/heated steering and seats, and advanced driver assistance systems.
Even affordable SUVs offer high-quality interior trims now, although many car makers still depend on plastic to cut cost.
6. They Are Pet Friendly
Folks who love pets have an easier experience transporting their furry friend with an SUV. This is because SUVs have a large cabin and cargo space that can accommodate a passenger lying down throughout the entire journey.
Therefore, if a car can conveniently carry full-sized adults, including a pet will surely be an easy task.
If perhaps you need to carry them in their numbers, you have the luxury of folding down the third-row seating or the second-row seating to have even more room.
7. They Are More Fuel Efficient Than Before
We know it can be argued that old SUVs were large consumers of fuel and had poor gas mileage. But the reverse is the case today.
It would surprise you how much you get to save on fuel with an SUV.
If you want to enjoy higher fuel economy, consider getting crossover SUVs, such as the Toyota RAV4 or Honda CR-V.
Full-size SUVs, such as the Toyota Sequoia, Toyota Land Cruiser and Chevrolet Suburban are still gas guzzlers, even though their fuel economy has improved recently.
Unfortunately, the weight these large vehicles have to pull means designers must make fuel efficiency sacrifices. This can increase your ownership costs if your SUV needs premium gas.
8. Better Off-Roading Experience 
This is one major advantage of owning an SUV. If a person enjoys outdoor experiences, getting an SUV may just meet their expectations.
Sedans, on the other hand, are not ideal for off-roading because of their low ground clearance. 
First, SUVs have a higher ground clearance that makes them suitable for climbing rocks and hilly terrains without scraping the body and chassis of the car. It also means the wheels have more room to travel and tolerate road shocks.
Second, SUVs often come with a beastly power train and a four-wheel-drive. This means they have enough power to drive through the steepest roads without failing or getting stuck.
Lastly, modern SUVs are equipped with a traction control system that improves the stance and stability of the car while driving through obstacles.
9. More Safety Features 
Modern SUVs will wow you with their safety system. A perfect example is the 2020 Cadillac Escalade. With a starting price of $75,195, you will have some remarkable safety options.
They include:
Lane change alert

Side blind alert

Forward collision alert

Lane departure warning

Speed assist

Vibrating safety alert seat.

Automatic emergency braking
These safety features are crucial because SUVs are family vehicles. Thankfully, other car brands aside from the Cadillac Escalade have similar safety features as well.
10. Better Ride Height
A driver who prefers driving from a clear stance should probably buy an SUV. Onboard an SUV and discover all blind spots, potholes, or cracks on the road. This makes the drive safe and comfortable because you can avoid those obstacles just in time. 
Avoiding potholes and bumps also lengthens the life and condition of your vehicle. Another advantage of having a good ride height is the luxury of maneuvering easily.
With that height, you can detect parking spots faster and change lanes easily. This height, despite its advantage, is one of the disadvantages of SUVs. 
11. Different Sizes
SUVs come in different sizes. You can still buy these models according to your need and preference. For instance, if you're majorly driving through the city and have a small family, a crossover SUV may just be the perfect shot for you.
A crossover SUV sits about 5 passengers conveniently, without feeling too big. If you need a bit more room, you can go for the next size, which is the mid-size SUV.
These models can carry 6 or 7 passengers comfortably and they have a large cargo space that can carry the grocery for the family.
Lastly, if you have a large group of friends, the large SUV is a perfect choice. They sit about 8 to 9 passengers.
12. Large Cabin And Cargo Space
The versatility that comes with an SUV is amazing. It has so many functionalities because of the extra room in it. Planning weekend trips come with so much ease because you wouldn't need to bother about where you store your equipment.
Even better, you can create an additional room by folding down the seats. You can also attach cargo carriers, bike racks and roof racks to the vehicle.
For passenger spaces, SUVs can carry as many as 9 people because they come with a third-row option. If you need a lesser room, there are some models that come with five or seven seating capacities.
For better emphasis, the 2018 Chevrolet Traverse mid-size SUV has a seating capacity of six people, while the 2018 Chevrolet Suburban comes with a seating capacity of around six to nine people.
Was this article helpful?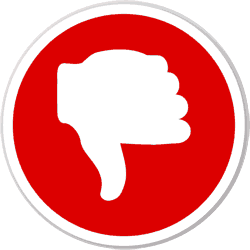 Did you find wrong information or was something missing?
We would love to hear your thoughts! (PS: We read ALL feedback)